By Martin JB Farebrother & Joan S Farebrother (hardback, Pen & Sword, 256pp £40, ISBN 1473887631).
A timely publication indeed in view of the debut of a restored First World War Baldwin 4-6-0T and a Hunslet 4-6-0T at the Welsh Highland Railway's Past, Present and Future event on June 21-23 (News, page 36). This hefty but definitive volume looks at the extensive narrow gauge networks in and around the Somme, Oise and Aisne departments before, during and after the war.
The authors, both retired hospital staff, one with an interest in railway history and the other in architecture and industrial archaeology, have owned a cottage in the Pas-de-Calais department since 1990, and that led to them developing an interest in the region's closed railways.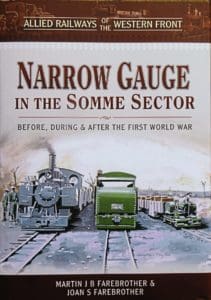 The story begins with the region's metre gauge railways between 1888-1914 and then looks at the 60cm lines so closely associated with the Western Front.
Successive chapters deal in-depth with the light and metre gauge lines during each of four different phases of the conflict in the Somme sector and on its battlefields. Further chapters deal with the light railways of the Somme sector from 1918-74 and the metre gauge lines from 1918-55.
The volume is superbly illustrated with archive and present-day photographs, maps, tables and diagrams.
A final chapter gives an exhaustive catalogue of places to visit, both in France and on heritage lines in the UK, where locomotives and stock have been restored.
The book is a companion volume to the authors' Narrow Gauge in the Arras Sector from the same publisher four years ago.
SPLENDID HISTORICAL RESEARCH 
Read more Reviews, Letters, Opinion, News and Views in Issue 252 of HR – on sale now!

Enjoy more Heritage Railway reading in the four-weekly magazine.
Click here
to subscribe.