The 9F 2-10-0 was described as the best of BR's Standard steam designs. Robert Anderson outlines the history of the class and relates the story of a ride on the last steam-hauled ore train to Consett.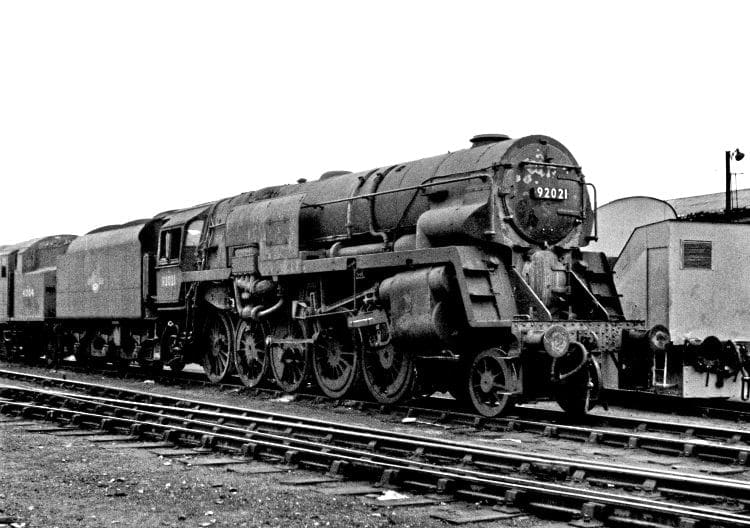 The 9F 2-10-0s have been hailed as the most successful of the 12 Standard classes of steam locomotive introduced to traffic on British Railways between 1951 and 1960. They were the last class to be built and some authors have gone so far as to describe them as one of the most outstanding British steam locomotives.
However, for some of the earlier class members their entry into service in 1954/55 was far from successful. It all kicked off in mid-January 1954 when the first of the class, No. 92000, was shown off to the technical press at its birthplace, Crewe Works. Almost immediately afterwards came the surprise announcement that all eight of this new untried and untested class were to be sent to the Western Region for use on the heavy Newport docks to Ebbw Vale iron ore trains – one of the most arduous freight workings on the region.
Eyeballs must have been rolling for it was well known that the WR was openly hostile to anything that was not built at Swindon – as witness its contempt for the 13 Crewe-built Britannia Pacifics sent there in 1951/52. The WR did things its own way and continued to do so right into the diesel era. One must wonder whether this business of sending the first 9Fs; Crewe-built as they were, to the WR, was an attempt by the newly formed British Transport Commission in the august halls of 222 Marylebone Road to exert some authority over this go it alone region.
Yet the plan backfired. The new locomotives immediately ran into trouble with regulators not being sensitive enough, causing uncontrollable slipping when starting away. Of course this was no good with a 600-ton train to take unaided up the valley with gradients as steep as 1-in-52 to Ebbw Vale steelworks, a distance of around 19 miles.
The problem was solved by fitting smaller regulator valves but, in the meantime, these first eight had spent several weeks or even months out of use while awaiting attention at Swindon works.
Article continues below...
Advert
Read more in Issue 222 of Heritage Railway
Enjoy more Heritage Railway reading in the four-weekly magazine.
Click here
to subscribe.