The last few years of BR steam were a fascinating time for young steam enthusiasts. John Bailey recalls holidays in the 1960s involving shed visits in various parts of Britain.
While I had spent my junior schooldays with pencil and notebook at the nearby Midland main line in Leicester, my interest was not rekindled until 1964 when it became apparent that steam was on borrowed time.
Equipped with my Ian Allan Combined Volume and my Brownie 44a camera, at 13 I was ready to record the demise of steam in Britain. The first in my family to own a camera, scraping my birthday money together, I had paid 37s-6d for it. With a fixed focus, a shutter speed of 1/40th and choice of F11 & F16 apertures, it took 12 pictures on 127 roll film. While one could forget about shots inside sheds, moving trains or grey locos on dull days, the relatively large format allowed remarkably good pictures, when conditions matched the camera's settings.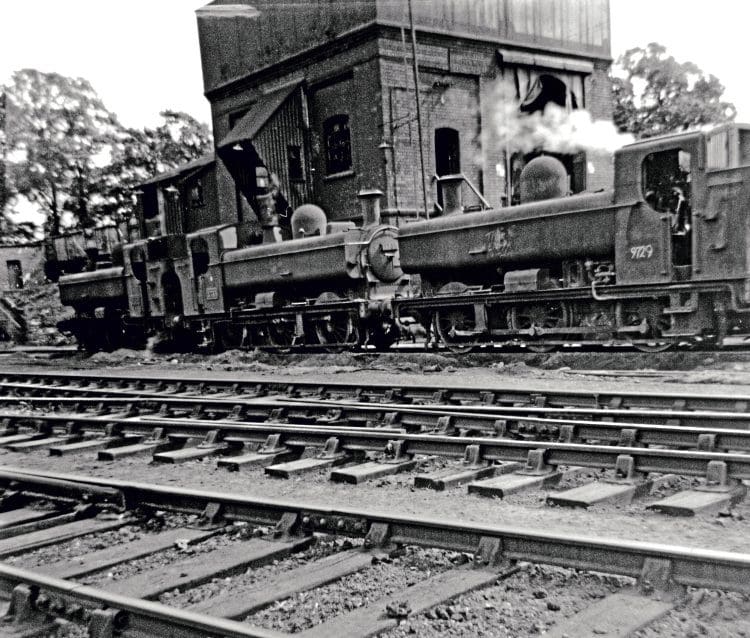 My father indulged my railway interests and successive annual holidays to Sidmouth in 1964, Crieff 1965 and Swanage 1966 were by train; a large trunk of clothes having been sent ahead to the hotel. In addition to spotting on the journeys, my father also sent off for BR shed passes.
In early September 1964 we set off from Leicester Midland station for Sidmouth. In those days there was still plenty of steam on freight, BR Standard 9F 2-10-0 No. 92153 passed through and there was even the rare treat of LMS Jubilee 4-6-0 No. 45721 Impregnable, amongst the Stanier 8Fs and 5MTs.
In those days my notebooks record a journey as just a continuous list of numbers, with occasional lines marking off unrecorded locations en route. I have been reduced in some cases to 'navigation by shunter', whereby if several adjacent diesel shunters are all allocated to the same depot in the appropriate shedbook, I assume I am at that point on that journey.
I need no such aide memoir to recall that GWR 0-4-2T No. 1474 was bustling backwards and forwards with its single coach at Gloucester, where the shed was bursting with GWR tanks and names such as Nos. 6833 Calcot Grange, 5026 Criccieth Castle, 5961 Toynbee Hall and MR/LMS 'Duck Sixes' Nos. 43924, 44123 & 44466, the first two of which were lucky enough to have been sent to Barry dump. Lots of Hymeks around and Warships D845 Sprightly and D869 Zest.
Article continues below...
Advert
Read more in Issue 241 of HR – on sale now!
Enjoy more Heritage Railway reading in the four-weekly magazine.
Click here
to subscribe.