A major challenge faced by heritage railways, railways and transport museums across the country is how to bring to life displays of locomotives, carriages and trams. Hugh Dougherty meets a man who lets visitors know what they did, how they worked and what it was like to travel on them.
Glasgow's Riverside Museum faces just such a dilemma, for none of its exhibits, ranging from the mighty South African Railways class 15F class 4-8-2 No. 3007, through Highland Railway Jones Goods 4-6-0 No. 103 and, right down the scale to Glasgow horse tram No. 543, actually run, although the museum has provided several interactive displays to bring the rolling stock to life as far as possible.
But, the museum has a secret weapon which it deploys on Mondays, in the shape of 'Tram Man'. Fifty-seven-year-old Iain Simpson, of the museum's education and access staff, dons an authentic Glasgow Corporation Tramways inspector's cap from the early 1900s. He adds a replica, heavy green serge, brass-buttoned, motorman's coat, which includes special black mourning cuff bands, introduced to mark the death of Queen Victoria in 1901, and sets forth to tell the story of Glasgow's transport on rails.
The 11am and 2pm tours are entirely free, and the participants are attracted by two announcements over the museum public address, plus a mighty, town crier-style, live address to the multitudes, from Iain in full uniform.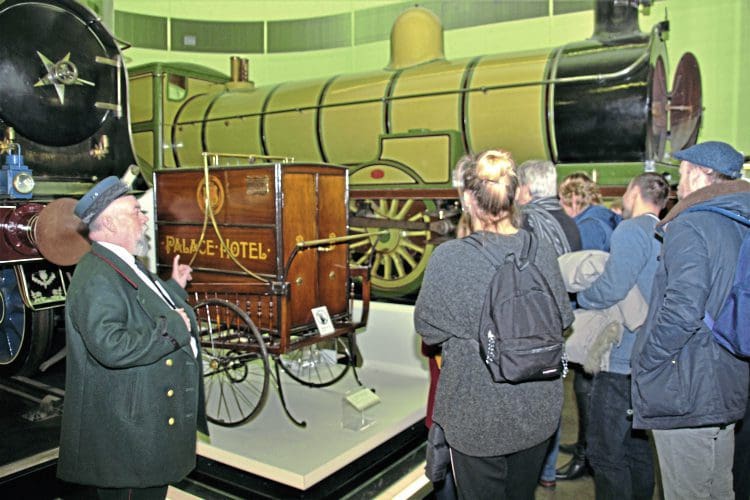 People of all ages, shapes and sizes soon roll up and it's off, under very strict Victorian orders, just as would have been given by an inspector, to horse tram No. 543 which Iain uses to point out why a growing city such as Glasgow needed railed transport to expand and carry its 19th and early 20th century masses. There's also plenty of horse tram lore.
He's not slow either to add a dash of fashion, pointing to a life-sized, female figure, clad in the finest of Victorian dress, standing in the tram's saloon. Pointing to a lady at the front of the tour, he chides her: "Madam, you are not a true lady. Wearing trousers indeed, when you should be dressed as this proper lady is, without as much as an ankle to see. What would gentlemen think if they were to see a lady's well-turned ankle as she went upstairs on the tram?" The lady shrinks back, feigns being suitably chastened. The tour loves it.
Article continues below...
Advert
Just before moving on, Tram Man points out the panel above the lower deck windows, which carries the tram's destination. "It says where the tram is going, is painted in that route's colour, as lots of people couldn't read and identified their tram by its colour, but it's also called a decency panel, placed there to stop the ankle of any lady sitting there being seen from street level by a young man who might have swooned at the sight!" And he casts an eye over those trousers, yet again, with a look of disapproval befitting a Victorian tramway inspector.
Read more in Issue 240 of HR – on sale now!
Article continues below...
Advert
Enjoy more Heritage Railway reading in the four-weekly magazine.
Click here
to subscribe.