I was interested to see the picture in Platform, issue 238, of the Christmas card submitted by Heritage Railway reader Mike Sanderson, depicting D49 4-4-0 No. 246 Morayshire – but with a non-matching extra GWR tender!
My little grandson had the misfortune to be given a jigsaw puzzle with the same picture. Although he is only five, he did remark on the non-matching extra tender. He also noted the cab roof extending to the far end of the first tender.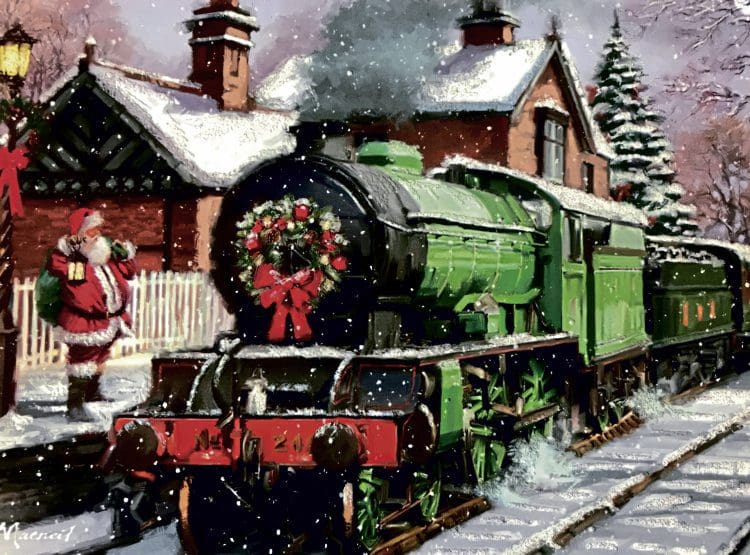 The jigsaw, rather larger than the card, allowed closer examination of details – the elliptical front bogie wheels, (not surprising after running over the lump in the track partly visible under the (first) tender), the skewed bogie frame and the non-radial spokes on the driving wheels.
In Don Breckon's book Great Western Railway, he says: "Although the painting is not a technical illustration, it must have the air of truth to the subject." This illustration fails that test.
In Konrad Lorenz's book King Solomon's Ring, he says: "The greatest sin against the spirit of true art is to use artistic licence as a specious excuse for ignorance of fact." I think the picture exhibits a great deal of such ignorance.
The puzzle is marketed under the WHSmith brand and I presume the picture was commissioned by the company to use for cards, puzzles and possibly other festive things. I cannot imagine what development process allowed such a fault-ridden image ever to see the light of day.
Article continues below...
Advert
And my grandson's jigsaw? Should we feel guilty about passing it on to a charity shop? Would it be better to put it straight into the recycling bin?
Chris du Feu, Beckingham, Nottinghamshire.
Read more Letters, Opinion, News and Views in Issue 240 of HR – on sale now!
Article continues below...
Advert
Enjoy more Heritage Railway reading in the four-weekly magazine.
Click here
to subscribe.