The Keighley & Worth Valley Railway is world famous as the setting for EMI's immortal big-screen version of Edith A Nesbit's novel The Railway Children. However, the heritage line is now leading the way with a ground-breaking new visitor attraction, Rail Story, based around a coach which has been converted into a classroom to teach new generations of youngsters about Britain's rich railway heritage, writes Robin Jones.
A recent survey among 500 parents and 500 children carried out by Situation Publishing found that three quarters of youngsters did not know who GWR engineer Isambard Kingdom was, and two thirds had never heard of Rocket inventor George Stephenson.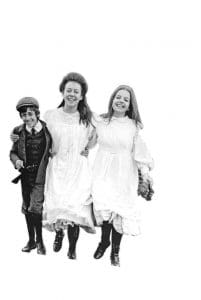 As report in Heritage Railway issue 222, the study, carried out in support of a new travel book, Geek's Guide to Britain, found that 73% of children and almost half of adults questioned, drew a blank when asked about James Watt, who invented the steam engine.
If those figures are true, and remember the study was carried out over only a miniscule fraction of the population, it points towards a damning indictment of the teaching of history.
A rudimentary knowledge of the core part that railways played in the creation of the modern world should surely be a basic plank of education.
Richard Trevithick's invention of the effective self-propelled vehicle may have been a slow burner in his day, but it sparked off a chain of events which would change the globe forever.
Railways facilitated the rapid mass movement of people and goods, the fellow products of the Industrial Revolution, in a way that was hitherto impossible in a short space of time. They paved the way for the standardisation of time and the dawn of mass communication – the 19th century forerunners of the internet. A railway had the power to shrink a continent, and bring long-distance travel within the remit of ordinary people, many for the first time. The concept of the self-propelled vehicle later manifested itself in the motor car, the aeroplane and the spaceship. In short, the steam railway was the most important invention since the wheel.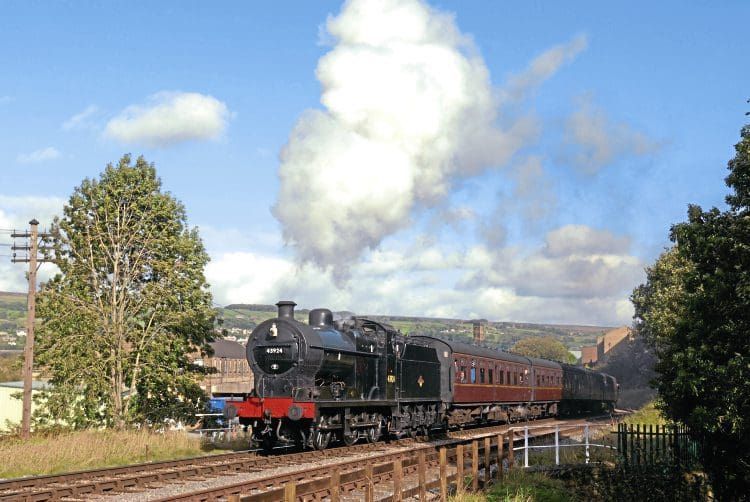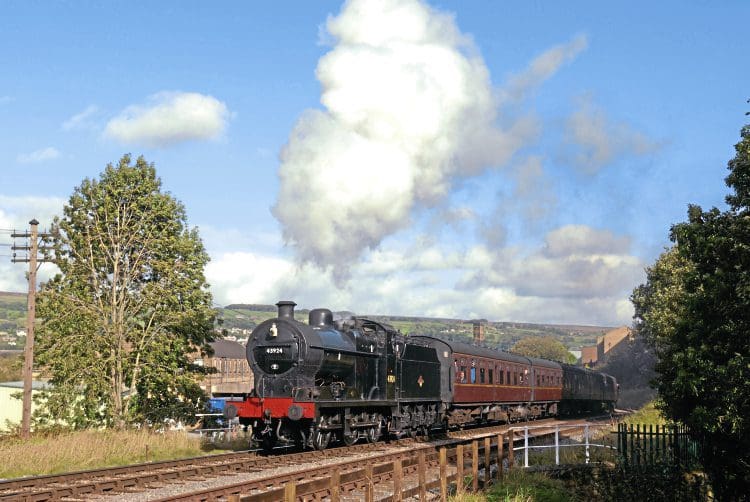 So how do the youngsters of today see Britain's stupendous world-changing market-leading railway history?
There are some whose grandparents were not even born when steam haulage ended on British Railways in 1968, and whose only experience of a steam locomotive would have come from Thomas the Tank Engine books or a trip on a Santa special. When Flying Scotsman recently visited Tyseley Locomotive Works, Vintage Trains' chairman Michael Whitehouse commented that there were visitors with children who had never seen any steam locomotive before.
I find myself in the same situation regarding traction engines. Born long after in general use they had been superseded by tractors, my only experience of them is at country shows or occasional heritage railway visits. To me, they are an enchanting novelty, not workhorses.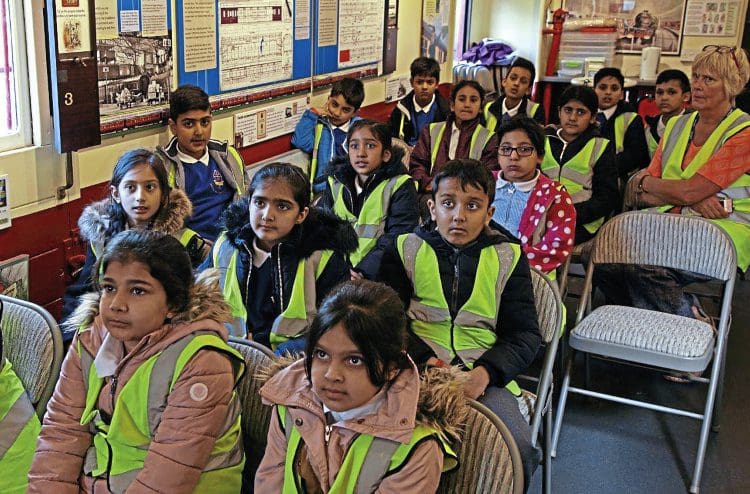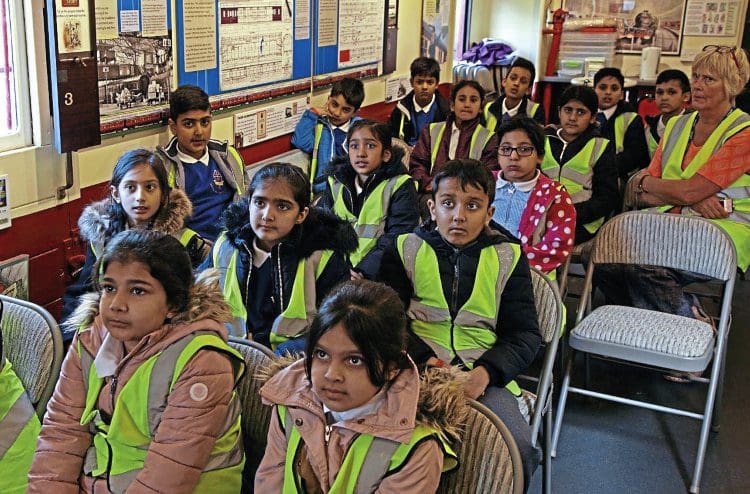 Children who are taken by their parents to a heritage railway must feel to a greater or larger extent much the same about steam locomotives, or even early diesels for that matter. Yet railway history and heritage is far, far bigger than an entertaining afternoon out and engines with plastic faces. Understand how the railways changed human society forever, and you gain an essential insight into why our world is shaped like it is today.
Many heritage railways have embraced the immense potential of the education aspect of their operations to some extent.
However, just as the KWVR led the revival movement somewhat in the wake of the resounding success of The Railway Children, showering it with relentless amounts of positive publicity, it is now breaking new ground with its latest Heritage Lottery Fund-backed venture – Rail Story.
The Bahamas spin-off
As every organisation which has applied for lottery funding will be aware, the higher the educational value of a project, the better the chance of winning funding.
The Bahamas Locomotive Society needed funds for the overhaul of Jubilee 4-6-0
No. 45596 Bahamas, which had been absent from the main line since 1994. The society had developed a working partnership with the Vintage Carriages Trust, which is also based on the KWVR, and came up with the idea of enhancing the visitors' experience at Ingrow station.
When applying for Lottery funding for Bahamas, it was decided to add a major educational element. Hence the 'Learning Coach' – a facility to encourage students in science, technology and mathematics.
Article continues below...
---
---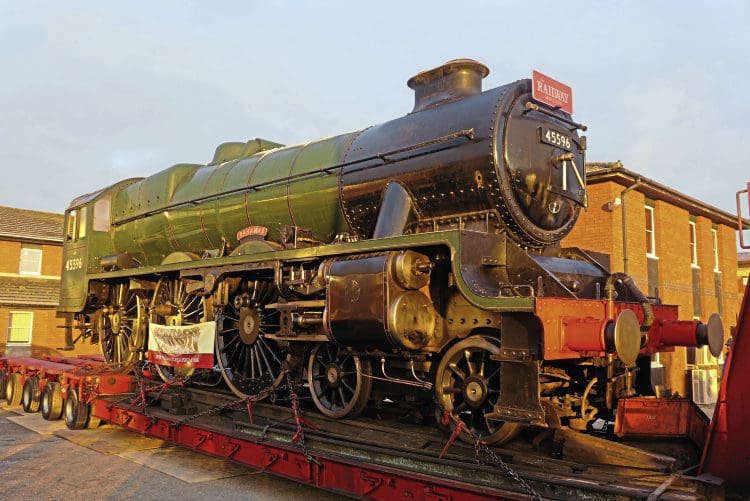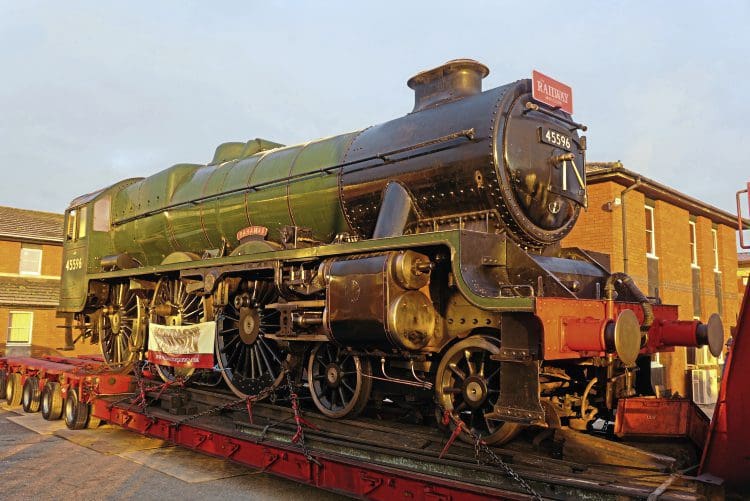 In March 2013, the Lottery awarded £776,000 for the twin project, which was to cost £90,000, and so Bahamas went off to Tyseley Locomotive Works for its first heavy overhaul since 1961. Bahamas paid a visit to Heritage Railway's Horncastle offices en route on November 26 that year, and among the crowds who turned up to see it was Emmerdale star Patrick Mower (Rodney Blackstock), as reported in issue 184.
As for the learning coach, 1924-built Wolverton-built LMS corridor composite No. 8761, later 3515 and latterly DM395470, was chosen. It had been converted to a riding and tool van to work with a breakdown train and allocated to Southport in 1958. The conversion included the removal of the first class compartments, with the area then used for such things as tool stowage. This arrangement was ideal as an instant teaching/exhibition area!
Having been stored for many years in the KWVR's yard at Oakworth, in August 2013 it was moved to Rail Restorations North East Ltd, Shildon, where it was externally overhauled and restored. Then it was back to Ingrow West in January 2014 and permanently placed in the station's old goods bay.
The three remaining compartments were also converted. The old kitchen became an office, an original third class one was restored as such while the remaining one became the 'history' compartment.
Inside this area, a range of IT equipment, sponsored by Heritage Railway publisher Mortons Media Group, has been provided for visitors to use.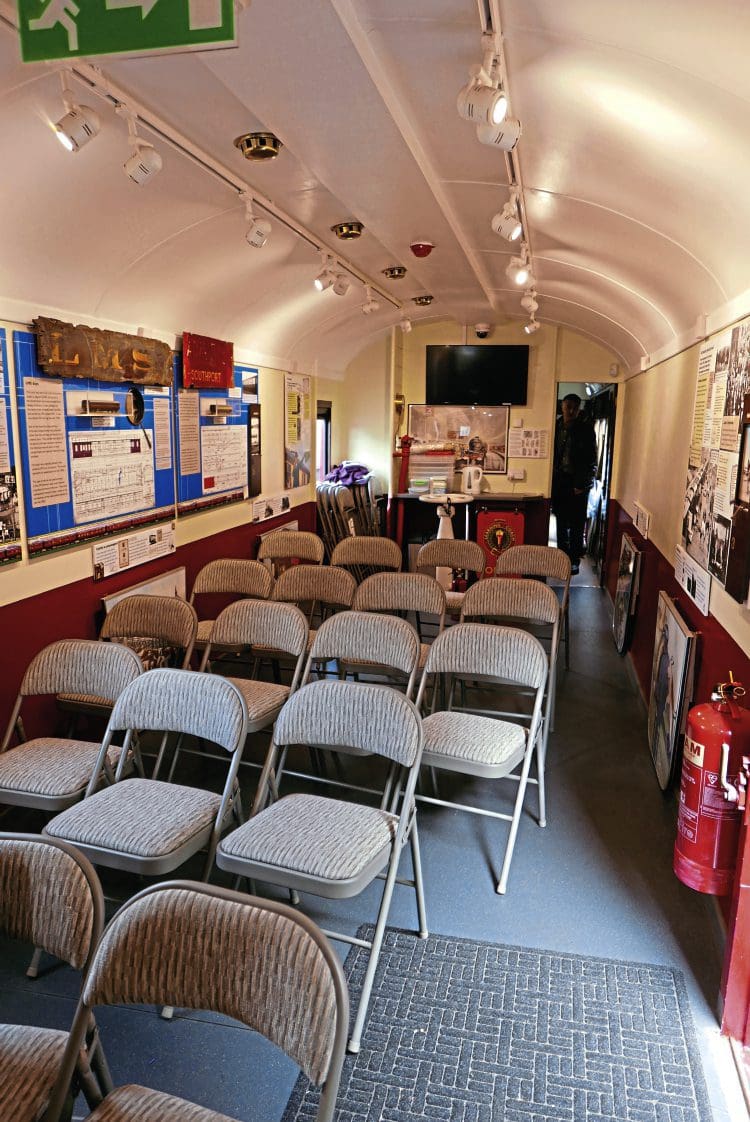 With it, they are able to carry out historical research on the internet, or even access the digital archive of back issues of our sister title The Railway Magazine, dating back to 1897.
The remaining two-thirds of the carriage acts as the classroom area for children and students.
A learning group of 30 children and six adults is the usual group size, with the party being split in half; one half use the classroom, while the others visit Ingrow loco shed and the VCT museum, before changing over.
However, its use is not limited to schools. It is also be available for other interest groups and already hosts some mutual improvement classes, once common-place for training railwaymen in steam days and carrying on an old Dinting tradition, the original Derbyshire home of the society.
In addition to the partners at Ingrow, Helen Ashby, former head of knowledge and collections at the National Railway Museum, along with Anthony Coulls, senior curator rail transport and technology at the York museum, are acting as museum mentors for the BLS and VCT respectively.
Steel wheels and four footers
One big theme highlighted in the Rail Story coach is the history of the interaction between animals and railway – ranging from cattle that were once transported by rail to horse-drawn tramways or horse shunting, and circuses that were moved by rail through to station cats and railway dogs.
Imprinted on the Learning Coach's work tables are paintings of animals in a railway setting, specially produced by artist John Wardle to highlight this central theme, which begins with the first railway motive power of them all.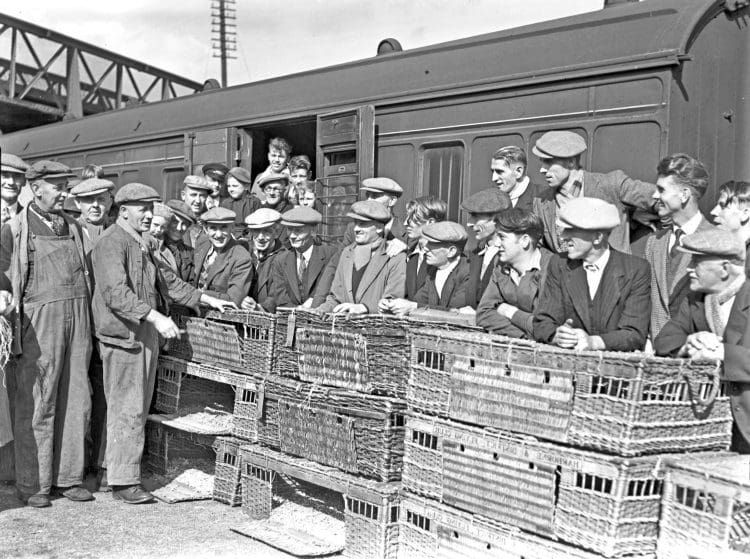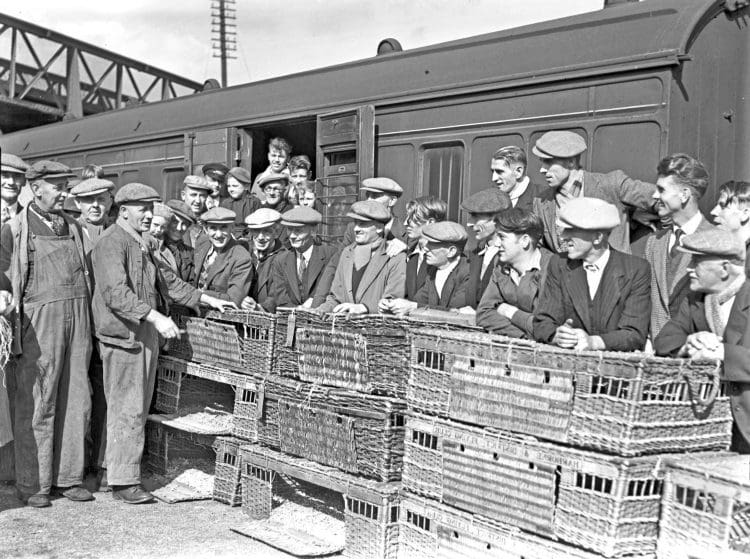 Horse-drawn waggonways and tramways pre-empted the steam railways by several centuries. Indeed, the Rainhill Trials of 1829 were held by the Liverpool & Manchester Railway to determine whether to adopt steam as the primary form of traction for the world's first inter-city line, or to play it safe and use horses in the time honoured way. And all this 25 years after Richard Trevithick had given the world's first public demonstration of a steam railway locomotive!
Rocket inventor George Stephenson went back to horse traction when he designed the Whitby & Pickering Railway, which opened
in 1836.
In the 1920s, railways employed around 19,500 horses for cartage of goods onwards, about 10% of the entire UK horse population.
By 1930 the British railway companies owned 18,429 horses for shunting and road delivery services. By 1940 the number had fallen to 11,163, in 1950 to 4754 and in 1960 to under 100.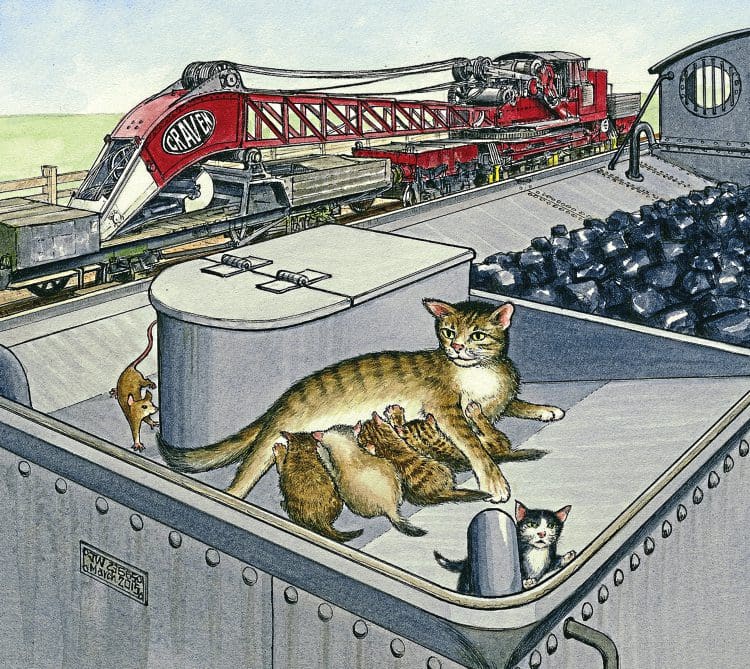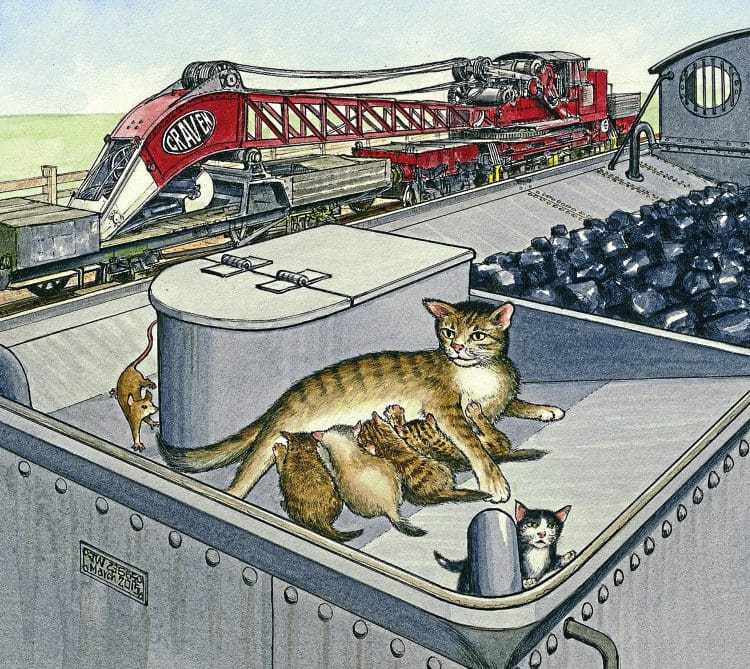 The last horse-drawn passenger train service on an English railway was on the Port Carlisle branch of the North British Railway in Cumbria. The last train ran on April 4, 1914. The coach used on this service was later saved and is now on display at the National railway Museum in York.
Railway horses were fed a mixture of crushed oats and chaff, supplemented with bran, beans or maize.
However, the stores where the grain was kept became boltholes for rats and mice and so station cats proved essential.
The last British Railways horse was cross-breed Charlie, who began his career at Camden in 1949 and used for shunting horseboxes at Newmarket from 1961 until March 1967.
When railways brought the circus into town
More unusual animals often carried by railway were those of the travelling circus, which became popular in the United States in the 1890s.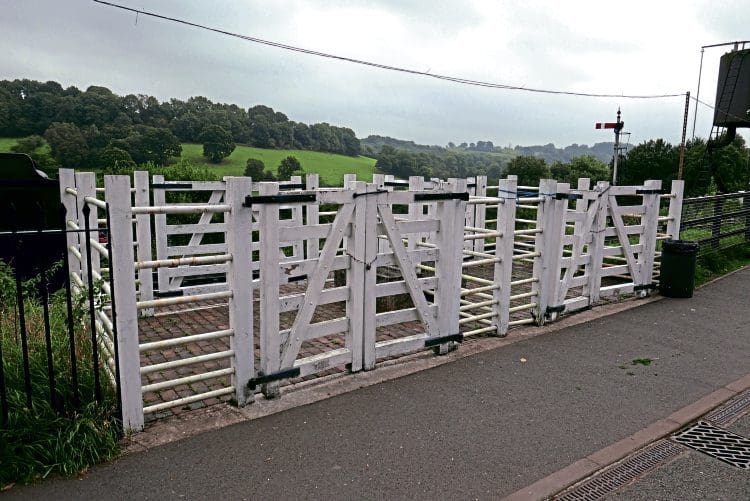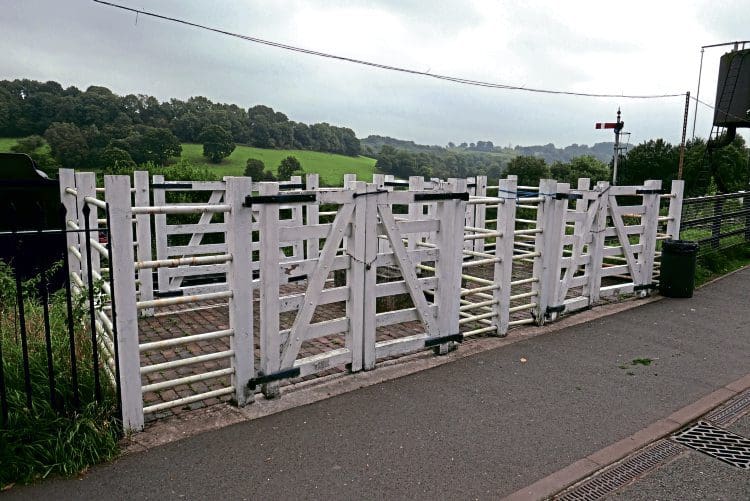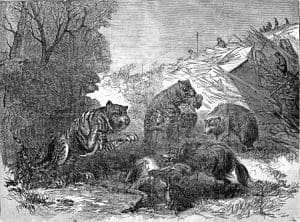 Circus owners had special wagons and vans built to transport lions, tigers, elephants and horses.
Before the days of transport by road, and especially because of the large distances, the only way a circus could visit was by rail.
The concept soon spread to the UK, and travelling circuses began visiting major towns and cities by rail.
However, public concern about animal welfare and rights has intensified since the 1960s and such trains have not run in the UK for many decades.
A day in the Rail Story Education Centre
Most of the Rail Story educational workshops follow a similar itinerary. Here is an example of a typical school visit where the school has booked onto one of the workshops and has added a train ride onto its day.
10am: School arrives at Rail Story Education Centre.
10.10-10.30am: Welcome and introduction. Class is divided into two groups of 15.
10.30-11.45: Group One – Stays in Learning Coach and partakes in paid workshop.
Group Two – Catches 10.30am train to Oxenhope and return at 11.30am.
11.45am-noon: Explore carriage works and engine shed museums. Prepare for lunch. Time available for Group One to purchase items from the shop if required.
Noon-12.25pm: Lunch is on one of the carriages in the carriage works or outside if the weather is accommodating.
12.25pm-2pm: Group One – 12:30 train to Oxenhope and return at 2pm.
Group Two – Workshop in the Learning Coach. Time available for Group Two to purchase items from the shop if required.
2pm: Collect belongings from the Learning Coach and return to minbius to go back to school.
The future showcasing the past
Ingrow's railway museums – and indeed a ride over the five-mile branch line – are an additional attraction for people visiting the area, with society visitors increasing by a staggering 86% last year, while VCT recorded a 21% increase.
Holders of KWVR rover tickets get free admission to Rail Story, and for other visitors a joint ticket gives reduced price admission.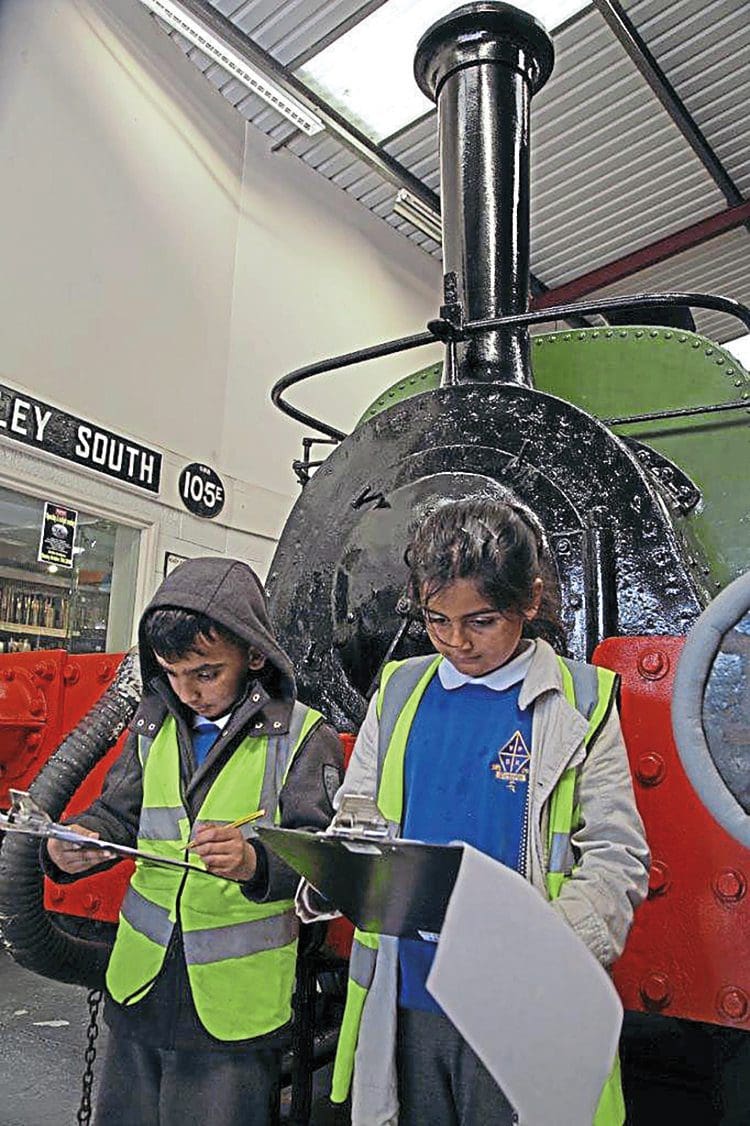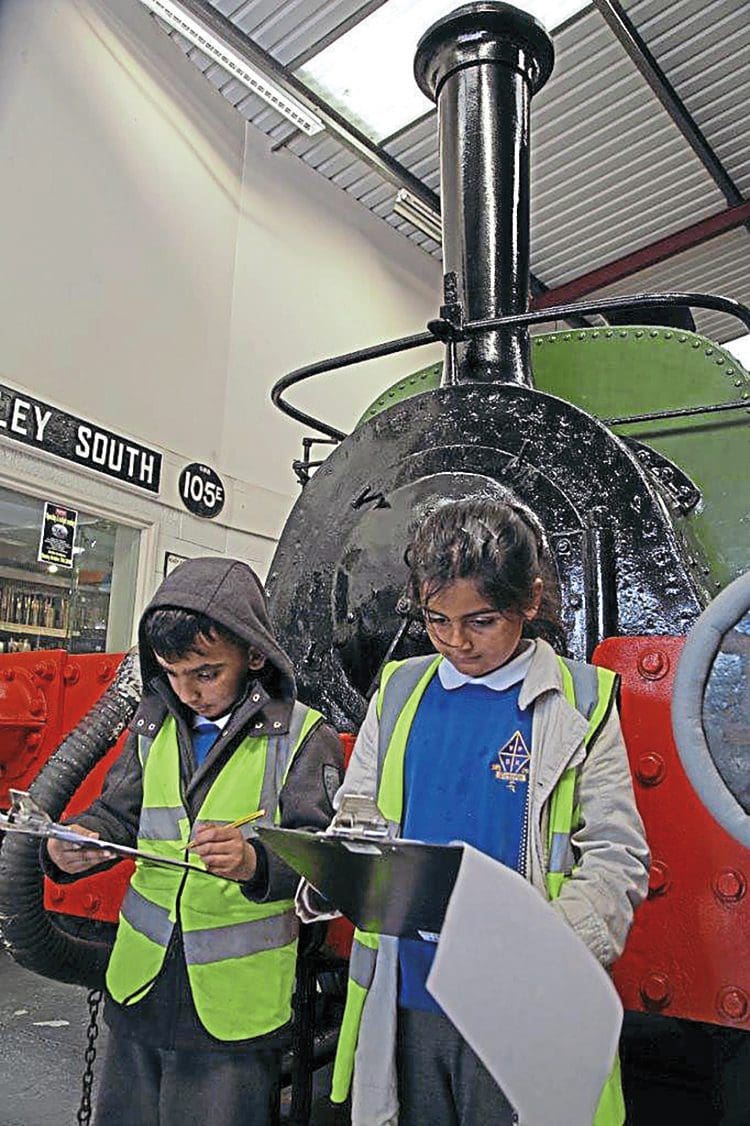 Rail Story is open from 11am-4pm even when trains are not running.
The society, the VCT and KWVR also recognise that visitors need to spend longer at the Ingrow site as well as being able to learn about railways and rail travel, and major plans lie ahead.
A new amenities block with refreshment facilities, public visitor toilets, ticket office and shops is in the pipeline, while new facilities for servicing steam locos at the northern end of the line are anticipated.
Meanwhile, the Rail Story development will span many years, the aim being that by 2025 work will be complete and all will be ready to celebrate the bicentenary of public steam railways.
In the meantime, the provision of the learning coach has gone a long, long way, not only to fulfilling the wishes of the Lottery, but in plugging a hole that many, including myself, believes exists in terms of educating children about basic railway history and its importance to an understanding of the world they live in.
My view? Every line should have one!
➜ More details about Rail Story and the Learning Coach can be found at
www.kwvr.co.uk/education
Read more News and Features in Issue 236 of HR – on sale now!
Archive enquiries to: Jane Skayman on 01507 529423 – jskayman@mortons.co.uk
Enjoy more Heritage Railway reading in the four-weekly magazine.
Click here
to subscribe.