Fifty years ago the last Britannia Pacifics were concentrated at Carlisle Kingmoor shed, which was due for closure on December 31, 1967. Once the pride of Norwich and elsewhere, the Britannias were now filthy and had been stripped of nameplates and numberplates… but were still doing a day's work. Maurice Burns recalls the Britannias at work over the Northern Fells and the efforts of enthusiasts to see them go out with pride as their days came to an end.
As December 1967 approached there was really only one place for enthusiasts to go – Carlisle.
The border town was a fascinating place to go in the early 1960s to see LMS and LNER engines at the same station.
It once had four locomotive sheds: Upperby; Canal (for the Waverley route); Durran Hill (on the Midland line) and Kingmoor to the north. Durran Hill closed on November 2, 1959, Canal on June 7, 1963 and Upperby on December 12, 1966, leaving Kingmoor with just days to go before it also closed to steam on December 31, 1967, exactly 50 years ago.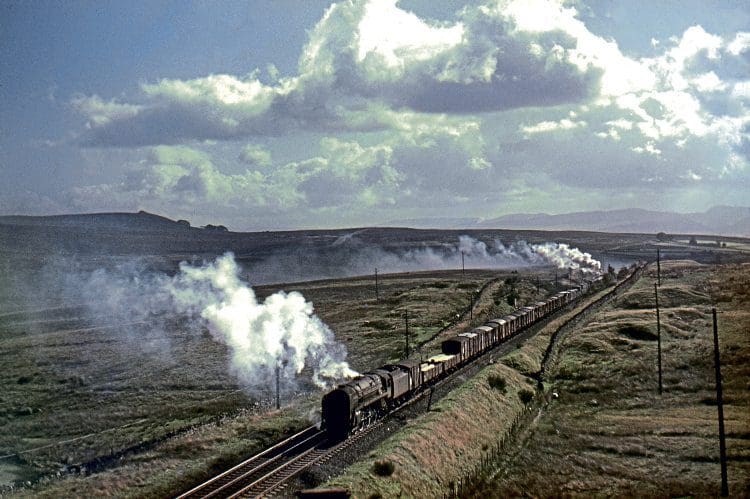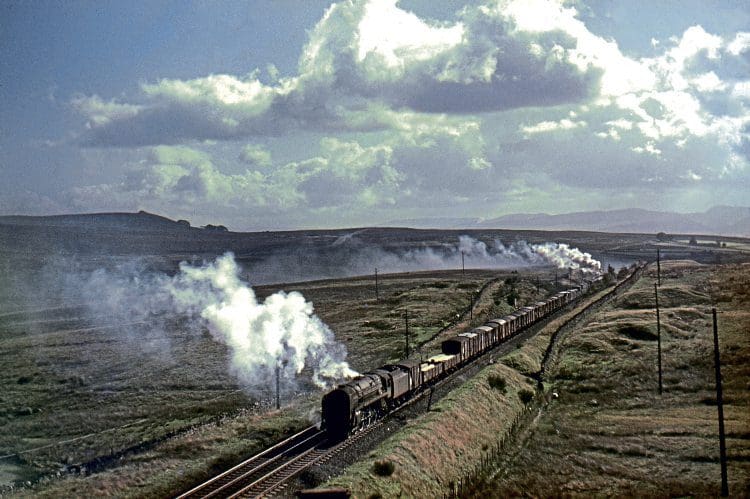 The Britannias were the last Pacific express engines still at work in Britain but had less and less to do, and if any suffered a major problem it was quickly withdrawn.
No less than 40 of the 55 Standard Pacifics remained in service at the start of 1967, all but one by then allocated to Kingmoor. The first of the class, No. 70000 Britannia, had been an early casualty, withdrawn from Newton Heath shed in Manchester in May 1966 and moved into storage at Stratford, its original home shed, earmarked for the National Collection.
January 1967 saw No. 70026 Polar Star withdrawn from Stockport Edgeley shed, leaving the entire class concentrated at Kingmoor.
At this time there were still express passenger workings for them, mainly between Carlisle and Crewe but also on trains from Barrow to the south, occasional Settle and Carlisle services and even north from Carlisle over the Waverley route covering for diesel failures, although once rid of its own steam allocation, the Scottish Region was not keen on entertaining steam engines from the London Midland Region.
Nos. 70008, 70009 and 70020 were withdrawn from Kingmoor in January 1967 but in February, one of Kingmoor's Britannias, No. 70013 Oliver Cromwell, emerged from an overhaul at Crewe works.
Despite this the engines were being withdrawn at an alarming rate – see the accompanying chart for details – and on the final day of 1967 11 of the last 12 of the class were withdrawn from Kingmoor.
The engines which survived to the last day included three which started their careers in East Anglia; Nos. 70011 Hotspur, 70012 John of Gaunt and 70035 Rudyard Kipling; both the ones which once worked the 'Golden Arrow' on the SR; Nos. 70004 William Shakespeare and 70014 Iron Duke; five of the one-time Western Region engines; Nos. 70021 Morning Star, 70022 Tornado, 70023 Venus, 70024 Vulcan and 70025 Western Star; two Scottish ones; Nos. 70049 Solway Firth and 70051 Firth of Forth; and just one which had spent most of its life on the LMR; No. 70045 Lord Rowallan.
With Holbeck in Leeds closed; the Settle and Carlisle saw little steam activity in the last months of 1967. The only route with any regular steam traffic was south to Crewe.
The engines were in a filthy condition with front numberplates and all name plates removed, almost on notice that they were soon going to be scrapped.
The fitters at Kingmoor had all but given up, with some perhaps leaving for new jobs. Steam leaks from cylinder glands – never a problem in the past – were at times excessive… as some the pictures on these pages show.
It was against this background that I, and countless other enthusiasts at the end of BR steam, headed for Carlisle and the northern fells to capture the last Britannia Pacifics in action.
This was easier said than done and in the days before the internet and mobile phones one had to go to Kingmoor to see the roster board, although in time some obtained the running foreman's phone number and enquired: "Are there any Brits over Shap today?"
Article continues below...
---
---
Read more in Issue 236 of HR – on sale now!
Enjoy more Heritage Railway reading in the four-weekly magazine.
Click here
to subscribe.