Friday, July 29 saw the passing of another piece of history on Network Rail.
Martin Creese reports on the closure of the two former Great Western Railway signalboxes at Banbury.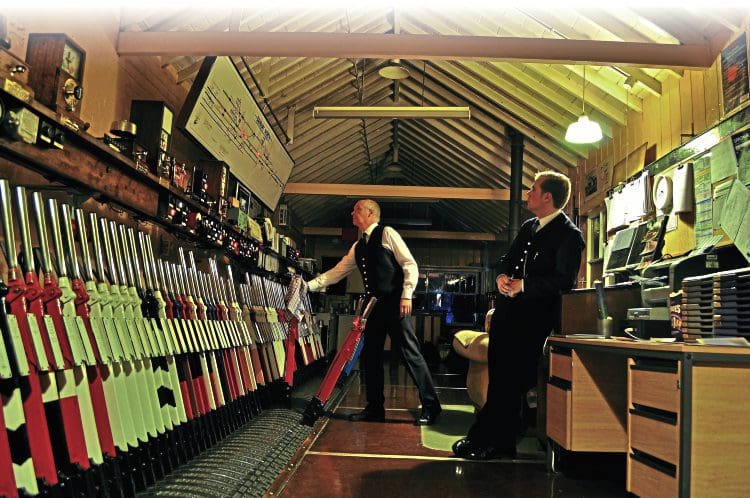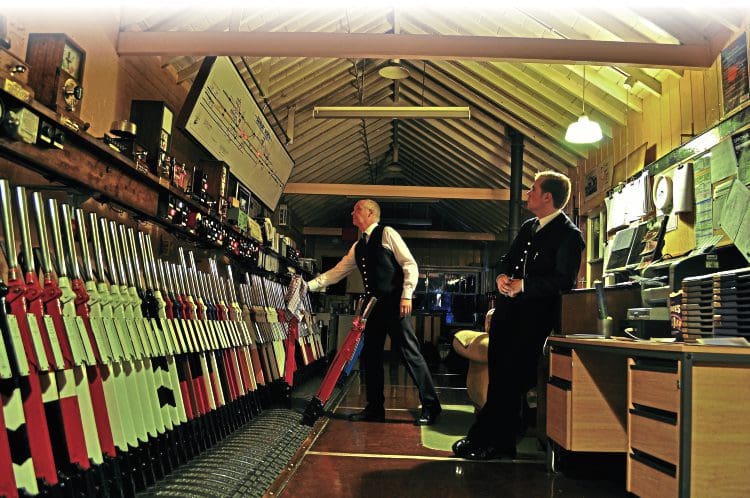 The last mechanical signalling on the former GWR and now Chiltern Trains main line from Birmingham to Marylebone; the two Banbury 'boxes had been as oasis of traditional signalling.
Of the two, Banbury North was the largest former GWR signalbox still in use on the National Network. Network Rail spent £76million on the upgrade of Banbury with new track, points and ballast, reopening of an additional platform and transferring of the signalling to the West Midlands Signalling Centre.
The remodelling also saw the closure of the former Woodford bay platform, which was a reminder of the link from Banbury to the Great Central Railway at Woodford Halse.
GWR condition
Both Banbury signalboxes were GWR type 7; Banbury South a 7B dating from 1908 and North a 7A dating from 1899. South 'box had a shortened 65-lever frame and also a panel to cover Aynho Junction. The 95-lever frame in North was a 1956 replacement placed at the back of the signalbox. Both had their locking room windows bricked up as a wartime precaution.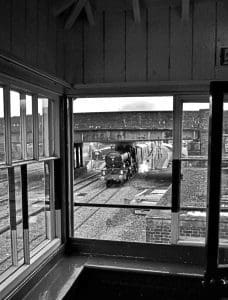 The local signalmen, led by Martin Crane, kept the interior of North in GWR condition with false ceilings. UPVC windows were not fitted and modern equipment was very sympathetically incorporated.
A romesse stove was retained and an annual coal order raised to keep the signalmen warm on winter nights. The diagram in North 'box still contained references to steam-age traffic, with Milk and Horse Dock, while South still had the cattle roads.
While there are a good selection in preservation, its size and condition encouraged a group to see if North 'box could be saved. Project Crossover was born with the aim of retaining North signalbox as a community asset and rail heritage education centre.
Sadly, despite a very compelling case and significant local and enthusiast support, which culminated in £20,000 being pledged, after four months of negotiations the financial conditions for the building's retention were insurmountable.
Public opening
Given the interest, what was proposed was a 10-week period of public opening. It may be fair to say signalboxes are something of an enigma; you see them as part of the fabric of our railways, but what goes on inside is something most enthusiasts don't get a chance to see nor is it possible to be hands on and work the frame, or call attention on the block instruments while surrounded by a live railway environment.
The opening period allowed people just that chance and to see a Network Rail 'box left just as it was on closure.
Once the frame was disconnected from the surrounding railway and the electric locks removed, Martin Crane rewired the block instruments and many of the repeaters and lights on the block shelf as well as the diagram.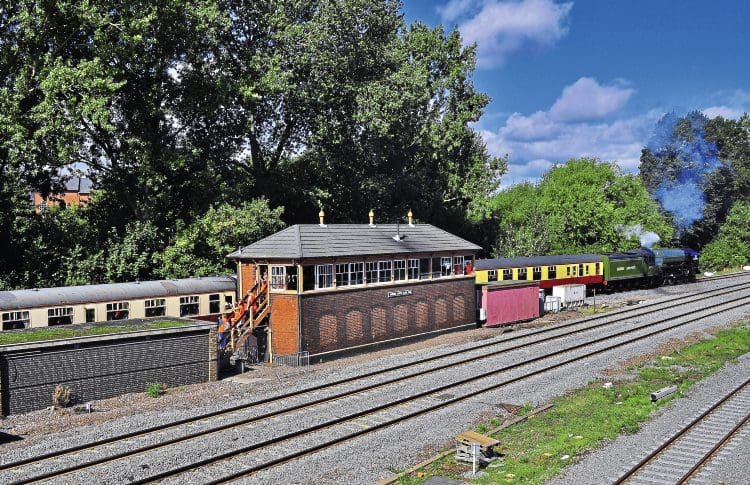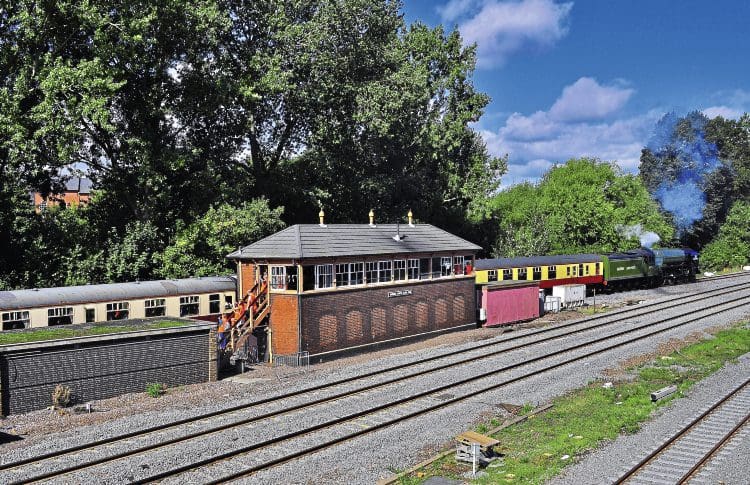 Booklets were printed for visitors and everyone received a traditional Edmundsons ticket. While Project Crossover may not have been able to save Banbury North, it created a unique community partnership with Chiltern Railways and Network Rail.
Demolished
Article continues below...
---
---
South 'box sat on top of where new pointwork was to be laid, giving access to the Chiltern Railways' depot being built on the site of Banbury engine shed, and so after very limited recovery and less than six hours after closure, it was unceremoniously demolished.
The opening period ran from August 10 to the October 2, with tours every day, school groups, business meetings, Guides and Scouts groups and even cream teas, which culminated in just over 3,500 people visiting.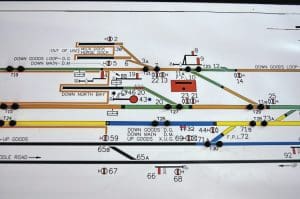 Children young and old thoroughly enjoyed being able to work the signalbox, all under the guidance of the Project Crossover team and the former Banbury signalmen.
BBC TV and radio also broadcast pieces. With a very effective social media strategy and Facebook group, word spread and a look at the visitor book highlighted that visitors had travelled the length and breadth of the country, from Scotland to Kent and Cornwall, even from Europe, to see inside.
Even the main line steam movement managed to pay its respects with No. 5043 Earl of Mount Edgcumbe, No. 60163 Tornado, No. 45699 Galatea and No. 6201 Princess Elizabeth all passing in the last few weeks.
I stood inside on the evening that No. 5043 Earl of Mount Edgcumbe returned from Oxford. All the windows were open and many of the Project Crossover team and their families were also there to watch. With thanks to the footplate crew on No. 5043, it passed working hard and whistling in salute as the exhaust filled the building and the aroma of coal lingered for some time afterwards.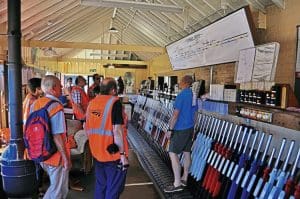 I was also able to host two photographers' evenings, where with darkness falling and just a couple of lamps on, some magical images were captured. Severn Valley Railway volunteers Jamie Green and Ian Baxter came down in GWR signalman's uniform and we all stood enthralled as Jamie, who hadn't been in the 'box before, proceeded to operate just about every lever correctly; I should say Jamie is also a Network Rail signalman at Shrewsbury.
The second night saw Greg Scott from Chiltern Railways acting as our signalman with his three-minute run through the frame and all the block bells drawing a round of applause from the photographers. Both these occasions produced a special piece of railway theatre.
Final bell code
All good things sadly have to come to an end and on October 2 Martin Crane sent a symbolic final 7-5-5, with Banbury South signalman Peter Saunders also in attendance to return it.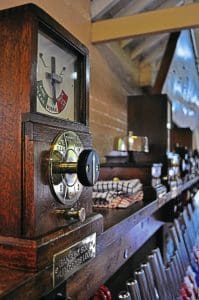 As Banbury south closed first back in July, Peter was able to send the final bell code to Martin. Martin in North' box had no one to send the code to, official closure being done by phone.
The keys were then handed back to Network Rail. Over the following week recovery started with Network Rail taking much of the block shelf for the Worcester area, the frame for preservation, and as much of the interior fittings right down to the roof ventilators also being recovered.
What is left is a brick shell, which will be demolished sometime in late October.
Read more News and Features in Issue 232 of HR – on sale now!
Archive enquiries to: Jane Skayman on 01507 529423 – jskayman@mortons.co.uk
Enjoy more Heritage Railway reading in the four-weekly magazine.
Click here
to subscribe.