By Don Benn
I make no apologies for returning to the work of No. 35028 Clan Line again, for this engine just seems to get better and better. There are now two Merchant Navy Pacifics on the main line although as I write I have just heard the sad news that No. 35018 British India Line has failed with middle big end problems. Let's hope that this can be sorted quickly so that we can enjoy Merchant Navies working hard on big trains at each end of the country.
The UK Railtours 'Atlantic Coast Express' was originally planned for May 27 but postponed until September 23 due to doubts as to whether Clan Line's overhaul would be finished in time.
In addition the work needed at Thatcham for gauging was not finished and therefore the return route involved some very rare track with steam, namely from Westbury via Melksham to Thingley Junction on the Great Western main line to Bath.
Furthermore the ongoing platform work at Waterloo meant a Victoria start and the loss of main line running via Surbiton.
I nearly decided not to go but on reflection the best parts still remained, namely Honiton bank going down plus Whiteball and Brewham on the return run.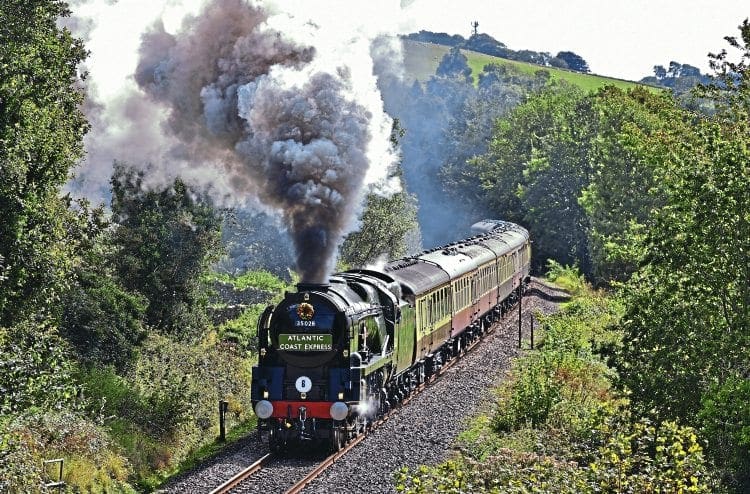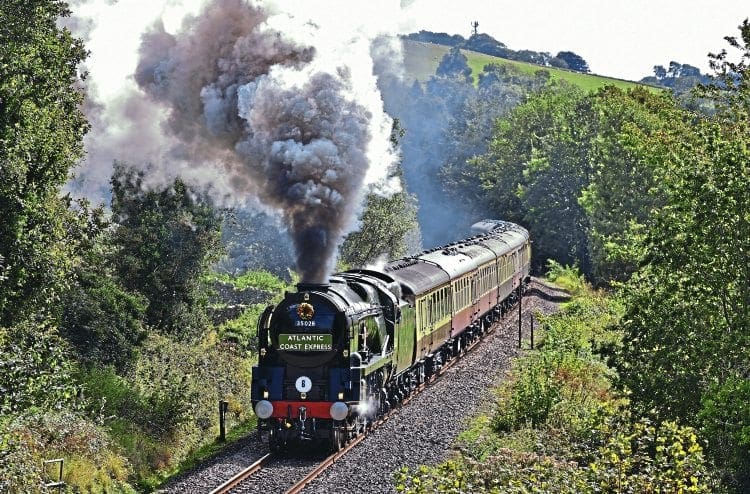 The office at UKR was, as usual, very helpful in sitting a group of us Southern 'old timers' together is such a way as to guarantee two milepost side seats; essential on this trip as the mileposts are very important for summits and would be the same side all day.
I decided to join the train at Basingstoke to avoid a mega early start and was slightly concerned to note that the empty stock was very late arriving at Victoria, leading to a 13 minute late departure.
However, by tracking progress on Real Time Trains and with text messages from those on board, it was clear that once again No. 28 was on top form and time was being recovered, a process which included an unusual 70mph at Ashford and some fine running with speed in the mid-70s between Woking and my joining point at Basingstoke.
Got away well
So, Clan Line, carrying a wreath in memory of David Shepherd, rolled to a stop on the 'Atlantic Coast Express' just a couple of minutes down and I duly claimed my seat in pole position, 11 coaches back of 12 weighing 429 tons tare and 465 tons gross as the train was very nearly full.
Just a shame that once again we were at the back of the train and would be all day. Our driver was DBC's Wayne Thompson and his fireman was Steve Rodenhurst accompanied by TI Don Clarke as far as Salisbury.
It was still damp and cloudy but we got away well up the 1-in-249 to Battledown, passed at 52mph and then accelerated rapidly to 78½mph by Whitchurch where the engine was eased to keep to the limit.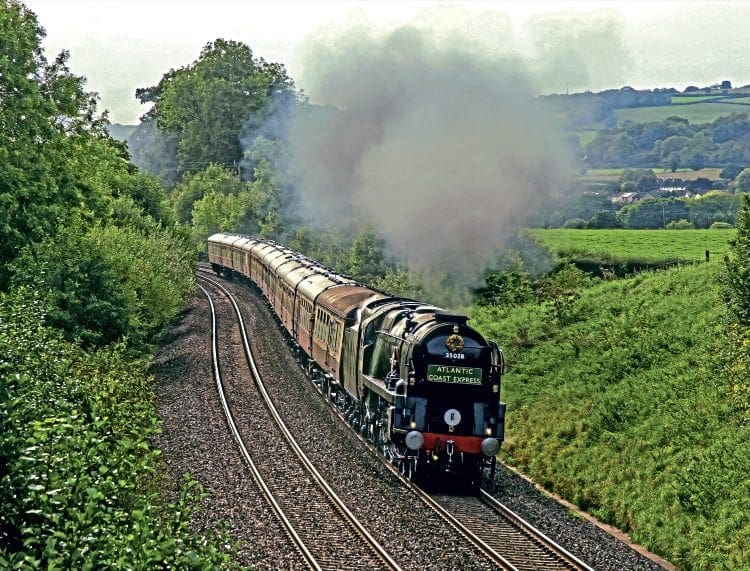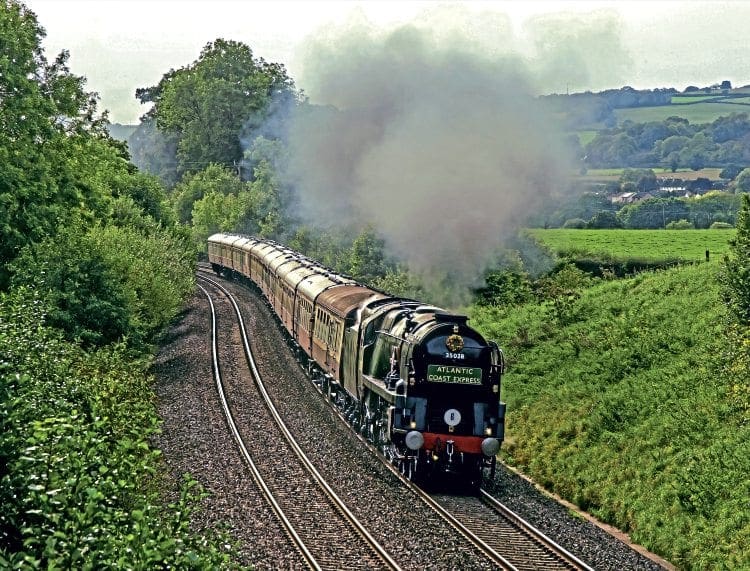 From 74 at the mini summit at Milepost 62½ we ran with very little steam down to Andover and past Red Post Junction before Wayne opened Clan Line up to reach 77½mph over the viaduct at the bottom of the four-and-a-half mile climb to Grateley.
At first, speed only declined slowly on the 1-in-264 but Wayne told me later that he felt No. 35028 on the verge of slipping and so eased off slightly, but then once clear of the damp patch in the trees gave the engine about 200-210lbs of steam, increasing cut-off from 27% to 30% for the final three miles of 1-in-165 producing a truly excellent minimum of 68 at the summit just after Grateley station at Milepost 73¼.
Article continues below...
---
---
Read more in Issue 234 of HR – on sale now!
Enjoy more Heritage Railway reading in the four-weekly magazine.
Click here
to subscribe.