It's no secret – Flying Scotsman is back with a vengeance, and similar to when it snatched the official 100mph steam speed record in 1934, is again making global headlines, and deservedly so. Tens of thousands of people turned out to watch its inaugural run from King's Cross to York along its East Coast Main Line home territory on Thursday, February 25, and they were not disappointed.
Special report by Brian Sharpe, Don Benn and Robin Jones
It has been more than 10 years since the world's most famous steam locomotive had last turned a wheel, and what became an increasingly complex and often controversial overhaul, expertly completed by Ian Riley at his Bury workshops, ran up a bill of more than £4.2 million.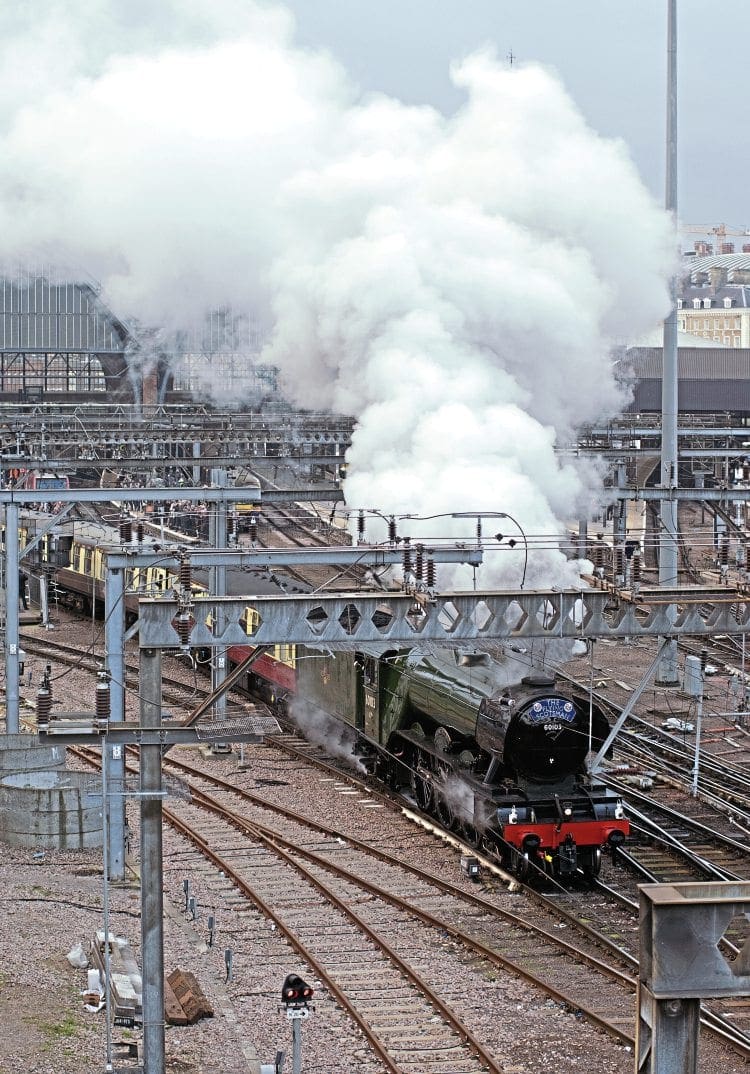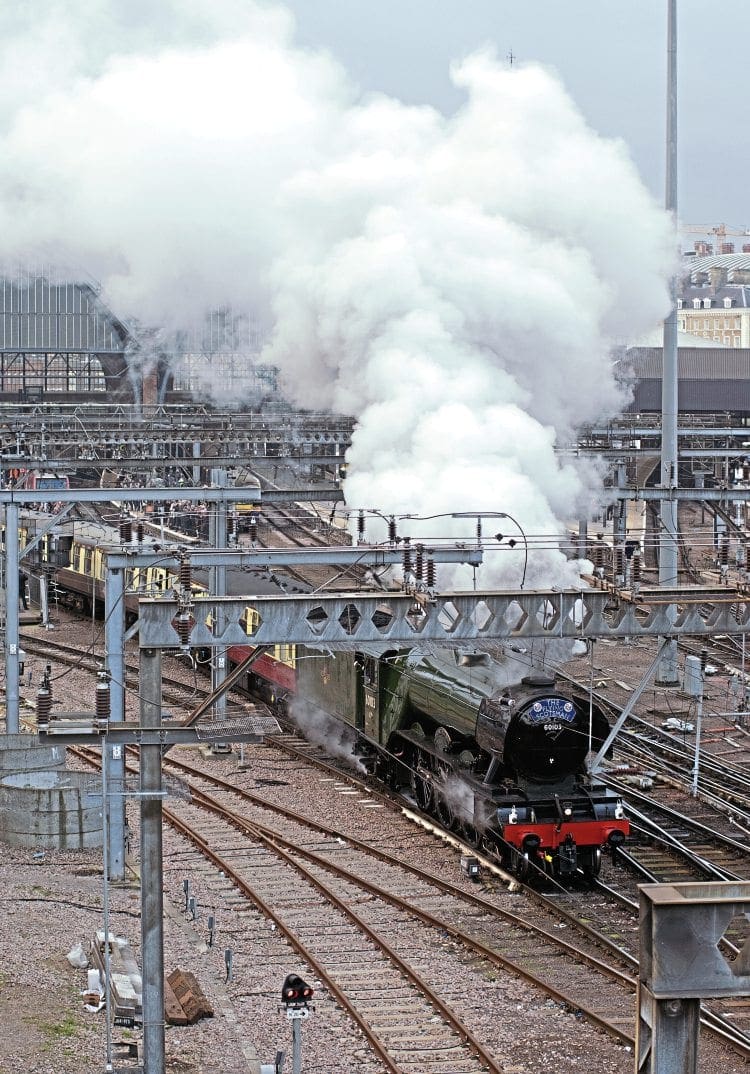 Yet such problems were quickly forgotten as they evaporated in the bright sunshine which graced many parts of the East Coast Main Line on Thursday, February 25, as Flying Scotsman triumphantly headed its comeback train from King's Cross to York.
The trip marked the start of owner the National Railway Museum's 'Scotsman' season, sponsored by ECML operator Virgin Trains, whose chairman Richard Branson stumped up a significant portion of the £2.31 million needed to buy the A3 from its previous owner in 2004.
As with so much of its rebuild, the month leading up to the big day was also fraught with difficulties, adding fuel to those who have said in the past that the locomotive is cursed.
As highlighted in issue 211, Flying Scotsman made its first trip out of Ian Riley's workshops in Bury onto the East Lancashire Railway after dusk on January 6, coupled to Class 31 No. 31466 as it arrived at Bury (Bolton Street) station on a test run.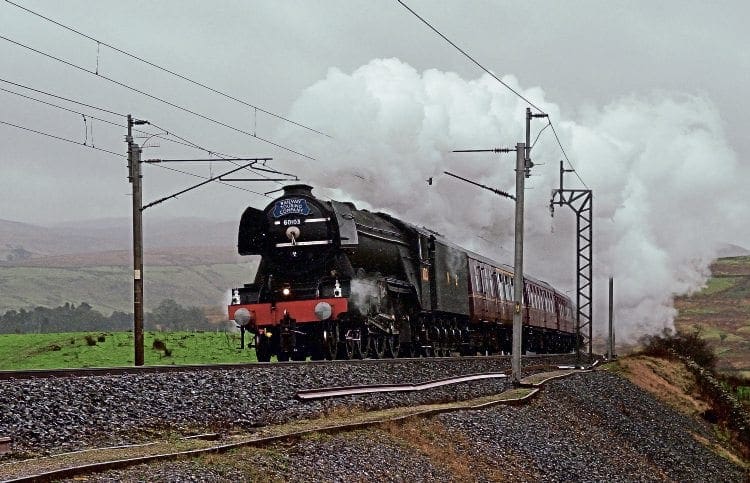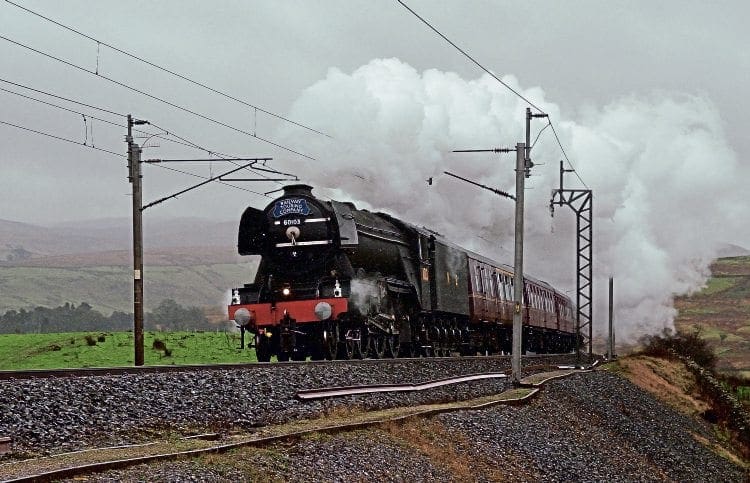 The press launch for its return to steam two days later was followed by two weekends, January 9-10 and 15-16, with No. 60103 hauling passenger trains on the ELR as part of the commissioning process.
Unfortunately, the engine chose not to co-operate. It was steam tight, ran like a sewing machine and sounded spot-on even in reverse, but stopping was another matter. Despite strenuous efforts by the restoration team, the compressor which works the air brakes would still not work properly and another engine had to provide the air on the first weekend of public runs on the ELR.
The solution was to use another compressor borrowed from another engine.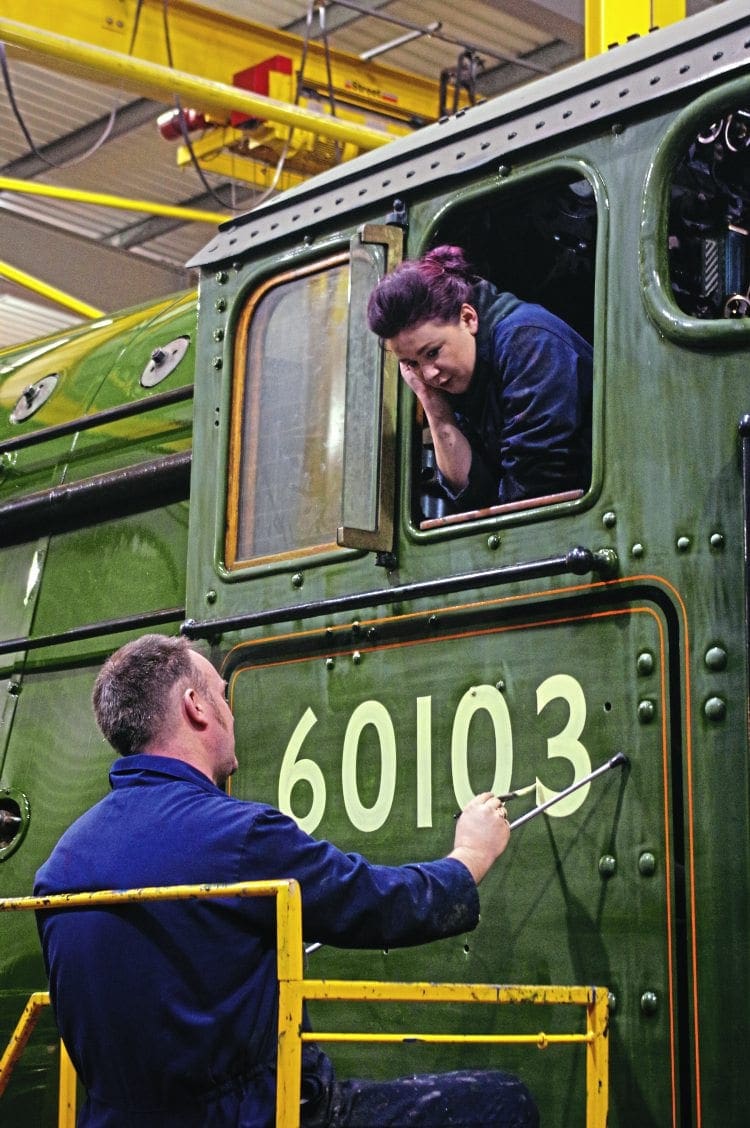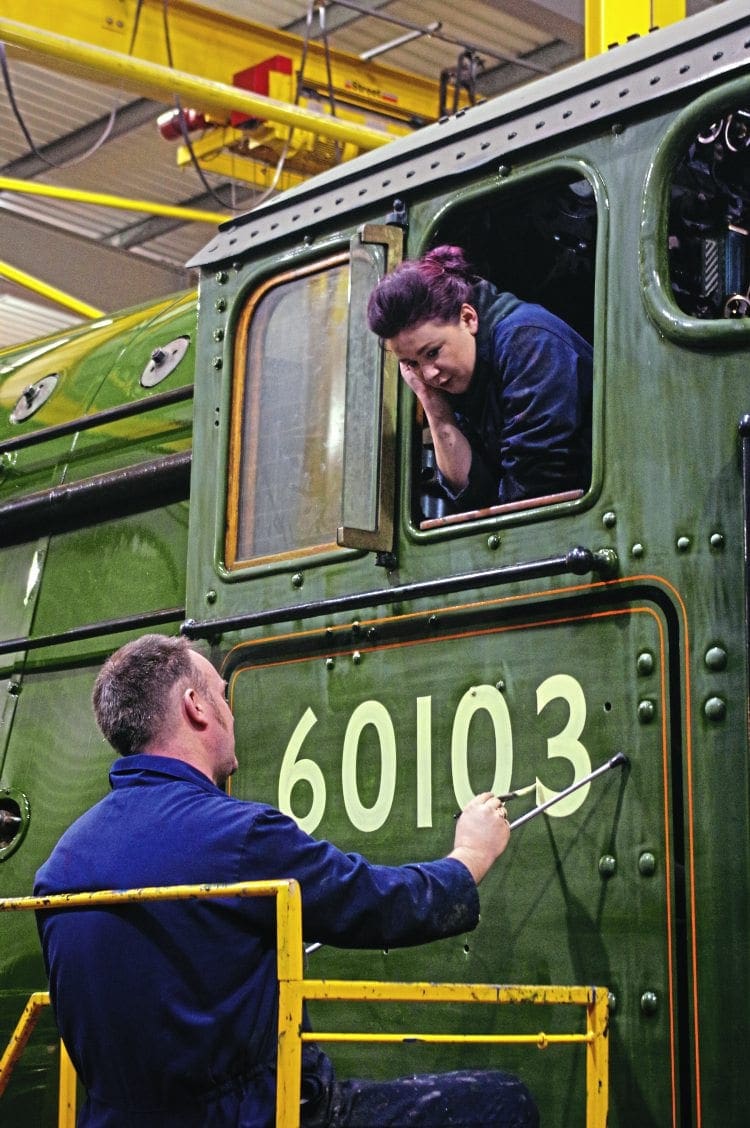 Some years ago, the museum announced that its Flying Scotsman operating partner would be West Coast Railways. The engine's main line railtour programme would however be promoted by two companies: Steam Dreams and the Railway Touring Company. Accordingly, both companies announced programmes of quite intensive operation of the A3 in 2016, with West Coast as Train Operating Company.
No. 60103 was set to undergo its first main line test run from West Coast Railways' base at Carnforth on January 20 followed by a railtour debut for the Railway Touring Company from Manchester to Carlisle via the Settle and Carlisle route, returning via Shap on the 23rd.
For its public trains on the ELR and the first main line railtour, the engine still carried wartime black livery, from its abortive relaunch in that livery as No. 103/502 in May 2011. Although the newly fitted compressor functioned properly, the necessary paperwork could not be completed in time for a main line test run before January 23, so this trip was postponed, resulting in Flying Scotsman being unable to meet its commitment for the first railtour.
A second bite at the Cumbrian cherry
However, agreement was reached for Flying Scotsman to head another 'Winter Cumbrian Mountain Express' for the RTC, scheduled for February 6, and the engine was towed to Carnforth on January 27 to be prepared for a main line test run. It had been no less than 24 years since Flying Scotsman had been seen at what had been its home base for many years.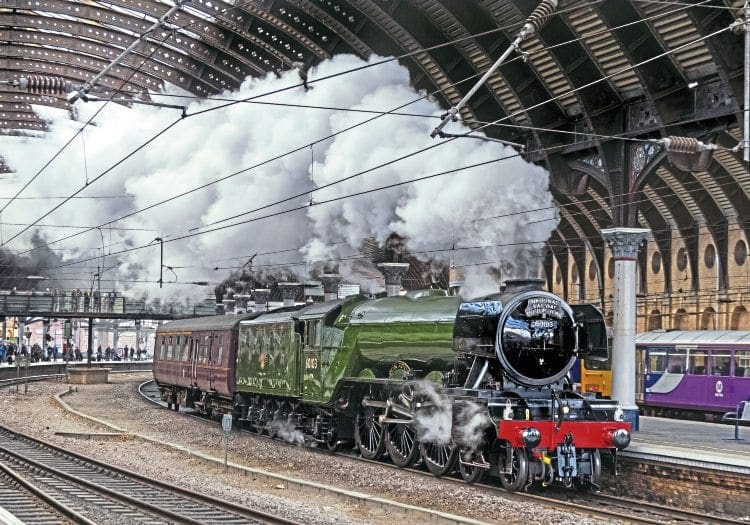 On Thursday, February 4 the engine ran from Carnforth to Hellifield and back with its support coach. On arrival back at Carnforth, the A3, coupled on to a nine-coach set of stock, and with a Class 47 diesel on the rear, set off once again for Hellifield, 21 minutes late after some delays in shunting.
Article continues below...
---
---
Arrival at Hellifield was a couple of minutes early and the engine was running well at main line speeds.
Unprecedented crowds lined the route and there was even a police presence on Hellifield station. After taking water, 'Scotsman' trundled down the Ribble Valley, and after pausing at Whalley, took its heavy train up the 1-in-68 gradient through Langho to Wilpshire with a minimum of fuss.
Planned stops at Blackburn and Preston were severely curtailed and after a fast run along the West Coast Main Line through Lancaster, arrival back at Carnforth was two hours early. The engine had performed impeccably and was pronounced fit to haul the public railtour two days later.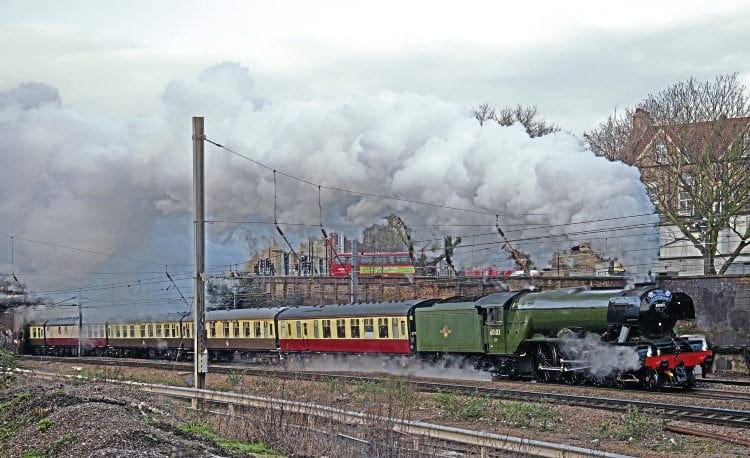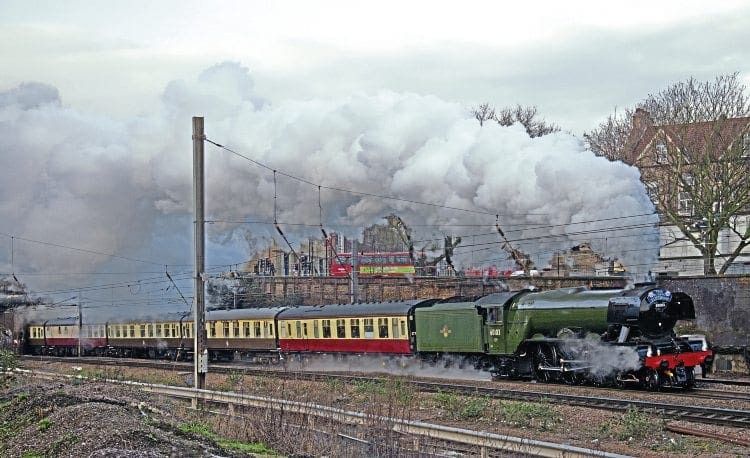 On Saturday, February 6 the train arrived at Carnforth electrically-hauled, but there were delays in changing engines and Flying Scotsman steamed out of the loop 17 minutes late. With a Virgin Trains Pendolino on its tail, the tour was looped at Grayrigg for the express to overtake and was 31 minutes late passing Tebay and the start of the climb to Shap summit. There was a diesel on the rear of its train, which did help to an extent, but nevertheless, 'Scotsman' was holding 67mph at Tebay and topped the summit at 38mph.
Downhill towards Carlisle, the A3 roared through Penrith station at 72mph and pulled into the border city in just over 82 minutes from Carnforth to be greeted by a huge crowd of well-wishers, who had braved the rain.
The departure from Citadel station was 11 minutes down but 'Scotsman' was lucky to have been allowed to use the Settle and Carlisle line as it had been closed by a landslip the previous day. The train had to use the Down line from Howe & Cos' sidings to Culgaith. After a quick water stop at Appleby, and with the diesel still giving some assistance, 'Scotsman' topped the 1-in-100 to Ais Gill summit in 24 minutes from Appleby at 48mph.
Despite the weather, and almost in darkness, there were crowds at Ribblehead reminiscent of those on August 11, 1968 witnessing BR's last steam train, the 'Fifteen Guinea Special'. The A3 left its train at Farington Junction, near Preston, and returned to Carnforth, but only briefly as it was soon on its way to York, where it arrived at around midnight, ready for preparations for the next trip.
RTC managing director Nigel Dobbing said: "Flying Scotsman is the sole survivor of Sir Nigel Gresley's A3 class of locomotives and famous the world over so we are very excited that our 'Winter Cumbrian Mountain Express' day tour was chosen for the main line test. It was also a great honour to have, on the same day, another great favourite, Royal Scot, making its main line debut hauling our 'North Wales Coast Express'."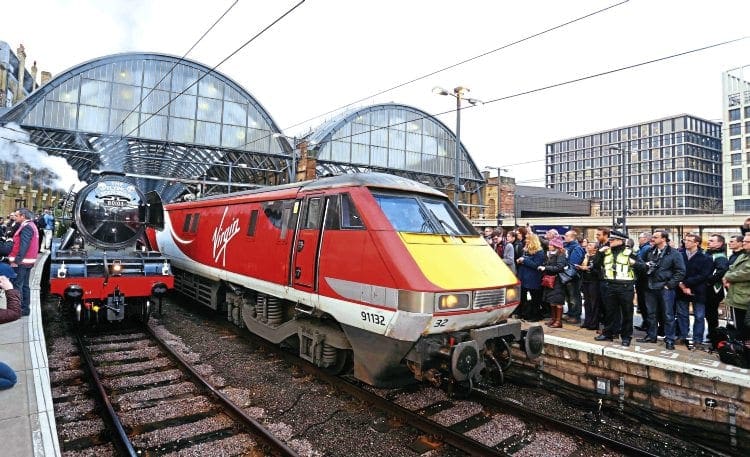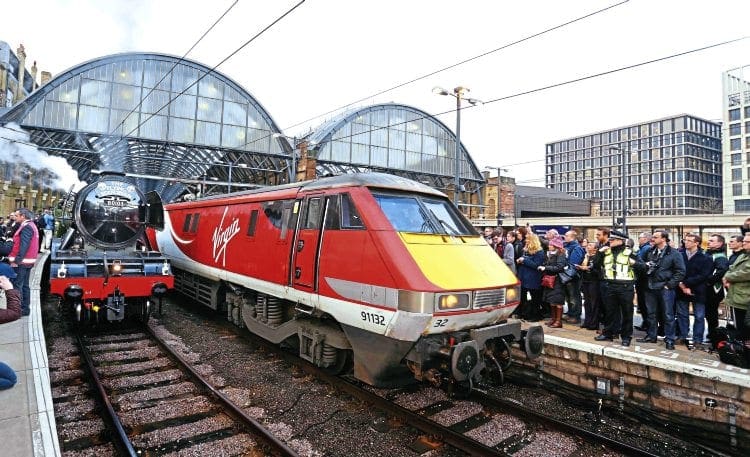 Hot bearing and spring needed attention
Unfortunately, a driving wheel bearing was found to have run slightly warm.
The leading pair of driving wheels were removed and sent to Bury for the bearings to be examined and the problem rectified, while the engine was being painted at York.
The wheels were refitted on Saturday, February 19 and everything reassembled ready for a test run to Scarborough on the Monday.
However, by then a bombshell had been dropped: West Coast Railways had been served with a Prohibition Notice by the Office of Rail and Road, preventing the Carnforth company from operating any trains.
This setback was not entirely unexpected and moves had already been made to have 'Scotsman' registered by the only other company able to run steam passenger trains on the national network, DB Schenker, essentially a freight haulage company, but with steam drivers on its books.
Paperwork was quickly finalised and DBS took over not only the test run but the move to London. The prestige official relaunch train from King's Cross to York on Thursday, February 25.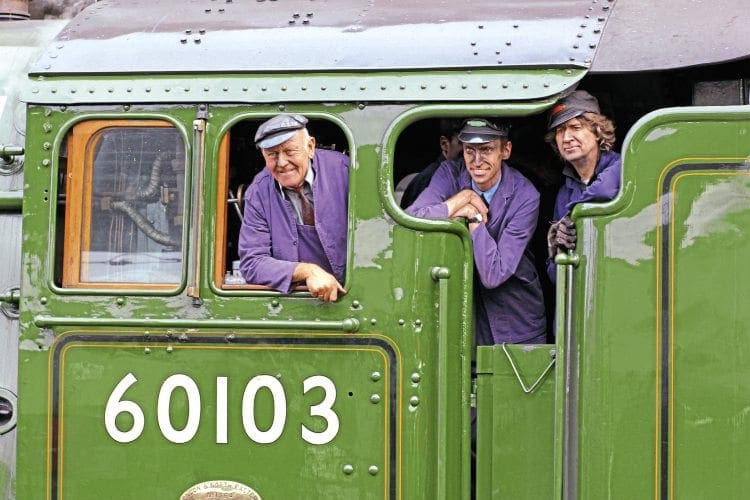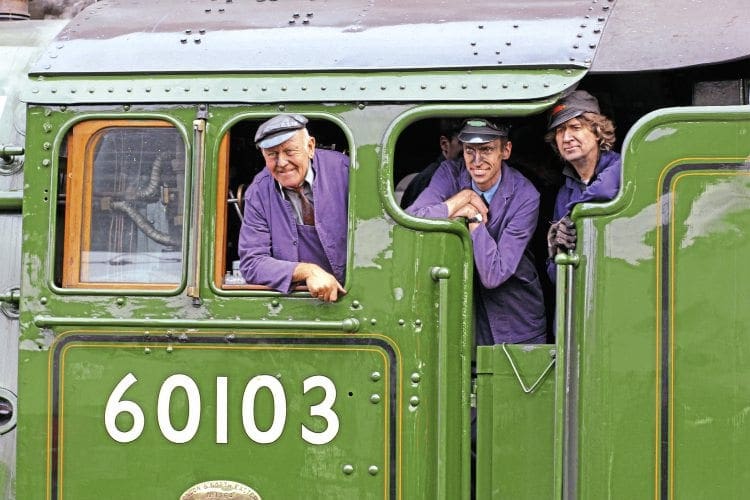 It never rains but it pours and during the final fitness-to-run examination on Sunday, February 20, a cracked driving wheel spring was discovered.
Welding repairs at Rotherham delayed the test run to Scarborough until February 23. Departure from York was four minutes late but arrival at Scarborough was five minutes early.
On February 24, No. 60103 made its journey down the ECML from York to London, minus its nameplates which were applied before the inaugural run, and hauling the borrowed support coach from Peppercorn A1 Pacific No. 60163 Tornado.
Repainting into BR green
For its official main line relaunch, the engine appeared in fully-authentic BR Brunswick green livery as No. 60103 still with its double chimney and smoke deflectors. It has even had its smokebox handrail split and the front numberplate is correctly positioned on the top hinge, to make it look exactly as when it was withdrawn by BR in January 1963. Lancashire firm Heritage Painting was commissioned to do the job, which was completed on February 17.
The firm's Ian Hewitt said while the job was in progress: "We've painted Gresley greats before including the world's fastest locomotive, Mallard, but it's an absolute honour to transform Flying Scotsman, the most famous of them all into its new livery.
"BR green will be recognised by many who saw the engine under public ownership in the late Fifties and early Sixties, and it will be accompanied by black and orange lining and the BR crest.
"It's taken us just over a week to get to this point, and its used 45 litres of paint plus 20 litres of varnish, 20 litres of thinners and hours of painstaking work for our team of five."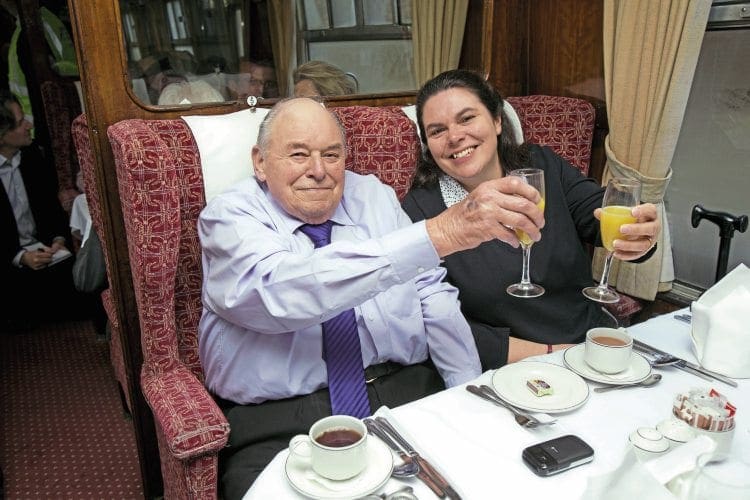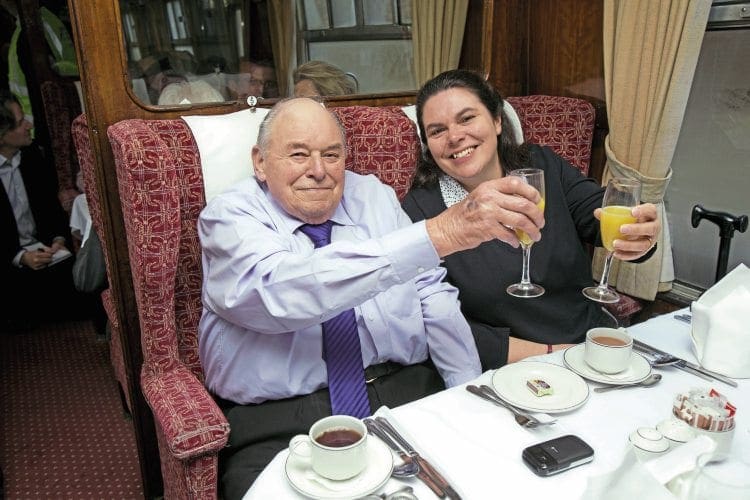 Don Benn reports on Flying Scotsman's inaugural run from   King's Cross to York
February 25 is quite a special day in my book as that day in 1962 saw a valediction in the form of the final steam run around Kent, featuring a King Arthur and a Schools class on the main line sections.
Fifty-four years later, February 25, 2016 saw a new dawn for the iconic Flying Scotsman and its official return to the main line working after a troubled and very expensive 10-year long overhaul, finally completed when entrusted to the capable hands of Ian Riley.
I found myself on the first train up from Southampton Airport in order to ensure I was at Platform 1 at Kings Cross by 7am to check in and collect my ticket for the train from the very helpful staff from the National Railway Museum. That gave me plenty of time to wander up the platform to see Class 67 No. 67013 bring in the empty stock of the special train with A3 4-6-2 No. 60103 Flying Scotsman at the head end.
The media interest was of course intense, although I managed to secure a couple of shots and even got close enough to the cab to talk to Dave Proctor, our fireman on the first leg. His driver was Paul Major and the traction inspector Sean Levell, all from DB Schenker.
The stock was a mixed set of two kitchen cars, a brake with a generator for electric train heating, seven open first class coaches and the support coach, totalling 391 tons tare for the
11 coaches, probably about 420 tons full; a good test for Flying Scotsman.
My seat was in coach D, six back from the front and my first task was to organise the table of the four of us media bods so that I had the window seat facing the front in order to set up my GPS and its aerial.
There was a general air of expectancy as we left on time and soon plunged into the darkness of Gasworks Tunnel, leaving the Class 67 behind to follow us later.
The organisers and all concerned can be highly praised for their trust in the capabilities of our steam locomotive, which wasn't misplaced. My GPS, which had found a good signal while still at the platform, promptly lost it in the tunnel and it wasn't until Finsbury Park that normal service was resumed.
The early stages of the run as far as Peterborough was tortuously slow on a fine and dry but very cold morning.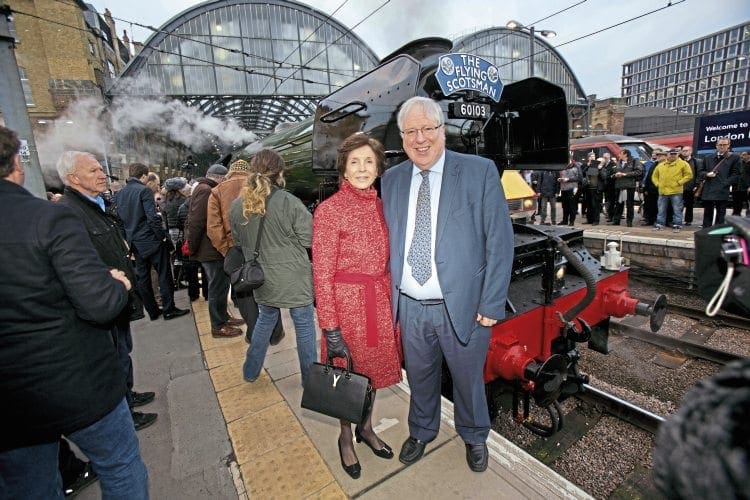 As far as I can see this was due mainly to extreme caution being shown by the engine crew (or maybe Network Rail) as the only definite reason for delay that I could identify was the check before Welwyn Garden City, where the 08.17 to King's Cross departed from the same platform that we used a few minutes later.
By then we were nine minutes late, but with a fairly sedate schedule to the first booked stop at Holme I wasn't unduly concerned. We got going well by Stevenage and were up to 64.3mph before we were checked again through Hitchin, but then finally were allowed to run. And run we certainly did, as by Three Counties the A3 was up to 72½mph reaching a maximum of 74½mph after Arlesey down the 1-in-400 before the hump at 1-in-264 to Milepost 38 reduced this to 70½mph.
Then, down the lovely downhill stretch past Biggleswade, Sandy and Tempsford, we raced away to average 75.13mph over the 12 miles between Mileposts 38 and 50, started at 70½mph and with a maximum of 78mph at Biggleswade and a minimum of 74mph after Sandy.
Flying Scotsman is clearly a very free running engine aided by the long travel valves and
6ft 8in driving wheels making it a true racehorse, which in common with new-build Peppercorn A1 Pacific No. 60163 Tornado ought really to be 90mph certified.
Unfortunately, our little romp was short lived and we made a sudden stop just shy of milepost 51 for a reason which was quite obvious from the train – spectators were scattered about along the lineside, the wrong side of the fence at this point (see separate item).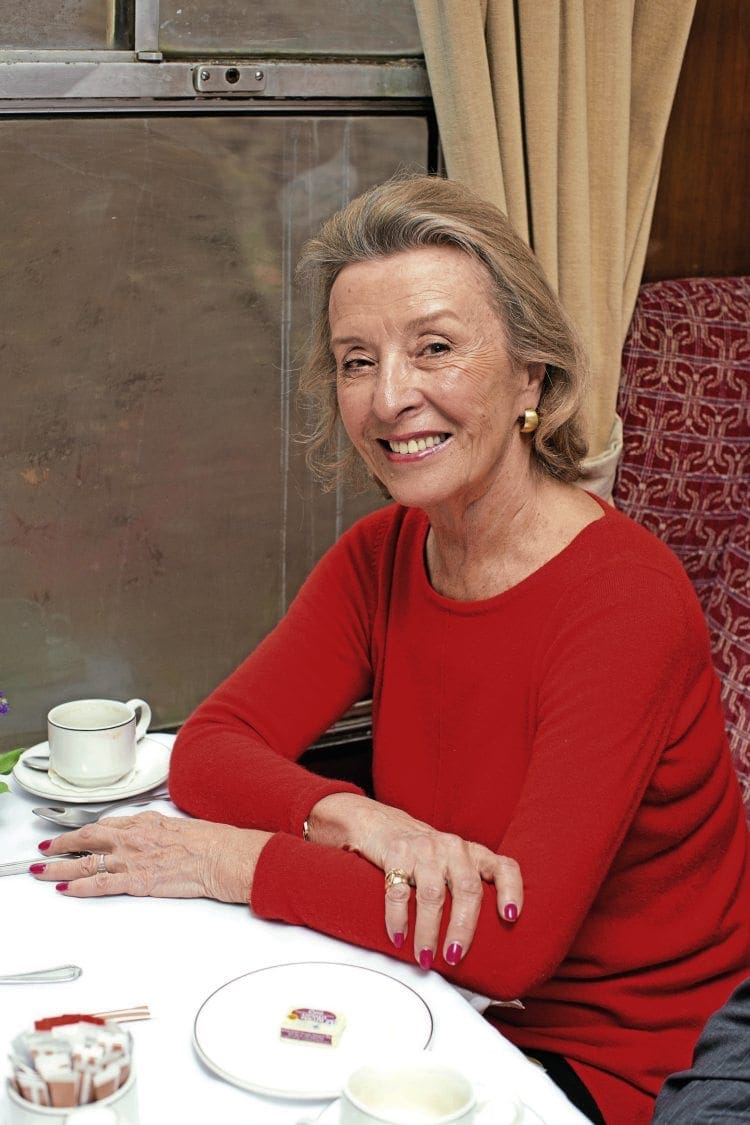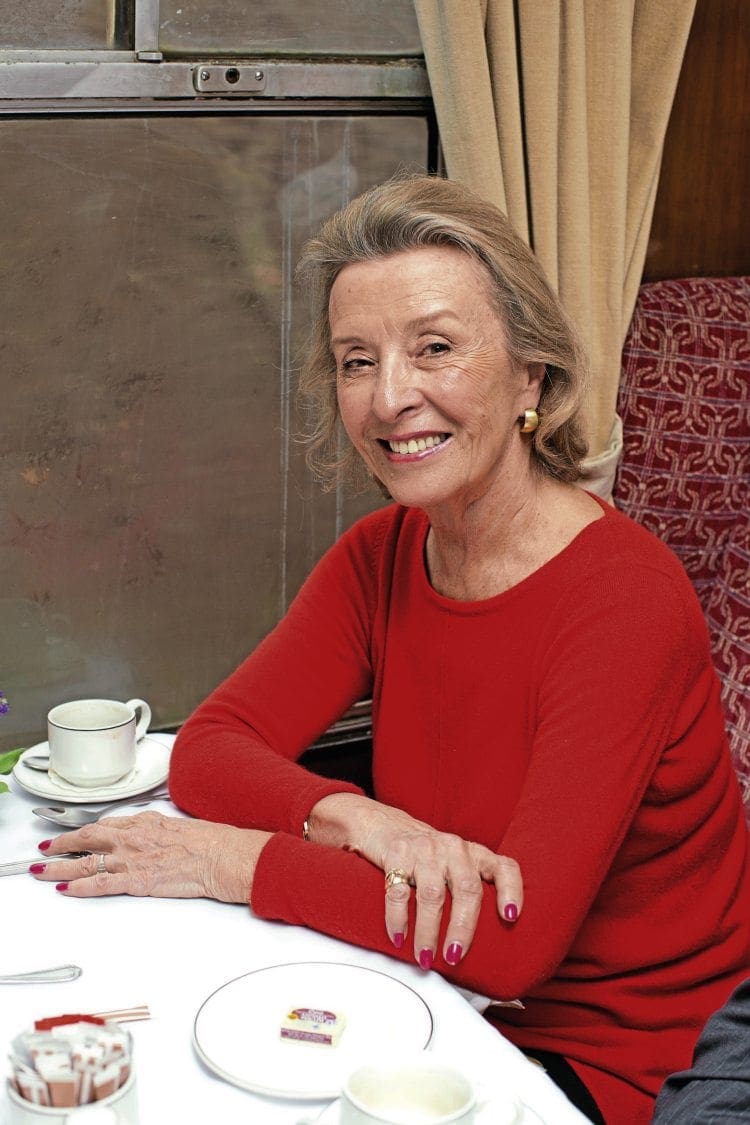 This enforced delay was a great shame as from being nearly 10 minutes down at Stevenage, we had recovered two minutes by Sandy and I am sure would have been on time by our water stop at Holme.
As it was we were at a stand for a total of nearly 13 minutes, spread over two stops, the second being quite brief. We continued in a more subdued manner, but still got up to 69mph at Offord before topping the three miles of 1-in-200 to Leys at 53mph and running down to the water stop at Holme (actually its Conington), where we were 21 minutes late.
Any attempt to estimate a net time for the 67.8 miles from King's Cross to this point would be a bit meaningless owing to the difficulty of attributing the various early delays.
Here, I was served the full English breakfast (but without the champagne as train timing and alcohol don't mix) perfectly timed to coincide with the stop. We were ready to go after 16 minutes but were held at the outlet approaching Conington North for the 09.00 King's Cross to Edinburgh to pass before regaining the main line and reaching Peterborough for a crew change more than 27 minutes late.
From Peterborough we had Steve Hanczar in charge with fireman Jim Clarke and traction inspector Jim Smith.
No doubt Jim Clarke's father, Don, recently retired from driving for DBS, would have been proud but maybe a little envious of his son having such a prestigious duty!
For the run to the Babworth water stop we were away nearly half an hour late booked slow line to Stoke Junction, where we were timed to wait for a succession of down trains to pass, but I had worked out that our late running should enable us to avoid this stop and so it turned out.
A steady but well-judged climb of the bank, with speed mainly in the mid-fifties but falling to 49mph at the top, meant we just managed to avoid the pathing stop so the lateness was down to 20 minutes at Stoke Junction.
We were, though, very close behind the 09.35 King's Cross-Leeds, which was due to call at Grantham from 10.39 to 10.40, and so I wasn't surprised that having got up to 66½mph after Great Ponton we caught adverse signals from the Leeds train, which we were booked to precede.
I also knew that having lost our path we were unlikely to make it as far as the next pathing stop at Carlton and so after another good spell of 75mph running down past Barkstone and Hougham, Control looped us at Claypole, where a very brief stop enabled the 09.48 King's Cross to Hull to get past.
This slick piece of work meant we missed out the next stop and ran through to Babworth for water.
On easy gradients now until Crow Park, Flying Scotsman was again worked up into speed reaching a maximum of 76mph before the broken climb at 1-in-200/600/200 up past the Dukeries to the summit at Markham just before Askham tunnel pulled speed back to a minimum of 52½ mph, suggesting easy working of the engine. From 16 minutes late past Newark Northgate, where the platforms were particularly crowded, we were just seven minutes late at Carlton and 12 late at Babworth after a stop in the platform at Retford.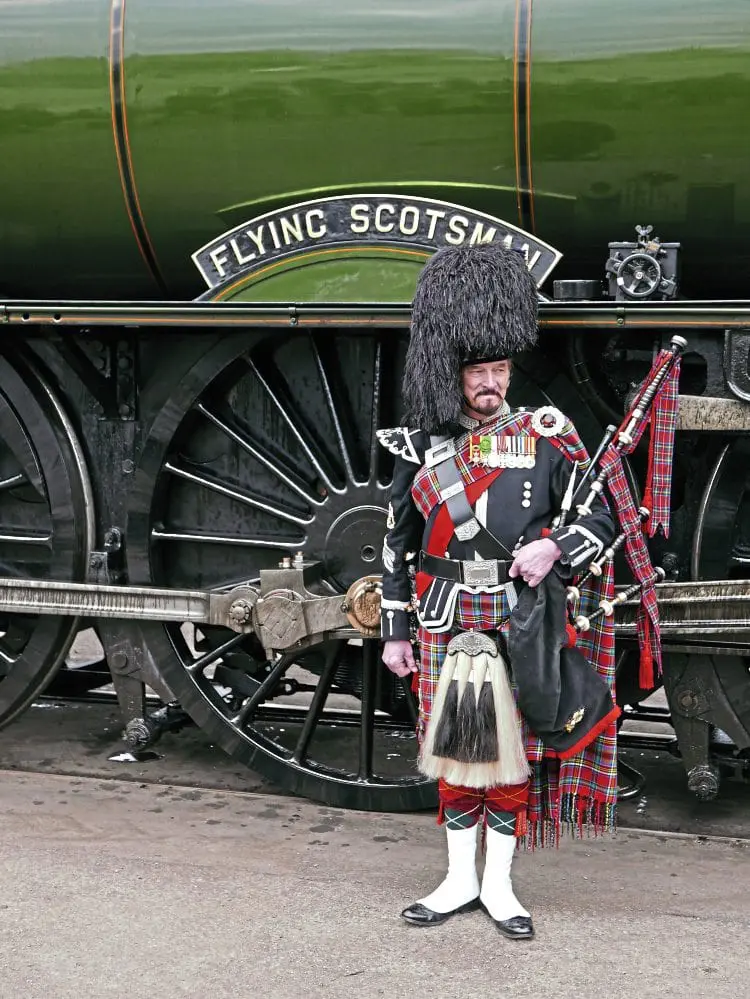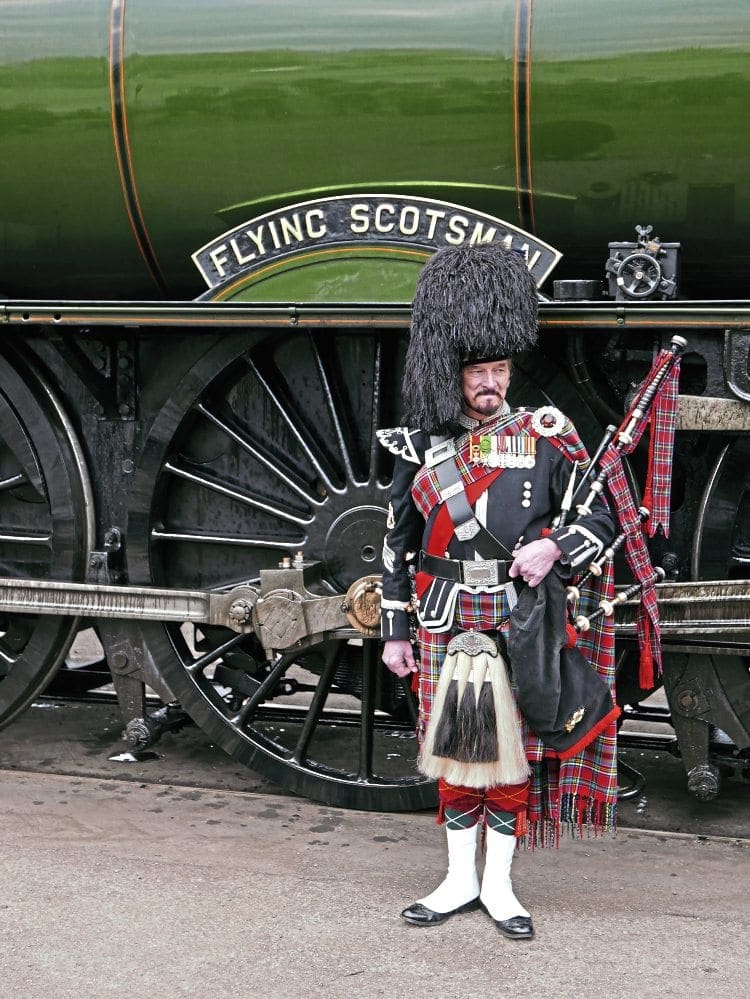 Net time for the 62.72 miles from Peterborough was about 70 minutes, assuming a non-stop run. Without the extra stop at Retford we would have been close to time at Babworth, but as it was the stop was prolonged as we had again lost our path.
I wondered what train Control would do on a very difficult morning for them and a queue of 125mph trains all expecting to be given precedence over our 75mph steam-hauled excursion, albeit a very important one.
We finally got the road 25 minutes late, and restarted on a nice sunny morning behind the 10.30 King's Cross to Newcastle, but in front of the 10.35 King's Cross to Leeds, which was right behind us and which we delayed slightly.
All in all good regulating as Control knew that we would lose the Leeds train after Doncaster.
I had high hopes of an even time run to York as the 49.24 miles were allowed only 50 minutes.
We made a good start along the level stretch to Scrooby, passed at 66 mph, and then followed the best climb of the day to Pipers Wood, where the minimum on the 1-in-198 was a creditable 64mph after which speed quickly rose to 75 down past Rossington before the engine was eased until after Doncaster, where we had kept the tight 18-minute booking for the 16.73 miles from the Babworth stop.
When speed had regained the seventies by Moss, I thought we were home and dry, but sadly it was not to be as lineside trespass once again intervened, this time causing another 27 minutes of delay.
Great caution was shown after the restart and indeed onwards to York, where we arrived into Platform 9 to be met by huge crowds, just over 53 minutes late; a somewhat deflating end to a very good first official and first solo run with Flying Scotsman.
After arrival I spent the next hour or so taking in the atmosphere of this special day and getting some nice shots from platform 10, opposite the one where No. 60103 had arrived and where it was sitting, the centre of attraction for an admiring crowd.
All credit to those concerned with keeping this platform free of arriving trains for the duration.
Tribute must be paid to all those who have been involved in bringing this magnificent locomotive back to the main line, especially to Ian Riley and his team and of course to Alan Pegler, who saved her all those years ago.
My sincere thanks to both train crews, to the NRM and to Virgin East Coast and Network Rail, particularly the guys in train Control all of whom worked so hard to make this special day possible.
I am sure that we are going to see some very good performances from No. 60103 in the future, hopefully without the lineside problems, as the hype subsides somewhat.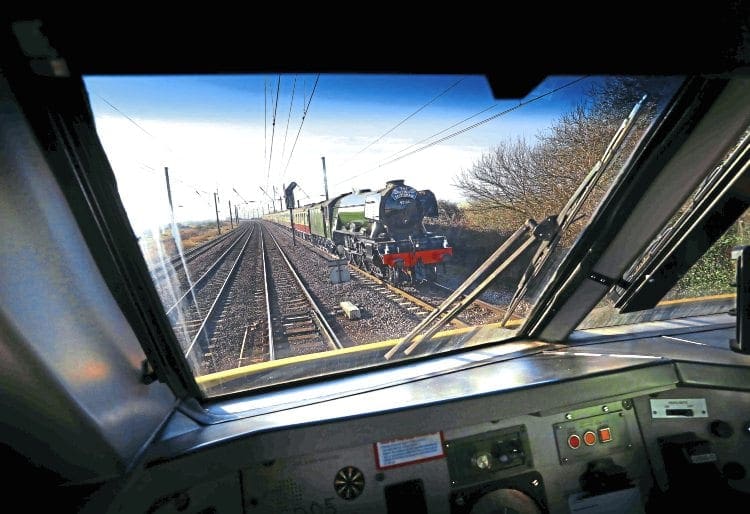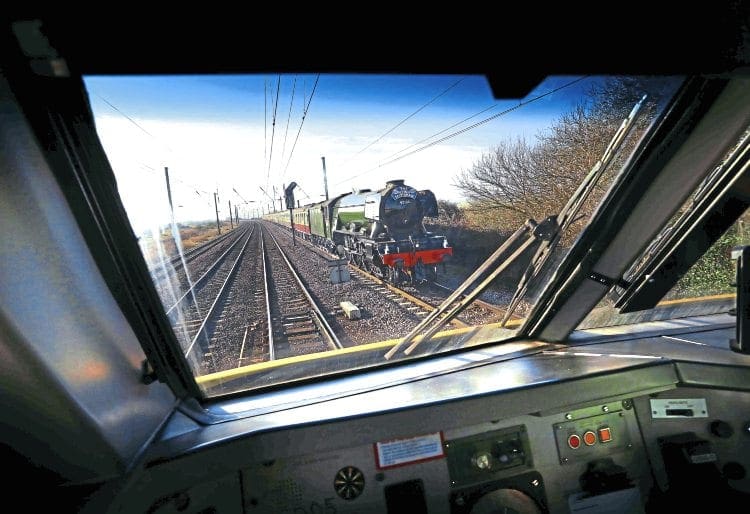 VIPS on board
A total of 297 VIPs, fundraisers, competition winners and members of the public, who paid up to £450 each, were on board the trip.
Because of the lateness of the problems facing initial train operator West Coast Railways, which had to pull out because of the ORR prohibition notice, replacement carriage stock was borrowed from Rivera Trains, which supplied vehicles from its 'Royal Scot' and 'Royal Duchy' sets.
Former cabinet minister Michael Portillo said that he was very excited to be travelling on the train prior to filming on and around the locomotive at York for a forthcoming episode of his BBC documentary series Great British Railway Journeys.
He praised the A3's designer Sir Nigel Gresley for having "an eye for engineering, for design, for style and for marketing".
Amongst the VIP guests was Ron Kennedy, 83, who started his career as a teenage cleaner at King's Cross and who drove Flying Scotsman from 1956 until it was sold to Ffestiniog Railway saviour Alan Pegler in 1963.
Also on board was former owner and multi-millionaire enthusiast Sir William McAlpine and his wife Judy. Sir William repatriated Flying Scotsman from California after its ill-fated 1969/70 tour of North America went broke, and who had a private standard gauge railway of his own at his home at Fawley Hill, near Henley-on-Thames.
"It's a wonderful locomotive like a beautiful woman," he said. "She's in the right place doing the right thing and very much loved by everybody, and the wonderful thing about her, she makes people smile. People love her."
They see, they watch, but they don't think
At every vantage point along the route, overbridges, fields and embankment tops were lined with countless photographers, videographers, and enthusiasts, along with locals who simply wanted to see the locomotive thunder past, many of them waving and cheering as it did so.
South of Doncaster, one lady was spotted standing on top of a pile of manure to get a better view. Welcome to Yorkshire boss Sir Gary Verity said: "This is part of history. You've only got to look at the crowds. They're on every vantage point, every gantry, every bridge, even up on cherry pickers."
There were reports that up to five helicopters were following the train at various points. Two belonged to Sky News and BBC News.
Sadly, spectators decided to stand on the wrong side of the fence in some areas and at points near St Neots and north of Doncaster, the locomotive was forced to come to a sudden stop because of trespassers. Virgin Train East Coast tweeted: "Due to eager Flying Scotsman photographers on the track near Peterborough, delays of 15 mins are expected. Don't be silly!"
A guard aboard the Flying Scotsman train leaned out of a window and shouted to the trespassers "Will you get right off the lineside? You are causing the railway to be shut. Right off the lineside!"
Near St Neots, footage filmed from the stationary train showed people walking down the line holding cameras. Network Rail issued an urgent plea to spectators to stay safe and keep off the line.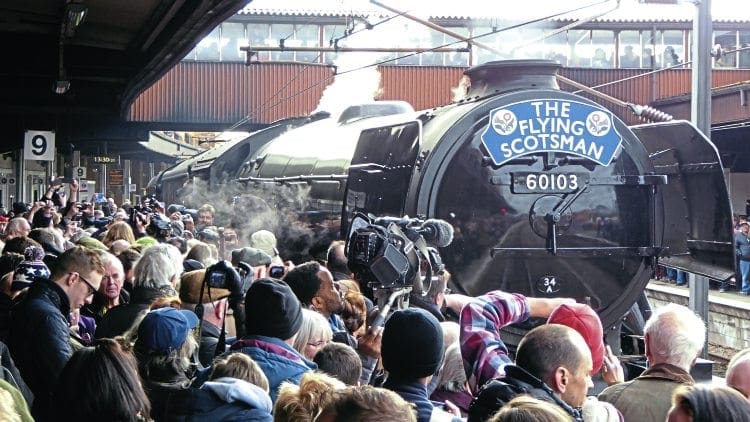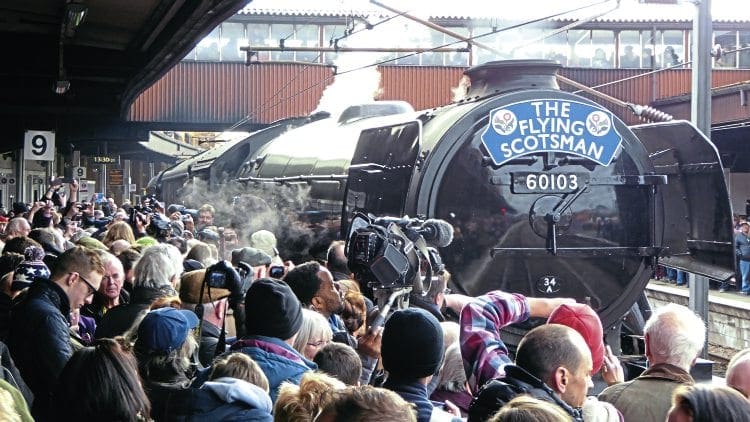 While British Transport Police received reports of around 60 trespassers at the location shortly after 9am, no arrests were made.
However, a Virgin Trains caterer said: "It's certainly the first train I've been on that hasn't been filled with angry people demanding refunds when it was delayed!"
In his weekly newsletter, Great Central Railway general manager Richard Patching commented: "It's nice to see Flying Scotsman's return to running with a much-publicised journey today from King's Cross to York. Less impressive I felt was some of the radio coverage.
"Even worse was a presenter describing how 'Scotsman' could be photographed today right along the East Coast line and, with considerable excitement/ humour, how she had once-upon-a-time linesided very close to the track a Japanese Bullet train, but been reprimanded by some joyless official. With such coverage, is it a surprise that Scotsman's run was marred by trespass?"
Similar scenes were witnessed on July 4, 1999, when the locomotive made its previous comeback run following a major overhaul under then owner, the late pharmaceutical entrepreneur Dr Tony Marchington.
At York, platforms 9 and 10 were heaving with spectators for up to two hours before the train finally arrived. Station and NRM staff handed out special Flying Scotsman flags and sweets.
Gail Reilly, the granddaughter of former Flying Scotsman driver Percy Hammond, was among those waiting, with her daughter Hannah. She said: "Having a family link makes it even more special."
Missed his picture – and will now fly to the States!
The delays caused by the trespassing brought dismay to linesider Ryan Allen from Spilsby, in Lincolnshire, who had positioned his video camera at what he thought would be the perfect spot, Little Bytham on Stoke Bank.
However, his timings had gone out of sequence because of the delays, and as he pressed the button, a red and white-liveried Virgin electric train whizzed past, obscuring No. 60103, apart from its steam trail.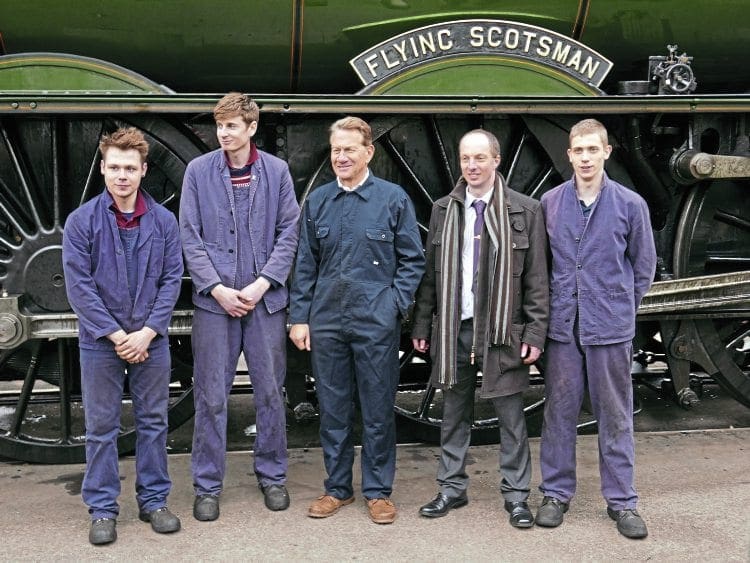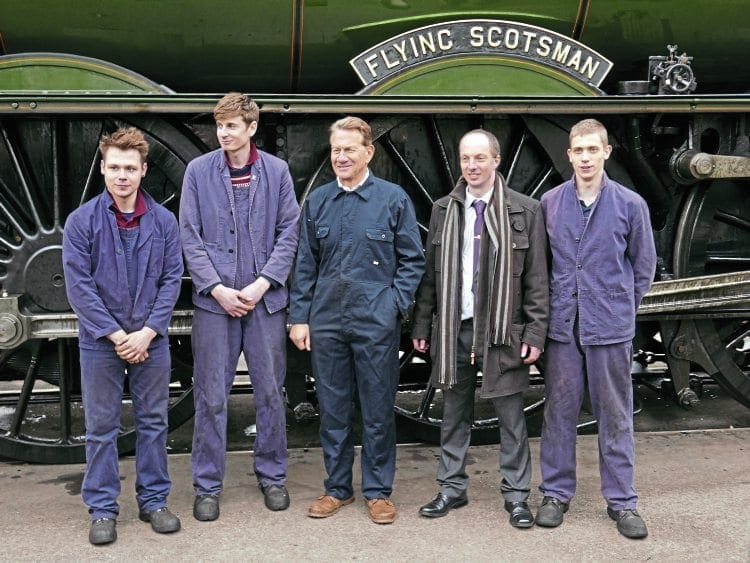 Ryan, 34, tweeted the video while expressing his disappointment, and it went viral.
It quickly came to the notice of Virgin Trains – whose staff apologised – even though the delayed train was not the company's fault.
The next Ryan knew was that Virgin offered him a free train trip to the US to see the rail networks in Atlanta.
It was more magnificent PR for Virgin, because as soon as the offer was announced, Ryan was contacted by TV stations and other media outlets asking if they could share his video.
A spokesman on its Twitter account told him: "We feel bad about that photobomb! I hear Atlanta, Georgia has a super busy rail network. Fancy a trip courtesy of Virgin Atlantic?"
After collecting his transatlantic tickets from Virgin staff at Grantham station, Ryan said: "I am not a railway enthusiast but I work for Anglian Water and I was on a job to investigate a leak. I saw a load of chaps with cameras so I asked them what was going off and they said the Flying Scotsman was coming past, but it was delayed.
"I have never been to America and I've always wanted to go. It is a great opportunity."
After being literally embraced by swelling crowds on Platform 9 at York, Flying Scotsman was uncoupled from its train and steamed under its own power into the museum's north yard for a final welcome-home ceremony and speeches to mark the start of 'Scotsman' season.
NRM director Paul Kirkman said: "We have all been looking forward to the day when Flying Scotsman steams home to York along the East Coast Main line and now this historic moment has finally come to pass.
"This celebratory journey marks a new stage in this steam icon's long and colourful history, and is a tribute to all the people who have worked so hard to make this happen, from those that have worked on the restoration itself to the public that donated to our appeal to bring this legend back to life."
David Horne, managing director of Virgin Trains on its East Coast route, said: "Flying Scotsman has an incredible history and we're proud to be sponsoring a season celebrating its return to the tracks which starts with today's inaugural run.
"In the pre-war era, the Flying Scotsman symbolized speed and style – service qualities which remain important to our customers today."
Sir Peter Hendy, chairman of Network Rail, said: "It's great to see this magnificent symbol of Britain's railway heritage and technology once again running on our tracks.
"Since this engine was making its regular trips from London to Edinburgh the journey time has halved, frequency quadrupled and the levels of service and comfort are incomparable.
"Today, as then, the railways are playing a vital role in economic growth, creating jobs and building homes in Britain. Alongside celebrating the glorious history of the oldest railway in the world we also look forward to investing to continue the huge contribution the railway makes to the future of the UK."
The speeches in the yard were given in front of train passengers and invited media by Paul, along with Dame Mary Doreen Archer, Lady Archer of Weston-super-Mare, chairman of the trustees of the National Science Museum Group, and Sir Peter Luff, chairman of the National Heritage Memorial Fund and Heritage Lottery Fund.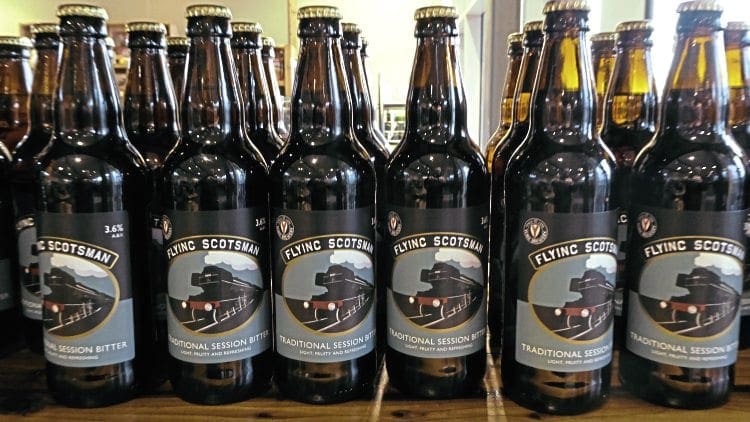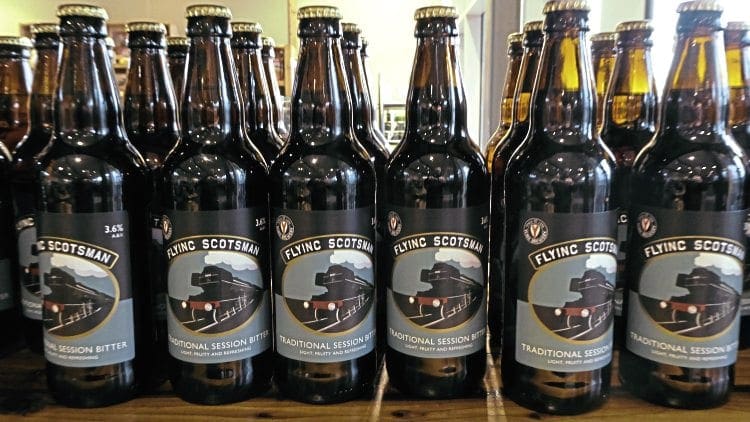 'Scotsman' season now in full swing
The NRM's 'Starring Scotsman' season examining the locomotive's claims to worldwide fame was opened following its triumphant return to York, and runs until June 19.
From March 25, Stunts, Speed and Style, a free-six week display in the Museum's Great Hall, tells the story of the renowned luxury 'Flying Scotsman' service between London and Edinburgh through the eras.
Visitors will be able to board the cabs of four different locomotives, including Flying Scotsman itself, which hauled the famous train that departed at 10am carrying business and leisure travellers from both capital cities.
Exclusive access mornings for Stunts, Speed and Style will be held on April 1, 11, 15, 20, and 30 between 8am and 9am, Flying Scotsman displayed with the LNER dynamometer car, along with GNR Stirling Single No. 1, GNR Atlantic No. 990 Henry Oakley and Deltic D9002 Kings Own Yorkshire Light Infantry, lined-up in chronological order as supporting acts.
While the locomotives will be displayed in the normal museum setting, barriers and access steps will be removed. Tickets cost £15.
A ticketed exhibition, Service with Style, which uses binaural sound and archive film on board three carriages of the types that travelled the 'Flying Scotsman 'route to tell a story of speed, innovation, fame and luxury right up to the present day, runs from March 25 to May 8, with tickets priced at £8.
A buffet car from the Llangollen Railway is included in this 'Flying Scotsman' exhibition train. The carriage, which has a 22ft bar and eight seats in an alcove, was built by the LNER in 1947 as one of two for the new 'Flying Scotsman' set, and in 1953 ran in the London-Edinburgh non-stop train 'The Elizabethan'. The carriage can be seen in the 1954 film Elizabethan Express.
It is the only one of its type to survive and only one of six Thompson post-war carriages to be preserved. When built it would have been scumbled in an imitation teak finish.
During the 1960s it was cascaded to secondary use and spent a period on the Cambridge Buffet Express. The carriage came to Llangollen in 1988 and after a chequered career as a mess coach and as 'Santa's grotto' is now restored to the original design of 1947.
Llangollen Railway chairman Peter Lund said: "We are delighted all the hard work in restoring this unique coach has been recognised by the NRM in choosing to place it on display."
Thursday, April 28 sees National Railway Museum Lates, a free-entry over 18s night with a Flying Scotsman-themed evening offering a range of A3-inspired activity, with a fun focus on the 1920s, from cocktail making to whisky tasting and Charleston dancing to object handling, live music and crafts. Period attire is encouraged!
Read more News and Features in Issue 234 of HR – on sale now!
Archive enquiries to: Jane Skayman on 01507 529423 – jskayman@mortons.co.uk
Enjoy more Heritage Railway reading in the four-weekly magazine.
Click here
to subscribe.