Fifty years ago, a remarkable variety of steam power was still in control of passenger and freight workings in the North-West. Trevor Gregg looks back to a camping coach holiday at Grange-over-Sands.
Our annual summer holiday was always something that I looked forward to especially as a young trainspotter. Two memorable holidays were spent in a caravan at Spittal near Berwick-on-Tweed in 1962 and 1963. The caravan site was perfectly situated near to the East Coast Main Line and opposite Tweedmouth sheds. I could watch the A4s tearing past on the express services and wander across to the lineside fence to look across at the locomotives being serviced at Tweedmouth. In 1962 I recall seeing some of the five A2 Pacifics allocated to Tweedmouth and in 1963 it was AIs; the A2s having been replaced by locomotives transferred from Heaton shed. There was also the sight of an LMS Ivatt 2MT 2-6-0 with a couple of coaches chugging along from Tweedmouth with the passenger service on the Tweed Valley Line to Coldstream.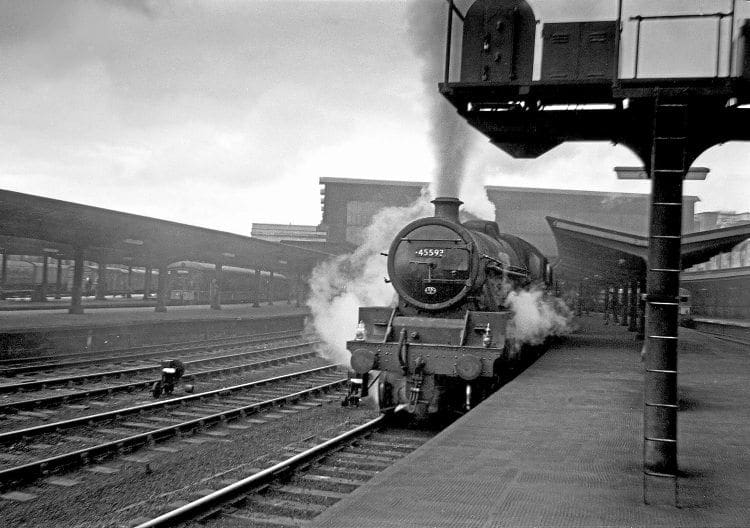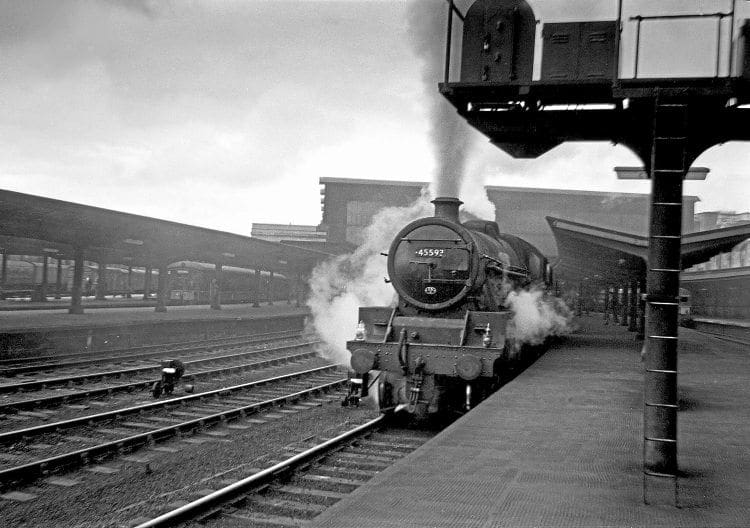 In 1964 and 1965 the annual holidays had no railway association but this was all to change in 1966 when my mother announced she had seen an advert for a camping coach holiday at Grange-over-Sands and how did we all feel about that? I was delighted at the prospect as it offered the opportunity to travel on new railway routes and underline many new numbers in my Ian Allan ABC book. With my School Railway Club I had visited both Carlisle Kingmoor and Carlisle Upperby sheds on a number of occasions but nothing further south in the London Midland Region. In addition, for my birthday I had been given a Brownie 127 camera so I would also be able to get some photographs.
On Saturday July 2, 1966 we set off from Blyth; it was the full family, my father, my mother, my grandfather, my sister and I. The passenger service on the Blyth and Tyne had ended two years earlier so it was bus to Newcastle. A condition of renting a camping coach was that the equivalent of four adult return tickets between our home and the camping coach station had to be purchased. After obtaining our tickets we set off from Newcastle along the Tyne Valley Line for Carlisle while I kept an eagle eye open for any locomotives whose numbers I could record.
Impressive sight
We arrived at Carlisle just after midday and with some time to wait before our train to Lancaster I quickly headed off on to the southbound main line platform to get some numbers and photographs. Almost immediately I was rewarded by the impressive sight of a rather grimy LMS Jubilee 4-6-0
No. 45593 Kolhapur blasting out with the 12.09pm to Leeds via the Settle and Carlisle route; out with my camera for the first photograph of the holiday.
Meanwhile standing quietly in the loop near to the platform was Stockport Edgeley's BR Britannia Pacific No. 70026 Polar Star. Could this be waiting to take over for our run to Lancaster offering steam haulage over Shap? Alas this was not to be the case as Brush type 4 diesel D1979 arrived with the train from Glasgow and remained on the front. We were quickly off and soon thundering up the climb to Shap. It was then a brief stop at Oxenholme where there was a couple of Fairburn 4MT 2-6-4Ts resting in between their Shap banking duties. We alighted at Lancaster and joined a Euston to Barrow train hauled by another Class 47 or a Brush as we called them in those days.
On arrival at Grange station we met the stationmaster who gave us details of the camping coach arrangements, the key for our coach and keys for toilets in the station that were reserved for camping coach residents. The five green and cream camping coaches were situated in the goods yard next to the station. Our coach was perfectly situated near to the sidings and the main line between Carnforth and Barrow and looked out over Morecambe Bay.
Climbing up the steps into the coach I found it to be an old corridor coach in which a number of the compartments had been removed to create a dining room and living room, to the right of which was a kitchen. The corridor to the left led to three compartments, which formed the bedrooms, with two full-length beds in each. All bed linen, table cloths, crockery and cutlery were provided and Calor gas was used for cooking and lighting. I was very impressed, especially when I found I could open one of the original door windows, secure it with a leather strap and look out towards the main line, which was only two tracks away.
There were similar vertical sliding windows in each of the bedrooms. I then headed back to the station where I bought a Holiday RailRover ticket while my parents made a quick visit to the shops. It wasn't long before my mother had mastered the cooker and the evening meal was prepared. I had just sat down and was about to start eating when I heard the sound of a familiar whistle; it was a Britannia Pacific. Leaving the table quickly I grabbed my camera and slid down the window in time to get a shot of No. 70025 Western Star pulling out of Grange station with a Barrow-Preston train.
Unbelievable location
Some 40 minutes later there was another Britannia whistle and this time No. 70032 Tennyson headed out with another passenger train. I couldn't believe my luck; what an unbelievable location. In advance of the holiday I had purchased a London Midland Region timetable and after consulting it I concluded that all the Barrow to Preston and London Euston services were locomotive-hauled.
As the week went on I established that apart from an occasional Class 47 they were all steam hauled and principally by Britannia Pacifics. According to my Ian Allan Locoshed book the majority of the Britannias were allocated to Carlisle Kingmoor, a few to Carlisle Upperby and the remainder to Crewe South.
Although allocated to these sheds I thought that the locomotive servicing was most probably being undertaken at Barrow and Lostock Hall sheds. That night a very happy young lad went to sleep in the camping coach.
Classes I had never seen before
Article continues below...
---
---
In advance of the holiday and with the aid of my timetable I had planned a few trips from Grange that would give me the opportunity to hopefully see some locomotive classes I had never seen before. It was, however, still a family holiday and I couldn't disappear every day chasing after steam locomotives – unfortunately! Two of the trips I had decided upon were to Lostock Hall and Wigan Springs Branch sheds hoping to see some of the few remaining Stanier 5MT moguls and Stanier 4MT 2-6-4Ts.
The next day was the Sunday and I had originally planned to go to Lostock Hall but the limited Sunday service on the Preston to Liverpool Exchange service meant getting to and from Lostock Hall would be difficult so instead I decided on a day trip to Preston station. With my sandwiches and a flask of tea I departed the camping coach and walked the short distance to Grange station to be met by Carlisle Kingmoor's No. 70053 Moray Firth working the 9am Barrow to Preston. I did not need a seat as it was to be head out of the door window in the first coach behind the locomotive to savour the sight, sound and smell of a Britannia Pacific in action.
Soon we were tearing along the side of Morecambe Bay before crossing the viaduct and stopping at Arnside; stops also being made at Silverdale and Carnforth. I took a few shots from the train with my rather basic Brownie. After Carnforth I quickly discovered just in time the location of Hest Bank water troughs, and the need to get one's head in and close the window to avoid being showered in water when the locomotives picked up water.
A brief stop was made at Lancaster before the superb sound of No. 70053 tackling the short 1-in-98 climb south of the station. All too quickly Preston was reached and the end of my journey. Being a Sunday Preston was quite quiet but there was still some steam to see and photograph including 'Black Five' 4-6-0s, 8F 2-8-0s, a 9F 2-10-0 and the station pilot Standard 2MT 2-6-0 No. 78037. I returned on a Euston to Carlisle train changing at Lancaster for a DMU to Grange.
Monday started very early; 7am to be precise when I was woken by the sound of voices and the hissing of steam. Opening my compartment curtains I found Carnforth's Ivatt 2MT
No. 46431 shunting wagons alongside the camping coach, it was unbelievable as I slid down the window and touched the 2MT when it was stationary. What a start to a very busy day as I planned to visit both Springs Branch and Lostock Hall sheds.
Even more impressive
After breakfast and with some food and a flask in the rucksack I headed for the station and waited for the 9.22am Grange to Preston train to arrive. In it came from Barrow hauled by Carlisle Upperby's No. 70020 Mercury. The run to Preston seemed to be even more impressive than the previous day's run, particularly the climb out of Lancaster, probably as the loading on a Monday was greater than that of the Sunday. No. 70020 came off at Preston and it was Class 47 haulage down to Wigan North Western where I left the train.
I headed for Springs Branch shed following the directions I had obtained from an Ian Allen Shed Directory. Eventually I arrived at the depot and being a rather cautious 15-year-old decided not to venture into the running sheds but wander around the outside sidings which were full of 'Black Fives', Stanier 8Fs , Fairburn tanks and 'Jinty' 0-6-0Ts and to my delight I came across my first Stanier mogul No. 42963, which had just been withdrawn from service. Then further along it was another first with Stanier 4MT 2-6-4T No. 42577 in steam.
It was then back to North Western station to spend some time on the southern end of the station before taking a train back to Preston. It was quite busy with some of Crewe South's Britannias in action; Nos. 70024 Vulcan and 70033 Charles Dickens were on passenger trains and then No. 70014 Iron Duke thundered through the station on a northbound freight. I grabbed a few photographs with my Brownie – not ideal for fast-moving trains; it would have been better taking the Ivatt 2MTs shunting in the station! Just before leaving for Preston I got a photograph of another Stanier mogul No. 42954, which brought a freight working up the line from Wigan Wallgate and on to the main line at North Western station.
Arriving back into Preston I changed on to a train for Liverpool Exchange and got off at Lostock Hall. The exit from the station was on to a road, which ran past the entrance to the engine sheds and then across a bridge over some more railway lines running parallel to the sheds and the station passenger lines. From this road I got a good view of the sheds and the numerous sidings full of steam locomotives. I concluded I would be able to see and photograph many of the steam locos without having to enter the main shed buildings and run the risk of being escorted off the premises.
On the other side of the road I got a nice shot of Standard 2MT 2-6-0 No. 78057, which was standing in a goods depot, as it was recorded as being withdrawn I guessed it was waiting to be taken away for disposal. Then I heard a whistle and got another first, it was an ex-Crosti 9F 2-10-0 hauling a freight, which was just coming to a stop at signals on the parallel freight lines I had noted earlier. It was a quick dash along the road to the over bridge to find it was Birkenhead's No. 92020, the first of the 10 9Fs fitted with Crosti boilers and again the Brownie recorded the event.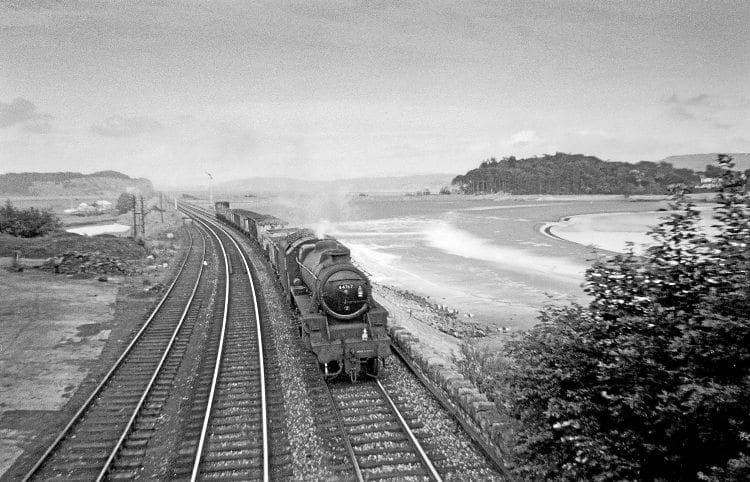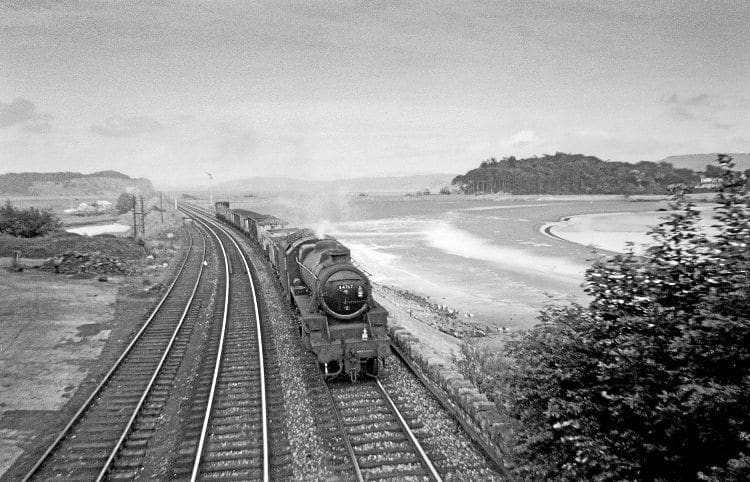 A bit bolder
It was then discreetly over the fence and I was among the rows of steam locomotives, many of which had just been withdrawn; including another two Stanier 4MT 2-6-4Ts, Nos. 42625 and 42436. I then got a bit bolder and ventured into the running sheds to see numerous 'Black Fives', 8Fs, Fairburn tanks, Standard 2MTs, Ivatt 4MT 2-6-0s and even a WD 2-8-0 but surprisingly no Britannia Pacifics. I thought that maybe the Britannias I was seeing on the Barrow to Preston services were not being serviced at Lostock Hall or maybe they were just all out.
With my notebook full of numbers together with quite a number of photographs it was back to the station to catch a train back to Preston. I departed Preston just after 6pm on a steam-hauled service for Windermere then got off at Carnforth just in time to photograph
No. 44890 on a southbound freight. I then joined the 7.32pm Preston to Barrow train hauled by Crewe South's No. 70025 Western Star to take me back to Grange for my evening meal and a good night's sleep after what had been a truly superb day.
The next day I had planned a trip to Skipton and as it was to be a later start decided to explore around Grange and get some local photographs. On the Morecambe Bay side of Grange station was a promenade that ran eastwards past Grange signalbox to a footbridge over the running lines, which I found to be a very good vantage point from which to take photographs. It was from here I got a nice shot of No. 70025 Western Star returning south on a Barrow to Preston train and then another hauled by Crewe South engine No. 70024 Vulcan.
The journey to Skipton was a bit of anti-climax compared with the previous day as it was DMU throughout, starting with the 11.16am Grange to Carnforth. I had a 45-minute wait at Carnforth before my train to Skipton during which time I photographed Tebay's Fairburn 4MT 2-6-4T No. 42233, which arrived with the 11am Windermere to Preston service. I then joined my train to Skipton and as we neared the station I got my first sight of the engine sheds and decided to have a go at looking around the sheds as it was within walking distance of the station.
As I left the station I grabbed a photograph of 'Black Five' No. 45225 on a southbound freight passing Skipton's Ivatt 2MT No. 41241, which was shunting in the sidings. After walking along what seemed to be an endlessly long straight road I came to the engine sheds, which to my horror were empty, all the locomotives were out! So it was back to the station in time to see 'Black Five' No. 44852 on another freight passing Skipton's Standard 4MT 4-6-0 No. 75011, then another Skipton Standard 4MT No. 75042 drifted through the station with a southbound freight. I spent the remainder of the afternoon on the station platforms and recorded Peak D11 on a southbound passenger, which I guessed must have been 'The Waverley', before taking the 6pm DMU service back to Carnforth. It was then the 7.32pm steam-hauled service back to Grange. It was not the most exciting day but I did 'cop' quite a number of steam locomotives from both Skipton and Leeds Holbeck sheds.
The next day was the Wednesday and it was to be a family outing to Morecambe with a stroll along the promenade. The trip was arranged for the afternoon, which allowed me some morning photography around Grange. I started off at the promenade footbridge I had found the previous day to see No. 70038 Robin Hood with the 9.22am service to Preston closely followed by Kingmoor's unique Stephenson link valve gear 'Black Five' No. 44767 on a freight heading towards Grange. I never imagined this 'Black Five' would survive and is still going strong 50 years later.
A pleasant afternoon
It was then back along the promenade, past the station and continuing on until I came to a footpath rail crossing leading into Grange Park. From this crossing I got a photograph of No. 70047 on the 10am Grange to Barrow; No. 70047 was unique in that it was the only Britannia Pacific that was not given a name. After some lunch in the camping coach we all set off for the station to take the 1.11pm to Lancaster, which came in hauled by Upperby's No. 70049 Solway Firth.
A pleasant afternoon was spent in Morecambe before returning to Lancaster to take an early-evening train back to Grange but this time it was not steam but Class 47 hauled. After the evening meal my father and I decided to take a walk from Grange along the narrow road that ran parallel to the railway towards Meathop and Arnside. On a small track crossing leading to Holm Island I photographed both 8F No. 48556 on a Barrow-bound freight and then No. 70028 Royal Star on the late-evening Preston to Barrow train.
All too quickly it was Thursday, the week was going too fast but my plan for the day was to travel to Barrow in the afternoon with the morning again spent doing some photography around Grange. A shot taken from the camping coach of No. 45025 on an early-morning freight leaving Grange started the day off; again I never expected that in 50 years' time I would be able to see the same locomotive at the Strathspey Railway not too far from where I now live. It was then more or less a repeat of the previous morning; No. 70047 the only un-named Britannia was on the 9.22am from Grange and I photographed it from the footbridge. Then it was off along the promenade to the crossing where it was 'Black Five' No. 44882 on what appeared to be a Barrow parcels train then No. 70042 Lord Roberts on the 11.45am Grange to Barrow.
After some lunch I took the 1.43pm Grange to Barrow, returning on the 5.55pm but did not record what hauled them; I guess it must have been diesel as if it had been steam I would have noted it! On arrival at Barrow my plans were to find the locosheds and get some shots of the Britannias on shed but from the train and from the station I couldn't see the sheds so I decided it would have to be an afternoon spent on the station platforms.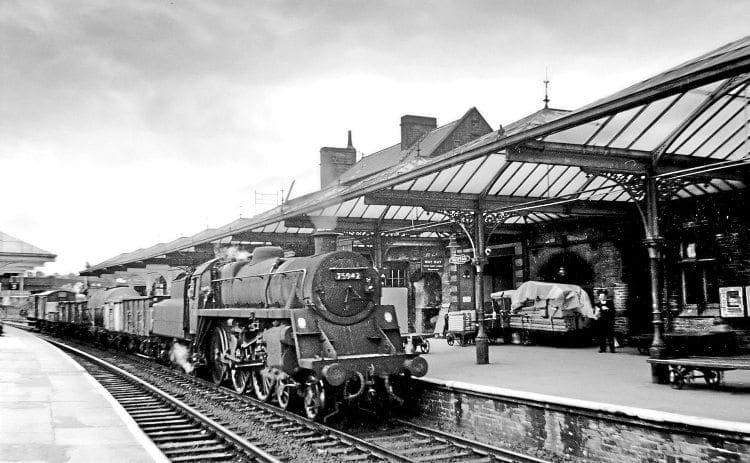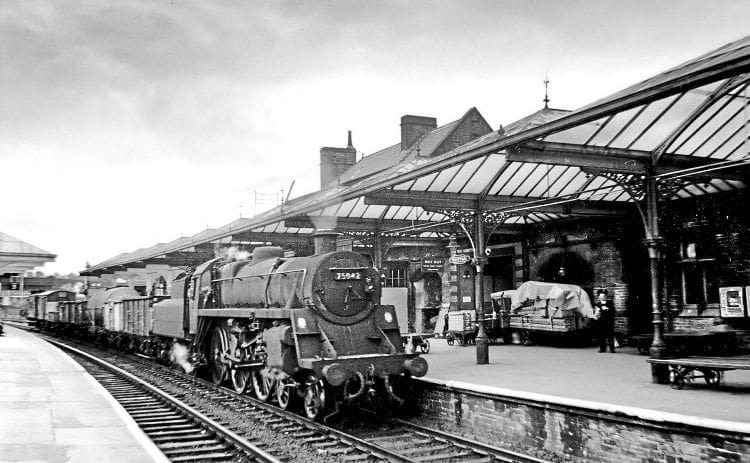 Interesting outing
There was plenty to see with freight trains at regular intervals passing through the station, I recorded a number of Barrow's 'Black Fives', 8Fs, and also three MetroVick Co-Bo diesels. There was also the sight of Upperby's No. 70018 Flying Dutchman on a passenger train. It was a pity I had not been more prepared and obtained directions to the sheds but it had still been an interesting outing. It was then back to Grange to round the day off by watching 'Black Fives' and Britannias passing the camping coach while having my evening meal, what could be better?
Then alas it was Friday, the last full day of the holiday and the morning was spent with the family having a good look around Grange but I did manage to see No. 70034 Thomas Hardy on the 9.22am Grange to Preston. I escaped for the afternoon and decided that I would spend it at Carnforth. Arriving at Grange station I was met again by the un-named Britannia No. 70047 on the 1.11pm Grange to Preston; again it was to be the first coach behind the engine with my head out of the window. All too quickly Carnforth came and I had to leave No. 70047 for it to continue its journey south.
I had now been at Carnforth on a number of occasions and had concluded the only way into the sheds was via a long footbridge used by railway staff. The end of the footbridge looked to be very close to the main sheds and offices, a bit too exposed to allow me to sneak in so I decided to spend the afternoon on the station platforms. The southern end of the station was the best allowing me to see all the workings on the West Coast Main Line, the Furness Line to Barrow and anything heading across to Skipton. There was plenty of action, predominately 8Fs and 'Black Fives' with a couple of Carnforth's Ivatt 2MT 2-6-0s on shunting duties. I did get a couple of nice photographs, the first was of Kingmoor's
No. 70010 Owen Glendower on a southbound main line freight working followed by 9F No. 92002 crossing out of the numerous sidings and loops south of the station with a northbound freight.
All the West Coast Main Line passenger services I saw were diesel hauled, either by Class 40s and 47s. My notebook did record the sighting of Leeds Holbeck's Jubilee
No. 45675 Hardy but not what it was working. At 5.24pm it was on the train back to Grange but unfortunately it was diesel hauled; however, while having my evening meal in the camping coach I noted Nos. 70028 Royal Star and 70038 Robin Hood on passenger workings.
The next morning it was a very sad face; no one likes holidays to end, particularly this one, as it had been a superb holiday. It was a quick clean-up of the coach, pack our bags, hand the keys back to the stationmaster and wait for the 9.07am Saturdays-only service to Preston which was hauled not by a Britannia but by a 'Black Five'.
We changed at Lancaster on to a Class 47-hauled Euston to Carlisle service but there was time for me to get a photograph of Carlisle Upperby's very grimy No. 70029 Shooting Star making a spectacular start with a southbound passenger train, producing huge amounts of steam and smoke.
All too soon we were heading north and arrived at Carlisle where we had two hours to wait before our train back to Newcastle. There was plenty of steam in action including 'Black Fives' and Upperby's No. 70020 Mercury but alas I had run out of film. All too quickly we were on our DMU bound for Newcastle but I was immediately cheered up when my mother asked us if like a repeat camping coach holiday next year. The reply from me was a very resounding yes and fortunately the rest of the family agreed.
Superb holiday
It had been a superb holiday for a 15-year-old railway enthusiast and I had underlined more than 100 steam locomotive numbers in my Ian Allan ABC. I had seen no fewer than 27 Britannia Pacifics and seen some of the last-surviving Stanier moguls and Stanier 4MT tanks, not forgetting my first ex-Crosti 9F, added to which I had been steam hauled on numerous occasions. I was overjoyed at the prospect that I would be able to do it all again next year but I did not envisage how much things would change.
In that summer of 1966 only five of the original 55 Britannia Pacifics had been withdrawn from service, and I was unaware this would change dramatically at the end of the summer period when the withdrawals would start in earnest. So what of my 1967 camping coach holiday and would the Britannia Pacifics still be in control of the Barrow to Preston passenger services? Well that will be another story!
Read more News and Features in Issue 232 of HR – on sale now!
Archive enquiries to: Jane Skayman on 01507 529423 – jskayman@mortons.co.uk
Enjoy more Heritage Railway reading in the four-weekly magazine.
Click here
to subscribe.