The death of Geoff Bird, York shedmaster between 1965 and 1980, was announced just before Christmas. Phil Marsh was fortunate enough to meet Geoff several times to record a fascinating railway career that spanned five decades.
Geoff was born in Essex but his family were evacuated to Harrogate in 1939. He recalled the Tilbury tanks running on the London, Tilbury and Southend line at Upminster on their runs between Fenchurch Street and Shoeburyness.
When Geoff left Ripon Grammar School in July 1944, he looked for a job in a locomotive works and accepted the first job offer made in April 1945.
In the intervening period, he worked as a metal flame cutter and learnt welding constructing Bailey bridges, saying that this stood him in good stead for his work on breakdown trains when the boilersmith was not on board.
Geoff started his railway career during the Second World War as an LNER premium apprentice on April 24, 1945 earning 32/6 (£1.62) a week at Darlington works. He worked in numerous locations in the North East in many motive power related roles witnessing and implementing recommendations from the 1955 Modernisation Plan and the 1963 Beeching report. He oversaw the changeover from steam to diesel as shedmaster at York between 1965 and 1980.
An LNER premium apprentice
Geoff recalled that the premium apprentice scheme was designed to give the apprentice a complete overview of the function of the main works with a view to progression into senior engineering positions. LNER management roles in the locomotive running department were usually filled by mechanically trained premium apprentices.
He went into the fitting and cylinder shops where the locomotives underwent mechanical overhauls including valve gear, rods and lubricators and he had to provide the various parts required for locomotives under general repair. Repairs carried out included fitting new pins into the motion, liners into cylinders and renewing piston valve rings.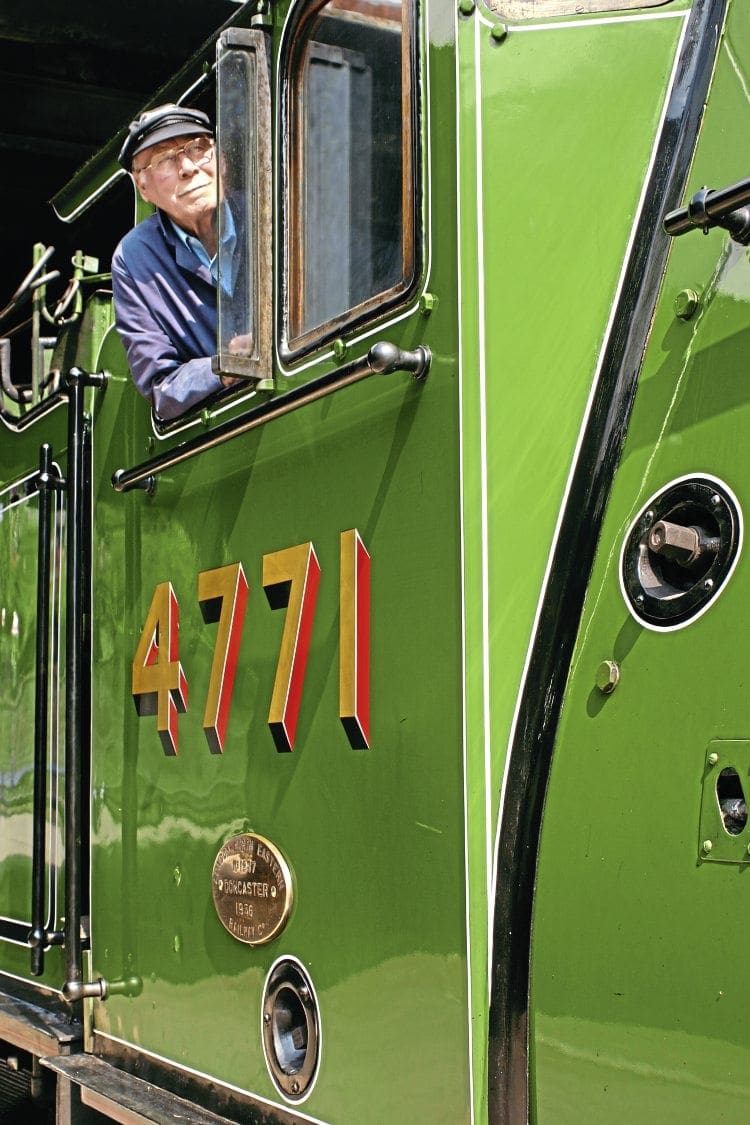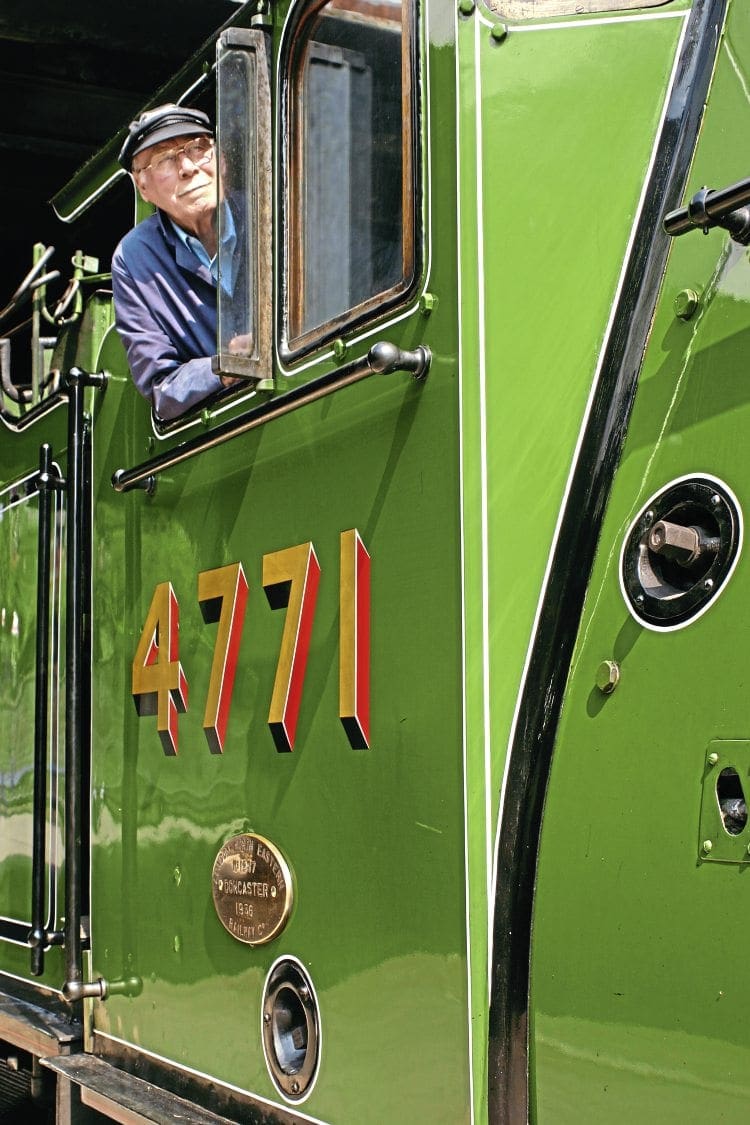 Geoff worked on cam poppet valves on classes such as D49 4-4-0s and fitted new valves, grinding them in while the engine was on the pit.
He was then sent to the brake shop to learn about vacuum cylinders and associated pistons, rods and rings plus Westinghouse pumps, commonly used in the North East. He described the work carried out there including bronze faces on brakes being hand scraped. This was a critical job as each brake port had to be absolutely airtight. He did this using a handscraper he made himself using old files kept sharp by grinding on stones.
The next stage in Geoff's railway education concerned regulator valves. He tested Gresley- designed poppet valves, which were left overnight immersed in water to see if they were flush and if any water leaked out, they started again. Training in the brass shop saw Geoff learning about safety valves and gauges ensuring everything was correctly calibrated after refitting on to a locomotive. He also worked on the second batch of B1 4-6-0s being built at Darlington.
He attended Darlington Technical College obtaining National and Higher National certificates in mechanical engineering; skills he used in model making 65 years later. Geoff had models of Hull-allocated B1 4-6-0 No. 61306 Mayflower and No. 61010 Wildebeeste in his study along with A1 Pacific No. 60130 Kestrel and Hull Dairycoates-allocated K3 2-6-0 No. 61932.
Drawing office work, A1s and Nationalisation
It was then time to move to the drawing office at the Stooperdale offices in Darlington. This was to learn how to interpret drawings and designs that might be brought to him for approval later in his career. He said: "In a nutshell, it was to learn the art of draughtsmanship and presentation of drawings so that they could be understood by others."
While there, the railways were nationalised but he said; "The railways carried on as before!" But drawings for a new-build locomotive were ordered; the Peppercorn A1 Pacific No. 60130 Kestrel was the subject of the drawings becoming the first Pacific to be built at Darlington for a quarter of a century. Geoff left his apprenticeship on September 14, 1948 just before No. 60130 was completed and so he missed the trial run much to his annoyance, he recalled.
Geoff was posted to the outdoor machinery section at Northallerton and when asked what he did there, he quietly said; "Oh, I designed an electrically powered hoist for coaling stages at Northallerton, Kirkby Stephen and West Auckland sheds. These replaced the arduous hand coaling which took place beforehand. Little did he realise that he would later become the shedmaster of all three locations. He also had a spell in the materials inspection department, which meant he visited Teesside iron foundries and steel rolling mills, checking the manufacturing process for quality control of materials destined for locomotive, carriage and wagon building, plus wire ropes for cranes and hoists.
Article continues below...
---
---
Married and redundant
At the age of 22 and just married, Geoff was made redundant but expressed a wish to work in the locomotive running department at his redundancy interview. The chief materials tester merely said: "Leave it with me my boy!"
A week later Geoff commenced in Darlington shed as a mechanical foreman (learner), his first management post, which lasted for two years, and involved relieving shedmasters and covering vacancies at smaller sub-sheds. He worked at such places as Kirkby Stephen, where his first experience of driving and firing locomotives took place on the Stainmore line. He also worked at Saltburn and Stockton becoming involved in technical investigations, accidents, locomotive failures and incidents. In his own words: "I did any technical work that no-one else did!"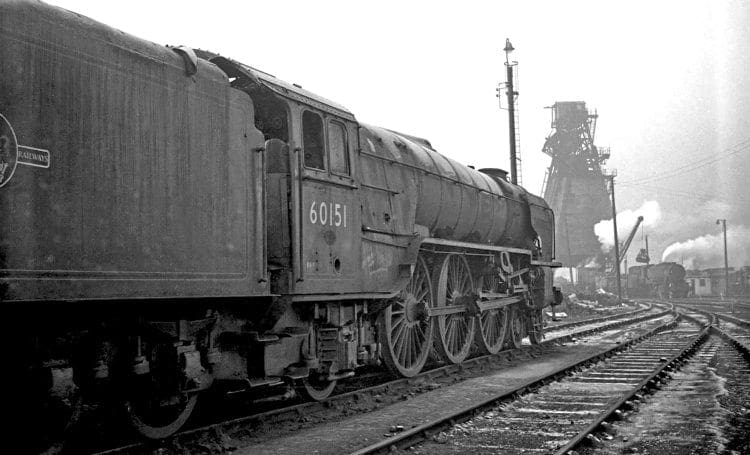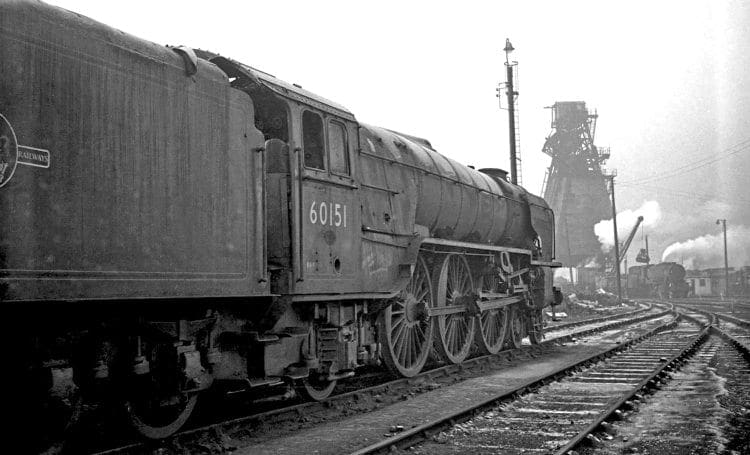 From time to time, he relieved the Darlington trials inspector and was responsible for ensuring locomotives were returned to, or if new, entered traffic in a fit state after being on trial. Once an engine had run for three consecutive fault-free days it was passed from works into traffic. He said that some engines stayed on trial for months and in particular he remembers WD 2-8-0 No. 90549 stayed on trial for six weeks.
He prided himself on being able to identify who had worked on every bit of a locomotive after its mechanical overhaul. He also inspected locomotives overhauled or built by private firms such as Robert Stephenson and Hawthorns Ltd before they entered traffic.
Geoff was passionate about the quality of Darlington's work, saying with a twinkle in his eye "that they turned out locos as good as anyone else including private manufacturers, in fact they were bloody good".
The next job was promotion to district technical inspector compiling reports for Arthur Jefferson, the district locomotive superintendent whom he described as the last totally autocratic district officer. On his annual appraisal, Mr Jefferson would smoke a pipe and have a technical book hidden on his lap behind the desk asking questions with the relevant page open to ensure the correct answer was given.
The legendary John Peck was Arthur's assistant at this time and often visited Geoff accompanied by Rev Eric Treacy. Geoff became the mechanical foreman at Darlington on a temporary basis to be able to get to shedmaster grade, which he achieved at Botanic Gardens, Hull on April 21, 1956. One of the interview questions was: What is the stress diagram like in a top motion bar? Geoff said he drew a curve in the air with a finger and this was accepted as the correct answer.
Kitson coincidence
In 1959 at Hull, Geoffrey H Kitson (a former LNER director) visited as part of a British productivity board delegation and by chance B1 4-6-0 No. 61237 was on shed that day named Geoffrey H. Kitson.
It was positioned on the turntable, as Geoff recalled, laughing. Although it was a pure accident that this particular locomotive was there when its namesake was on an official visit to the shed, Geoff replied "err, yes", to the question from his superiors as to whether this had been specially arranged. In the event Geoff recalled it was viewed favourably by senior management and ensured the name Geoff Bird was in the headlines. He also assumed responsibility for Dairycoates shed.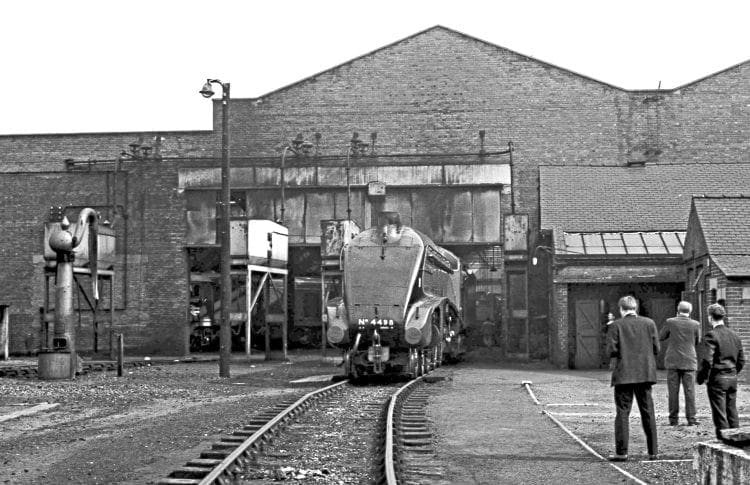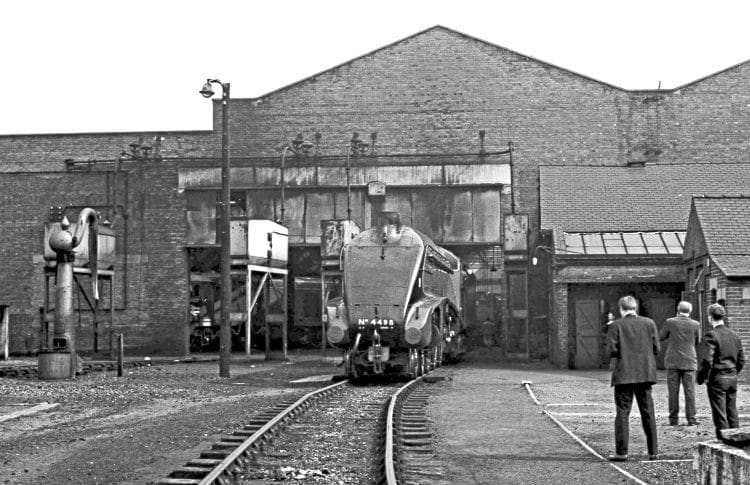 Great Western trials
One week after the Kitson visit, Geoff transferred to the Western Region appointed as junior assistant to the running maintenance engineer at the WR HQ, Paddington. He had no right to retain his cab pass but managed to convince the right people that he needed one to compare GW steam and early diesel traction with his preferred NER/LNER/ER motive power.
Geoff recalls the general manager KWC Grand looked out of his balcony one day at Paddington and said that he considered the 94XX series of pannier tanks were not proper GWR locomotives. He then issued an instruction to build some GWR locomotives and hence the 15XX panniers were built!
Geoff's job was to make sure diesel depots were supplied with tools and equipment to maintain the new fleet but with his cab pass he rode on every named class of the WR fleet, as well as Warship diesels on the fast runs to and from Plymouth. He recalled one standing operating instruction regarding 'The Bristolian' scheduled to have a D8xx Warship in charge. Should the booked locomotive fail, under NO circumstances was a D6XX Warship to be substituted but it had to be an Old Oak Common-based based King or Castle 4-6-0.
He rode on GWR 4-6-0 No. 6026 King John, taking just 105 mins for the 119-mile run between Paddington and Temple Meads. He asked the driver if there were any particular problems keeping diesel timings. The reply was: "No mate, we just keep the effing needle on 80mph." Geoff's fastest ride was 101mph down Dauntsey bank in June 1959.
Although Geoff spent just a year on the Western, he said: "The biggest impression made on him by a class of locomotive was the Castles. They were the finest engines to be produced," he said.
Geoff returned to the North East becoming assistant district supervisor at Darlington, interviewed by John Peck. He was also the Darlington shedmaster in 1960 with 500 men and 65 locomotives under his wing; also being in charge of the DMU depot.
In 1962 he was appointed to the assistant district locomotive superintendent post at Hull where a small steam fleet, mainly passenger tank engines, remained. But the BRCW-built DMUs failed with broken chassis. He had to resurrect some Hull Dairycoates' V3 2-6-2Ts for a month to work on the Bridlington and Brough services.
Geoff chose to remain with locomotive crews during one reorganisation and became the York shedmaster in 1965, staying there for 15 years. He was in charge of 1000 men and an allocation of 40 steam locomotives. His excuse for taking regular footplate rides was to meet the men and to understand their problems and grievances leading to the crews knocking on his office door for advice, which helped in such matters as disciplinary hearings. In 1970 he assumed responsibility for Harrogate and Scarborough depots, enjoying the authority and the scope.
But like many railway staff in 1975, Geoff had become less than enamoured with the state of the railways at that time and was about to apply for the post of mechanical curator for the National Railway Museum. The reason he didn't was because returning from King's Cross to York after a meeting at St Pancras, he climbed into the cab of a Deltic for the nonstop trip to York, wondering if this might be his last such ride.
The driver was an old acquaintance of Geoff, and suggested that he drove, which he duly did, convincing him that he needed to stay on the railways.
Now it can be told…
Geoff recalled several incidents in his early York days. Geoff Drury wanted to buy an A4 Pacific, No. 60019 Bittern, allocated to Haymarket, which had worked an Edinburgh-Leeds special. Geoff Bird decided to keep it for as long as he could and a few days later he rostered it on a Healey Mills freight. He received a call from Dougie Norton, the assistant regional officer asking where No. 60019 was. "It's about to work a freight," said Geoff. He was told to drop the fire immediately as it had just been bought by Mr Drury. The fire was duly dropped in the shed and it remained in York for a couple of years! Another preserved engine was the York shed pilot J27 0-6-0 No. 65894.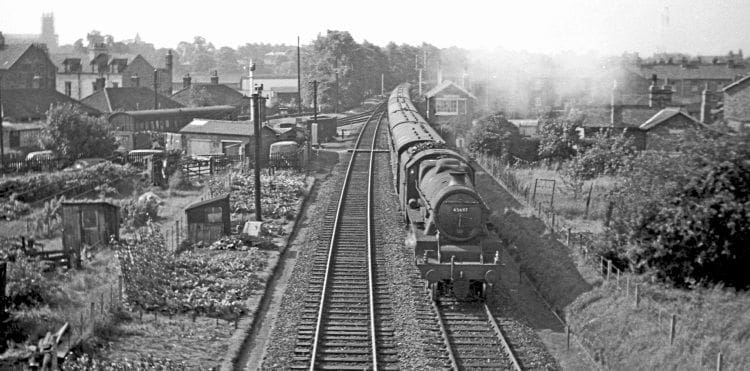 Geoff was determined that the last York-allocated V2 2-6-2 in service would be No. 60831 after classmate No. 60886 had used 4000 gallons of water between York and Darlington. This was due to a broken middle valve bringing early withdrawal. But part of this engine was used in 2006 to repair the preserved V2 No. 4771/60800 Green Arrow as Geoff had 'borrowed' the inside connecting rod from No. 60886 on withdrawal and used it as a footrest under his desk.
Why did Geoff initially want No. 60886 to be the last V2 in service? "Because it was the last York-based locomotive to haul the Royal Train in 1966 between York and Kippax –about six miles!" How were royal steam crews rostered? Geoff made no special arrangements and the officers' special regular driver, Maurice Yeats fell right for this and many other royal duties as his normal signing-on time covered most royal jobs.
Geoff had the authority to change royal crews if he thought there was a reason but he never exercised this option. He did, however, see the men involved including the guard the day before to ensure they knew what the royal job entailed.
Geoff recalled the brilliance of Roland Bond, who was president of the Institute of Locomotive Engineers in the early 1950s. Tradition dictated that the president gave an annual address but also traditionally, no questions were allowed to be asked in case the president could not answer them. Geoff recalled Mr Bond breaking that tradition and inviting questions. He then wrote left and right-handed simultaneously while taking questions.
A few years later Stuart Cox, while giving his presidential address to the same organisation, broke tradition and was asked why BR Standards all had Lancashire & Yorkshire Railway chimneys? The answer was 'because I am an L&Y man and because I can!'
Geoff recalled that the BR Standard 3MT 77XXX 2-6-0s were excellent machines, while the Standard 2MT 78XXX 2-6-0s were half a power classification better than their LMS counterparts. He rode on No. 77001 on the 'Yorkshire Pullman' one day when a B1 4-6-0 failed and it clocked 73mph through Broomfleet.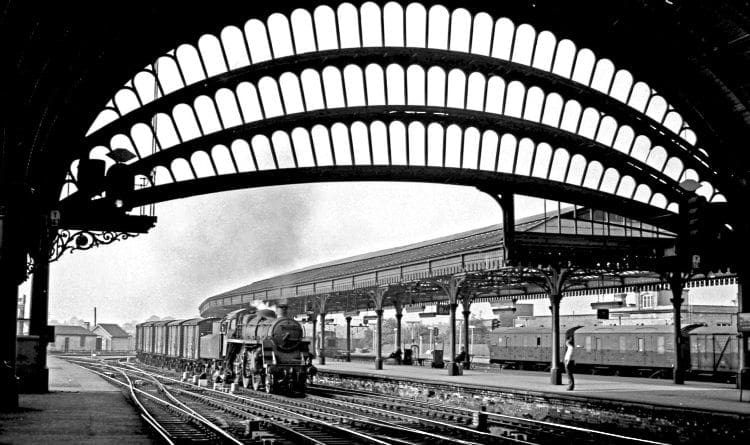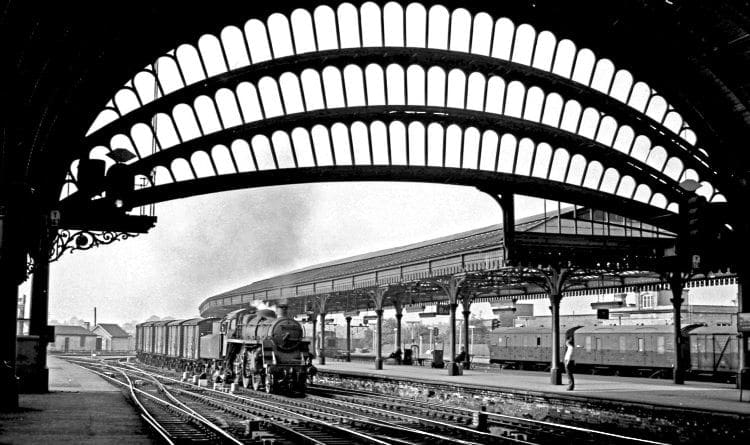 At the time of the interviews I asked Geoff if the (then) next A1, No. 60163 Tornado could beat Mallard's 126mph record if allowed and he replied that it was theoretically possible given the roller bearing tender and locomotive wheels and today's high-speed track and signalling. He qualified this by recalling that he rode on No. 60145 St Mungo at more than 100mph just before scrapping – a great achievement.
90mph steam for the 21st century?
He also had a view on increasing main line steam speeds from 75mph to 90mph, which he was against, as he wondered whether today's firemen could keep up with the steam demand. There is also a step change in handling a locomotive above 75mph in terms of driving technique and ride quality on the footplate, he recalled. It would also not do the locomotive any good even though they were capable of doing 90 – they were not designed for sustained 90mph speeds.
Geoff finished his career at Doncaster as the divisional train crew manager and was in charge of footplate staff continuously from 1952 until he retired in 1985. He was one of the few people who could truly say, been there, done that, seen it all!
And finally…
I asked Geoff if he would have done anything differently with hindsight. The quick reply was no. He was then asked if he would like to work for 40 years on the railways of today. Again, the quick reply was no, he could not possibly work under the current situation. "It is no longer the exciting railway I joined. We were in charge of what we did, being responsible and answerable for our actions," he said.
Read more News and Features in Issue 231 of HR – on sale now!
Enjoy more Heritage Railway reading in the four-weekly magazine.
Click here
to subscribe.