Friday, December 18, 2015 saw the end of deep coalmining in Britain when Kellingley Colliery was closed, and with it came fears from steam enthusiasts that the heritage railway movement was going to suffer as a direct result. Peter Brown canvasses opinion from the industry.
Suggestions from some enthusiasts were rife and equally gloomy that this could mark the beginning of the end for heritage railways. One reader from Croydon, emphatically ranted: "You must look into this. The end for steam lines is in sight."
Deciding to take a look into such allegations following the closure of this North Yorkshire mine we launched an exclusive Heritage Railway survey which has revealed that it is unlikely that what has happened at Kellingley will mark the end of steam on preserved railways. However, what has emerged is that in the longer term and based on future government-led energy plans, coal could become very difficult and expensive to obtain – if available at all.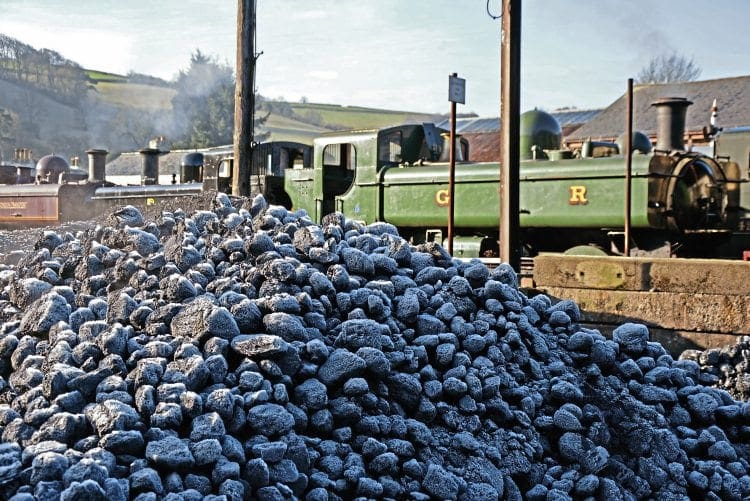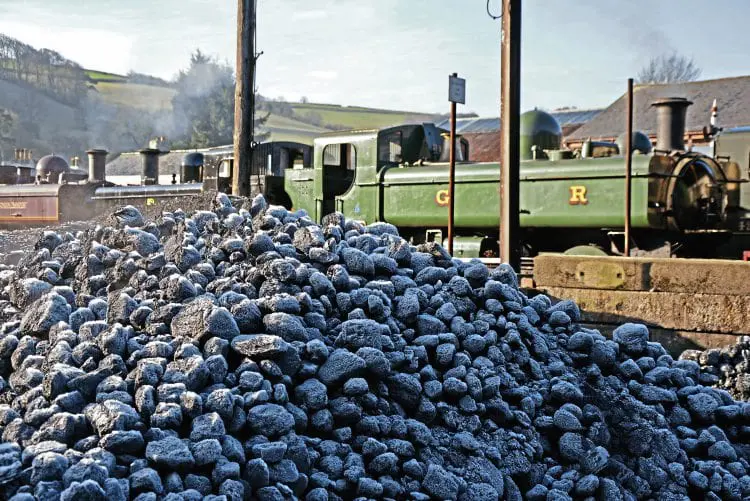 This point was put over by Andrew Foster, chief mechanical engineer on the West Somerset Railway. He believes coal will remain available but will not be of the quality needed to run steam engines on heritage lines.
Only consumers of lumped coal
"Coal will become an increasing problem for heritage railways in the future," he says. "It will always be available but choice over quality, quantity and price will diminish. Heritage railways have a particular requirement for lumped coal in quantities that is very small compared with power station and steel industry use.
"Heritage railways, traction engines and garage forecourts are now the only consumer of lumped coal as all else is generally ground to dust at the mine for use by industry. Our demand will be too small to maintain the operation of an industrial-sized mine."
He continues: "For the next five years or so opencast coal will still be available from Scotland and South Wales, or imported opencast or deep mined. If the power station and steel industries close after that so will the remaining UK mines. We will then be faced with importing part shiploads at a greater cost.
"South Wales opencast coal, from where most of the railways in the South obtain their coal is only viable so long as Aberthaw power station and Tata Steel at Port Talbot continue in operation. Some small drift mines may stay open in parts of the UK but their output will be very small and insufficient to meet overall demand."
Andrew adds: "It may be possible to import 50,000 tons of coal by ship in the future but following transport and screening this will only yield 20,000 tons of useable coal, the remaining smalls and dust will have to be paid for and disposed of but will not have a UK market. The WSR has in the past investigated both compressed pulverised coal and use of gas oil but neither are cost effective unless the price of coal at least doubles."
Despite the recent fears that Kellingley was to have a devastating effect on heritage railways, it has emerged during our survey that the now-closed colliery mainly supplied power stations. Dick Wood, general manager of the South Devon Railway, reveals that the earlier closure of the mine at Daw Mill had a far greater impact on his line.
Never produced loco grade coal
"While deeply symbolic as being the last deep mine to go to the country, the closure of Big K as it was known, will have little or no effect on the supply of coal to the heritage railway industry," he reveals. "Kellingley never produced loco grade coal. It was designed, built and set up to mine coal which was pulverised while still underground so that it was almost ready for onward shipment to power stations – mainly Drax, Ferrybridge or Eggborough.
"The more recent closure of Daw Mill, near Coventry, owing to an underground fire and geological problems a couple of years ago, had a far greater impact on us because it was the last source of deep-mined loco-grade coal in England, and the coal product, while not ideal chemically and a bit smoky and dirty, was used across a large selection of heritage railways and by some of the main line steam loco operators too as it had good heat output."
He continues: "When Daw Mill closed, many lines swapped to Russian or Polish supplies which are still readily available, albeit in very mixed sizes, although there are some heritage railways now using opencast from Ayrshire. We still use Ffos-y-fran opencast from South Wales and have no plans to change things until this source is exhausted.
"Even though it is more expensive than some of the continental sources on the market, it fits our requirements and we have not had complaints about smoke emissions that some of the other railways have suffered. What happens when Ffos-y-fran is exhausted is arguably up in the air as there is a possibility of other potential sites being reopened in the same area by the same company!"
Article continues below...
---
---
Dick concludes: "Longer term there is the potential threat from the environmental lobby, which might claim that the heritage railway sector is a polluter by burning coal, but the volumes we consume are not vast in the scheme of things. For example, we probably burn around 400 tons a year and other longer lines will burn more of course, but added together it will not be a massive tonnage overall and a government dispensation would help us all in that regard."
The SDR general manager also made a point that Britain has huge, as yet unmined reserves of coal, which could last for another 400 years or more if it were ever needed.
While the Bluebell Railway has not been affected by events at Kellingley, its spokesman Roger Garman does fear that the demonising of coal in some quarters could lead to higher prices.
"From a UK source perspective we have purchased Welsh coal from opencast mines, which I believe are accessing seams formerly deep mined. Our buying behaviour is influenced by many factors, price, reliability of supply, quality, burning characteristics and so on," he points out. "The Welsh coal indeed burns very well and Welsh mines supplied some of the best steam coal in the world – heavily used by the GWR in days gone by.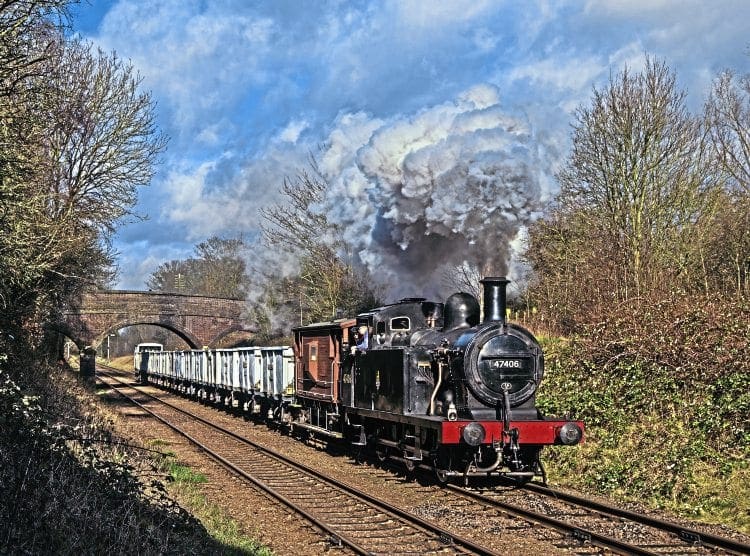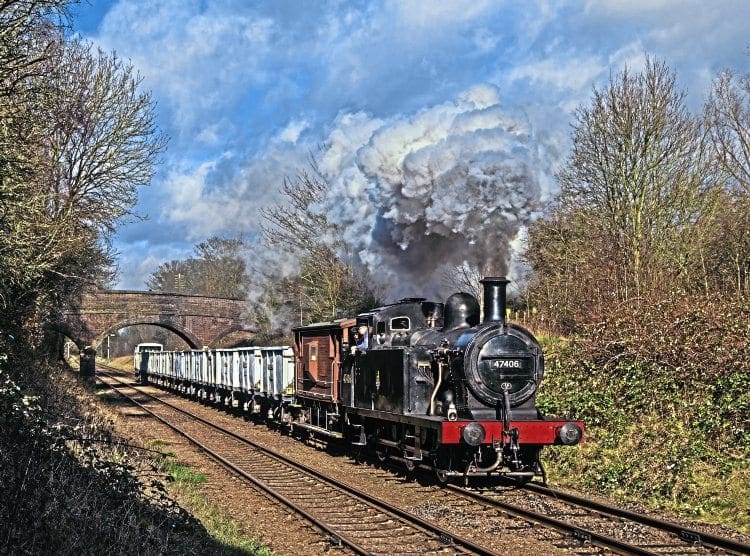 "We also have used and do use coal sourced from Poland and Russia. Is it difficult to obtain coal? No, not at the moment but as coal is further removed as a primary source of energy then in the medium/long term, costs of extracting coal in smaller quantities to feed demands such as that of the heritage railway sector could push prices up or render extraction non-viable from an economic perspective."
Prices for Welsh steam coal are higher than others, but far more beneficial to the running of locomotives on the Gloucestershire Warwickshire Railway, according to its spokesman Ian Crowder.
"For a while the G/WR has used Welsh steam coal although it is rather more expensive than other fuels," he confides. "While it requires perhaps a little more forward thinking when firing, our crews are used to it and like it. We believe that it has greater energy per ton than others and is particularly like Scottish coal, which we have used in the past.
"We have settled on Welsh for some time having tried others and feel this is best for our predominantly Great Western fleet of locomotives. Scottish coal is rather less clean than Welsh and we have noticed that when visiting locos have come in with some Scottish coal remaining in the bunker, it has been very smoky."
He adds: "Part of the G/WR runs past housing at Bishops Cleeve where properties are very close to the line and we are cognisant of our need to be good neighbours. In addition, clean-burning coal helps to keep locomotives and crews clean too, even if it might be less popular with photographers who like a bit of clag."
Sympathetic coal merchant
While many involved with the operation of heritage railways are already conceding the inevitability that the price of coal is going to rise, it is a greater prospect for anyone who runs trains on an island. Peter Vail, general manager of the Isle of Wight Steam Railway admits that if it was not for a "sympathetic local coal merchant" the situation would be a lot worse.
"Over recent years we have used coal from a number of sources, in particular Russia and Poland. However, for the last two to three years we have successfully used and are very satisfied with coal from Ffos-y-fran opencast mine near Merthyr Tydfil, South Wales," he says. "Visitors frequently ask where the coal we use is from and we are always delighted to say it is local, being South Wales although we are possibly stretching the point to suggest South Wales is local to the Isle of Wight.
"Being based on an island we have an added transport cost but we have a sympathetic local coal merchant who looks after us well. We understand Ffos-y-fran expects to remain in production into the 2020s, although that is not far off."
He continues: "Prices fell slightly in 2015 and no increase is anticipated. However, we have the concern the closure of the last deep coalmine may impact on this in the future. While we operate with relatively small tank engines, 10 per cent of our travel revenue is directly spent on coal and related costs."
As with most other businesses, the heritage railway industry continues to keep an eye on costs, not least that of coal supply. Peter Roach, operations manager on the Dartmouth Steam Railway and Riverboat Company confides that was one of the reasons for moving supplies from Russia to Ffos-y-fran.
"It was sad to see the end of Britain's last deep mine, but I am unsure if it supplied coal to any heritage railway," he muses. "For our needs it was not suitable as all our locos need Welsh dry steam coal or the nearest available. Before Ffos-y-fran came on line we were using the Russian, which was imported through Immingham, although quite Welsh in characteristics, the quality did vary and if it was poor then that was it until another shipment arrived leading to many weeks of misery.
"The quality of Ffos does vary depending on which seam is being worked, softer on the higher seams and harder as they work down, but the quality is monitored frequently. If any problems do arise then the pit and Hargreaves (wholesaler) resolve the issue quickly. "
He insists: "With the DSR being down in Devon, the coal coming into Immingham did have significant transport costs involved, which are significantly lower with the Ffos coming from South Wales, so with the better product suited to our needs and reduced transport costs, the choice of supply was easy for us.
"We are assured that there are many years' supply available in Wales and have learnt that they are interested in trying to get interest in the heritage market in the north of the country, so I feel that, at present, supply with reasonable costing is ensured."
Kellingley had nice coal
Prematurely it seems, but we were beginning to think that none of the heritage lines had ever used Kellingley Colliery, that was until we spoke to John Whitby, acting general manager of the Nene Valley Railway. For, although he admitted a liking for its coal, he was critical about some of the working methods.
"Kellingley we tried about two years ago," he points out. "We would much rather use British-sourced coal and we don't like going overseas and putting money in other countries' coffers. Kellingley had nice coal and we would have liked to have used it but we found they were not businesslike as we would find boots and all sorts in with the coal.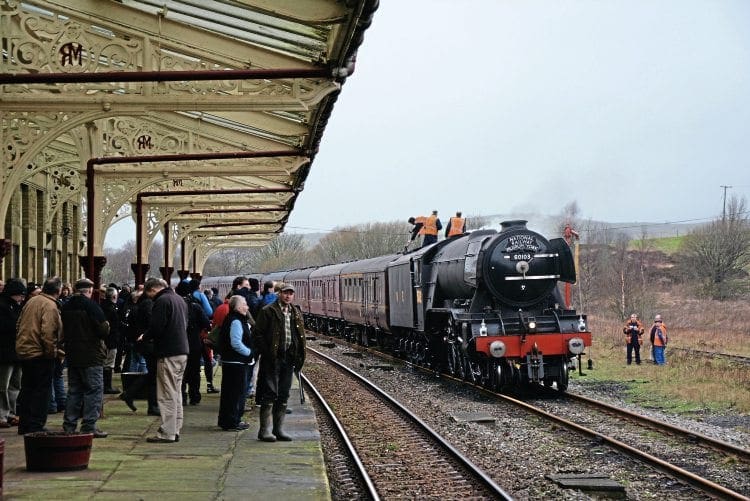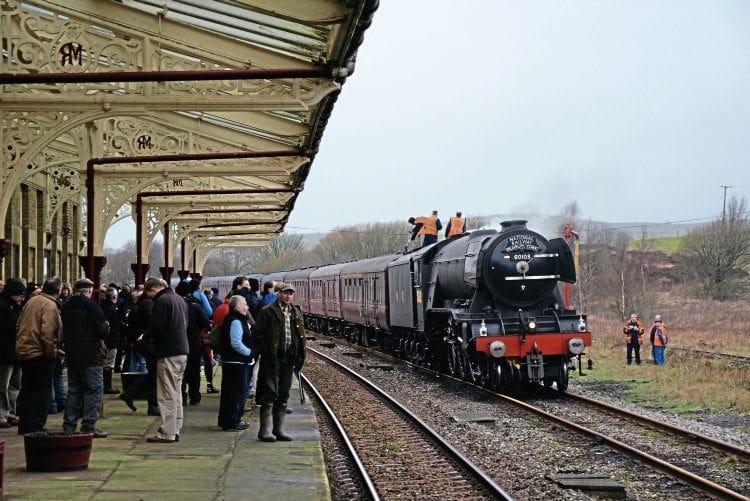 "My concern was that we were paying for this in weight but not getting just coal. We then contacted two suppliers. They are the Welsh Steam Colliery out of Merthyr and Northumbrian coal. The Welsh is very hot and would melt the grate in the firebox if you're not careful. Northumbrian gave us the best but a little dirtier."
He continues: "I am worried about financial implications. My concern is that if we can continue to close down major markets, viable industry will be catered for, but where on earth will small users get it from? I am not saying that users have any problems at the moment, but the large-scale users will go to them and then where will the heritage railways go?"
We've so far not touched upon the narrow gauge lines such as the Ffestiniog and Welsh Highland railways. Three NGG16 Garratts are operated on the WHR and three Double Fairlies; one single Fairlie; two ex-Penrhyn Hunslets, Manning Wardle replica Lyd; two of the FR's England locos with a third returning to service in 2017; together with smaller Hunslets and prototype Beyer Garratt K1. All are coal fired but the Garratts, Fairlies, Lyd and the big Hunslets were all oil fired at one stage. All oil-firing facilities, including storage tanks have now been decommissioned and removed.
Virtually no smoke
The above is the stock, but like other steam locomotives they still need coal. It will come as no surprise that this railway uses Welsh coal and is very pleased with the performance, according to Tony Williams, works manager at Boston Lodge Works on the Ffestiniog & Welsh Highland Railways.
"Appropriately for a railway in Wales, the coal we use comes from the Miller Argent Ffos-y-fran opencast site in Merthyr Tydfil," he tells us. "We find that it is of excellent and consistent quality and produces virtually no smoke. It is well suited to all our locomotives from the smallest weighing about eight tons to the largest which weigh 60 tons. It is also more economical in use to raise the required steam with a fuel saving of 20 per cent compared with some coal we have tried in the past.
"Availability is excellent and we have a good relationship with all involved in the supply chain. We are also very pleased that delivery is by a local North Wales haulage contractor. We are aware that the amount of coal produced in Britain has been falling steadily, but the opencast in Merthyr, which produces a million tonnes annually, has sufficient supplies to well beyond 2020 and we understand that the operator is in the process of seeking planned permission for an adjacent site."
He adds: "At present we do not have concerns as to the availability of coal for our locomotives and if planning permission is obtained for the adjacent site in Merthyr, we should be able to continue using the Welsh coal well into the future. Many factors influence the price of coal and predicting where it will be in 10 years is impossible. At the moment with the falling price of oil, the indicators are that the price of coal may also fall."
On the Royal Deeside Railway Chris Milburn is not only the publicity officer but is also active on the footplate. His experience of coal is very much at first hand but he does stress that the line's location does mean transport costs are very high. He is also concerned about the loss of yet another pit.
Atrocious small pieces
"As a steam fireman and driver I know that the quality of the coal we burn is very important," he declares. "The best quality I feel is Welsh coal but the transport costs up here are prohibitive. Until the Ayrshire coalfield shut last year we used Ayrshire coal supplied and delivered in bulk by a local coal merchant. This was excellent with good heat and minimal smoke.
"After that pit was also shut we were supplied with some atrocious small pieces of coal with choking smoke and poor heat by the same merchant. Our last delivery was of better quality but again from somewhere unknown and it really is the best we can get up here for a reasonable price. We have never been supplied with coal to my knowledge from Kellingley but very much despair at yet another pit closure."
Scottish coal is being used in East Anglia as Trevor Eady, general manager of the North Norfolk Railway reveals. But he does believe that in the longer term the heritage railway movement should together be looking at importing and distributing its own coal or even converting locomotives to being oil fired in a strong move to remain operational.
"We are still using UK coal from opencast mines in Scotland," he reveals. "Coal comes out of the ground to service the power generation sector these days and we as a heritage railway piggyback off that. If coal-fired stations in the UK become insufficient to support the industry as the Government intends, then presumably its distribution by someone like Hargreaves will also cease to be a viable business.
"Beyond that we may find heritage railways have to organise their own import and distribution or convert locos to being oil fired, which isn't too complicated and has been done all over the world."
Scottish coal was used until fairly recently by the Preston-based Ribble Steam Railway. David Watkins, director confides: "Until last year we have primarily purchased our coal, which was Scottish opencast mined. We were in 2015 offered some very good, very cheap Russian coal imported via Scotland which has proved most satisfactory. In 2016, time will tell, it is too early to comment on price."
Very impressed
Matching coal to locomotives has been given top priority on the Mid-Suffolk Light Railway, known as The Middy, especially with the diversity of traction which includes Belgium Cockerill Tram engine 2525, a Bagnall and a visiting LNER Y7 0-4-0T that arrived in February for a stint through to April. But it is coal from Ffos-y-fran that meets the requirements. "We are very impressed with what we get from Ffos-y-fran," says locomotive superintendent John Durrant.
For locomotives on the Great Central Railway, the choice is coal from the UK, according to general manager Richard Patching. "At the GCR we currently use two supplies of coal, Welsh and Scottish. The former is preferred generally for lighting/raising steam as it less smoky, especially as we are based in a built-up area. The Scottish tends to be used for the main running along the eight miles. This tends to have less dust/grit, which helps reduce problems with bearings etc."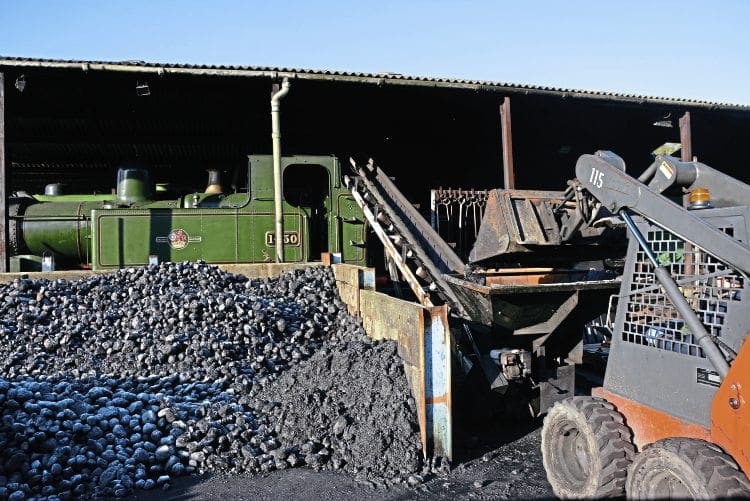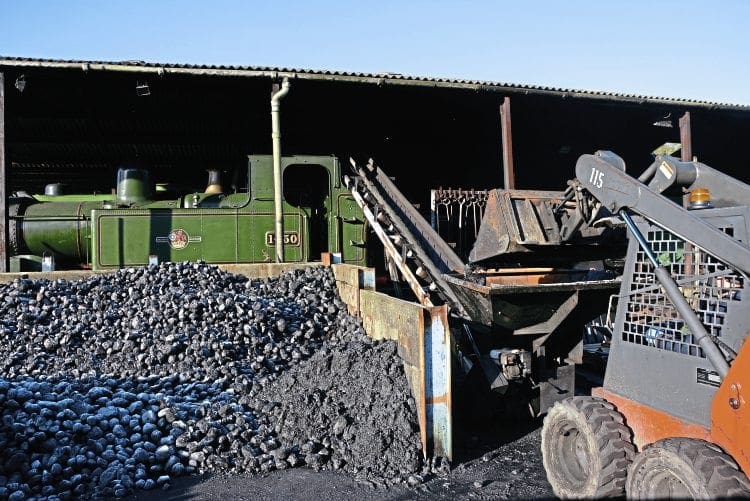 Welsh coal is also the favourite on the Bodmin & Wenford Railway and general manager Chris Hart explains why and his fears for the future. "We didn't use Kellingley. We use steam coal as it suits us better especially for our GWR locomotives. We love its use. The future is unknown as coal will always remain a dirty word. We don't know what the position will be on prices although it is downward at the moment," he explains.
And when Fred Landery, deputy head of business development at the Bo'ness and Kinneil Railway uttered the words 'trebles' we were rather relieved to find that he was not referring to coal costs. "The Bo'ness and Kinneil Railway obtains its coal supplies from a Scottish coal merchant who sources the coal from opencast sites in Ayrshire and Northumberland. The coal we use is known as Trebles," he declared.
Didcot Railway Centre manager Richard Orchard also reveals that his organisation relies heavily on coal from the opencast mine at Merthyr Tydfil. "The loss of the deep mine at Kellingley will not affect us at Didcot as we obtain our steam coal from Ffos-y-fran mine in South Wales," he states.
As we spoke with those in the heritage railway movement while conducting this investigation it became clear that most had been unaffected by the Kellingley closure and were happy with the coal they were currently obtaining. The outlook, however, showed a rather different story with fears for the future. On more than one occasion it was pointed out that coal was being tainted as 'dirty' in more ways than one.
Miraculously, just as our investigation was nearing completion, we received a joint statement from two sales managers of coal wholesaler Hargreaves Services plc, the company based appropriately in Coalville, Leicestershire, supplying a large amount of heritage railways throughout Britain. The two men, Ian Moulson and Paul Paddock sales manager for Ffos-y-fran are adamant that there are enough coal supplies for the foreseeable future.
The statement explains: "Hargreaves have available for the UK preserved steam railway and domestic markets – sized coals from our own Garleffan mine in Ayrshire in Scotland and have Russian Trebles available ex our Immingham facility. Hargreaves also handles the sale and marketing of Ffos-y-fran graded coal from South Wales.
"Hargreaves has invested £1 million recently to upgrade the dense medium coal washing and processing plant for the Garleffan mine. This will help make up for any shortage in availability to the UK sized coal markets.
"The Scottish Garleffan and Russian coals are regularly used by many of the heritage railways and main line steam engines and together with the Ffos-y-fran products offer excellent quality and supply consistency for the future meaning there is a suitable coal for all types of buyer across the whole of the UK."
Should not be any concerns
The statement continues: "Hargreaves markets the highly successful Ffos-y-fran graded coal from Miller Argent's opencast site at Merthyr Tydfil. Of the annual site production of almost one million tons in total, mine owner Miller Argent is able to produce enough sized Ffos-y-fran Welsh steam coal annually, to potentially supply the entire UK preserved steam railway and traction engine markets and also continues to supply all its many existing Swiss, German, Dutch and French railway market customers with this specialist steam coal.
"The opencast site in Merthyr has sufficient supplies to well beyond 2020 and Miller Argent is in the process of seeking planning permission for the adjacent Nant Llesg site. Therefore there should not be any immediate concerns as to the availability of coal for the UK's steam locomotives."
What takes place at Ffos-y-fran is clearly featuring heavily in the minds of those who are responsible for purchasing coal for heritage railways. In a state-of-business declaration by its owners Miller Argent we learn that the opencast mine has been "responsibly" operating in the Merthyr Tydfil area since 2007.
"As a Welsh-based business we take our obligations and our responsibilities to our local communities extremely seriously," it insists. "We are proud to have created long-term high-quality employment for more than 200 people in the local area. Indeed, 85 per cent of our employees live within 10 miles of the site. We believe these jobs and the high levels of investment we are bringing to the area make a significant difference to the communities that we are a part of.
"Our aim is to ensure that the environment of each site that we work on is left in a notably better condition than when we commenced operations. By achieving this goal we will leave a positive benefit of local communities."
Brilliant news that no doubt is for the environmentalists, but steam railway enthusiasts, heritage railway operators and many others want an assurance that coal will still be available at a reasonable price long after 2020. It is something that this generation owes the next.
Statement from David Madden
Throughout our investigation into the future of coal supplies, we were led to believe that the Railway Heritage Association was actively considering what action to take, if any, regarding the future.
Here, exclusively for Heritage Railway is a statement from former director David Madden, who, still an active member of the HRA, is also the chief executive officer of Wattrain. He states: "The future problems of coal supplies emerged from the Conference on Global Warming held in Paris 2015. As this is a worldwide problem and our organisation known as WATTRAIN (The World Association of Tourist Trams & Trains) expressed concern about the future supply of coal through a presentation I gave to the WATTRAIN conference held in Japan in October 2015.The Wattrain board includes two directors of HRA; David Morgan MBE (president) and Ian Leigh (financial director) with myself, as CEO. I will also be giving an update on coal supply to HRA in March 2016.
"As a first task we are gathering coal usage throughout the world for steam locomotives which we believe will be a minimal amount compared with the total coal used, probably about 0.3 per cent. At the same time we are investigating alternative methods of reducing coal use such as lighting up which could save about one third of the coal used.
"It seems that normal coal supplies will continue until 2023 and that we will be able to persuade our legislators and suppliers that the usage of coal for what we prefer to call 'historic transport' – (steam locomotives, traction engines etc) in view of our minimal carbon emissions and will continue long into the future."
Read more News and Features in Issue 231 of HR – on sale now!
Enjoy more Heritage Railway reading in the four-weekly magazine.
Click here
to subscribe.