Flying Scotsman's last run for BR was in the 'Big Freeze' in January 1963. Robert Anderson recalls that at the time many of Scotsman's sister A3 Pacifics had a last spell of frontline express service as a result of the new diesels on the East Coast Main Line not taking kindly to the freezing temperatures of that winter.
Way back in May 1953, my father tried unsuccessfully to get tickets to take me on one of the 'Plant Centenarian' special trains. There were to be two of these, one from King's Cross to Doncaster on September 20 and a second a week later from Leeds to King's Cross calling at Doncaster. These were to mark the centenary of the opening of the 'plant' works at Doncaster and were to be hauled by the preserved Great Northern Railway Ivatt Atlantics No. 990 Henry Oakley double-headed with the pioneer larger version No. 251 in one direction and an A4 Pacific on a very fast schedule in the other direction.
No. 990 Henry Oakley, built in 1898, was the first Atlantic tender engine to run in this country and also the first Great Northern Railway engine to carry a name, while No. 251 entered traffic in 1902, being the first 'large' Atlantic with a much bigger boiler and a wide firebox. In their later superheated form the large Ivatt Atlantics, as they were universally known, performed herculean feats of haulage at astonishing prolonged high speeds.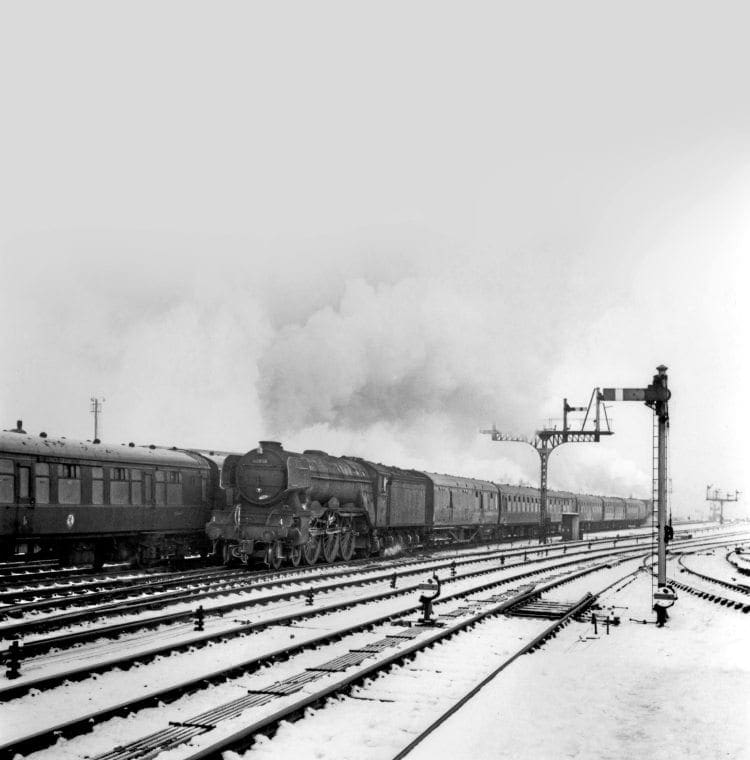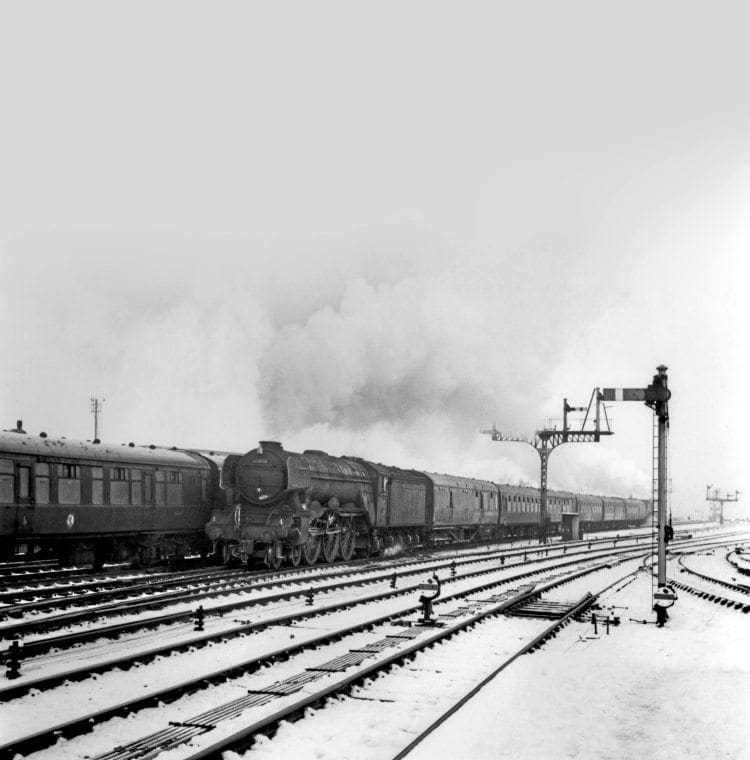 Railtours were very much in their infancy in the 1950s and this one had been both privately organised and privately sponsored, although events leading up to and including the actual running of the trains showed they enjoyed the utmost co-operation of the Eastern Region. One of the three organisers was a then almost unknown – Mr A F Pegler. Both locomotives were over 50 years old and had been specially brought out of static preservation. No. 990 was inside the old Queen Street museum at York and had been dragged out, towed to Doncaster and put through works. No. 251 had been restored in running order to its original condition which, unfortunately, involved the removal of its superheater. It had been kept within the works at Doncaster, usually inside the paintshop, as there was no room for it in the museum at York.
Both locomotives had been given several test outings, including a trip to London. This was not only to make sure they were ready for their outings on the big day, but also to allow the crews to familiarise themselves with these elderly old ladies.
Looking back it is not surprising that my father could not get tickets for these specials. The last Ivatt Atlantic had been withdrawn not very much earlier in December 1950 and had gone out in style, reaching 74mph with nine coaches while working the 'Ivatt Atlantic Special' organised by no less a body than the Eastern Region itself on November 26, 1950. Just a few months earlier on August 22, No. 62822 again had relieved an ailing V2 at Grantham on a northbound express and with FIFTEEN coaches behind the tender, this little 70-ton veteran dropped only seven mins to Doncaster. Memories were therefore still very fresh of what could be fairly described as one of the most outstanding British steam locomotive classes.
I was only eight years old at the time of the 'Plant Centenarian' and my mother probably thought it was going to be more of a day out for my father than me, but nonetheless I must have been sufficiently interested to remember the missed event, for as I grew older I acquired from a school friend some back number Trains Illustrated magazines in which I came across a magnificent shot of Henry Oakley and No. 251 climbing Holloway Bank with the down 'Plant Centenarian' on September 20, 1953. The photograph had been taken by a certain R E Vincent and Roy, as we all later knew him, was already showing his colours as an outstanding photographer, for he had climbed up a signal gantry to capture the event from a different angle.
No doubt he would have obtained the blessing of the signalman in the Holloway South Down 'box as the adjacent Up 'box would be closed at this time on a Sunday. I was so impressed with this picture I made a mental note of the location and many years later, when I could afford trips to London, I observed Roy's spot to be still worth a visit, as the Holloway loading bay was still in existence and I vowed to go there sometime.
By the early 1960s the reliability of BR's fleet of main line diesels was causing some concern. On the Eastern Region the withdrawal programme for the A3 Pacifics was slowed down with some earmarked for scrapping, being instead put through works and several of those stored at Ardsley were returned to traffic. Indeed the A3s had been putting up exceptionally high mileages while deputising for the English Electric Type 4 diesels on the ECML and even at the end of the Summer 1962 timetable, A3s were still being put through works.
The dreadful winter of 1962/63 had already set in. It wasn't so much the depth of snow but week upon week of freezing conditions – which did not suit diesel locomotives – and DMUs for that matter. The fallibility of steam heating boilers on several classes of main line diesels didn't help either and the wisdom of keeping at least some steam locomotives in a serviceable condition had proved its worth.
My friend Michael Leahy, a fellow worker at Bradford Valley goods depot, persuaded me now would be a good time to go for my much talked about visit to Holloway bank. Saturday, December 29, with the likelihood of some steam-hauled reliefs, was the agreed date and to get to London in good time we travelled on Friday night's 9.33pm Bradford Exchange to King's Cross behind Wakefield's B1 4-6-0 No. 61161 double-headed with Fairburn 2-6-4T No. 42150 from the same depot.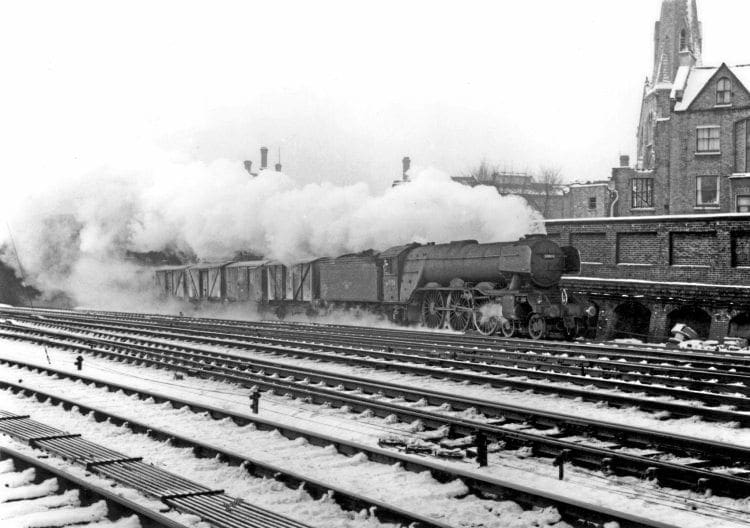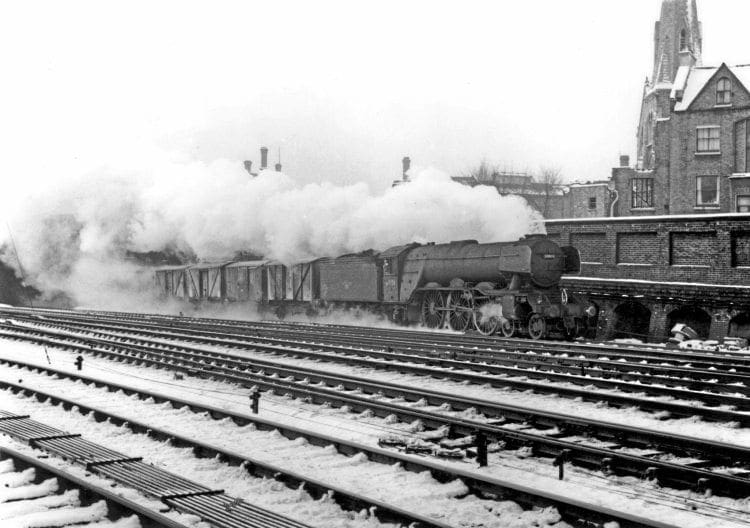 As was often the case with these overnight services, parcel vehicles outnumbered passenger-carrying coaches. The train ran via the now-closed Wortley Curve and we soon got a taste of things to come, for while being held by signals outside Wakefield Westgate for some 161/2 mins, Grantham's A3 No. 60054 Prince of Wales stormed past us with the down 'Yorkshire Pullman' running one hour and 51 mins late due to the non-availability or failure en route of the diagrammed Deltic. The Leeds portion of our train duly arrived behind another A3 in the shape of No. 60074 Harvester, last heard of at Neville Hill and again deputising for a failed diesel, possibly another Deltic. It was unusual for Neville Hill engines to work south to King's Cross.
For many months Harvester had been the standby engine at Neville Hill to provide cover for diesel failures on the Liverpool to Newcastle expresses, but on this occasion the situation must have been so desperate that Leeds Control had resorted to its use on this train. The load was now seven parcel vehicles and four passenger coaches, some 356 tons tare. Departure was 32 mins late and, after calling at Wakefield Kirkgate, more signal checks in the Turner's Lane-Calder Bridge area saw us 52 mins late into Doncaster. Retford was left 64 mins late but time was more or less kept until more signal checks outside Peterborough, from where departure was 78 mins late.
A surprisingly unchecked run to King's Cross saw us at the capital some 77 mins late at 4.42am. The train had at least been warm thanks to Harvester, but the cold really hit us as we stepped out onto the platform. In a way this rather late arrival was in our favour, as it cut down on the wait we had for our time-killing/keeping warm excursion on the 5.50am to Grantham, on which we found ourselves behind Grantham's A3 No. 60048 Doncaster as far as Hitchin. The load was a mere three parcel vehicles and two passenger coaches, which were lovely and warm and this was much better than hanging around at King's Cross.
Departure was prompt but a dead stand for signals at Brookman's Park for 111/2 mins and Hatfield for 131/2 mins saw an arrival at Hitchin 28 mins late but again it didn't really matter, as it allowed us to keep warm for a little longer. A quick return to King's Cross, then a Piccadilly Line tube to Caledonian Road and a short walk saw us treading gingerly along the ice-covered loading bay to Holloway South Up 'box. We didn't like to interrupt the signalman so we sought out the foreman in his hut that begged to be termed an office. He had a roaring fire going, made us most welcome and even consulted his STN for us. No doubt he thought we were stark-raving bonkers.
The signals came off for an Up train and positions were taken to photograph an approaching A3. Just then no less a locomotive than A4 Pacific No. 60022 Mallard burst out from under the Caledonian Road bridge with the down 'White Rose'. It was one of those touch-and-go situations of which to go for. I chose the safe option of the A3, as this would be the one that would pass nearer the camera. A3 No. 60050 Persimmon was actually working quite hard downhill, so the driver must have been making a determined recovery from adverse signals with the 7.05am Peterborough to King's Cross train. Later on I was glad of my decision, as the A3 was No. 60050, a locomotive some sources indicated had been scrapped three months ago!
Article continues below...
---
---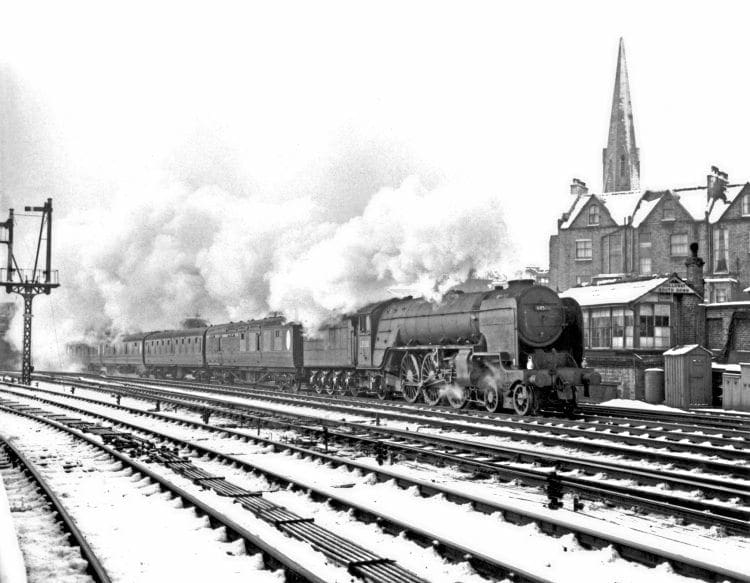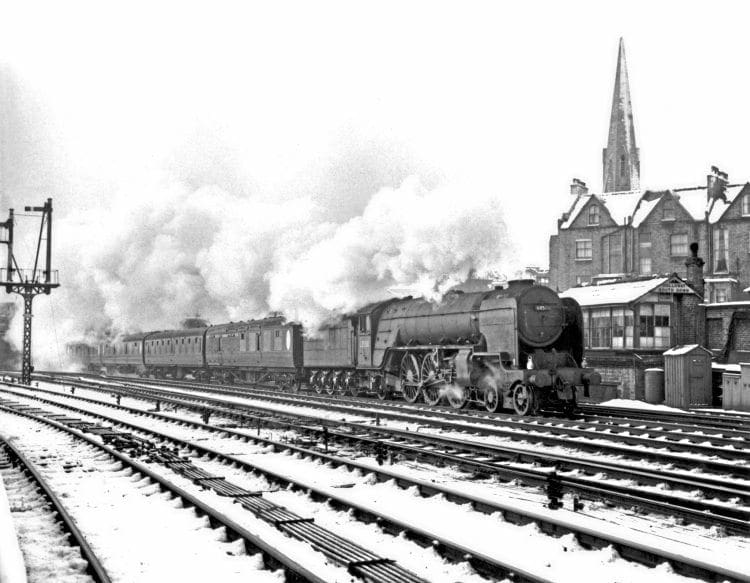 In truth No. 60050 was one of those A3s where the decision to withdraw from service had been reversed and instead were put through works in and around the previous September. This was at the end of the summer timetable so disquiet at the unreliability of the main line diesel fleet was already being felt and someone, obviously not an accountant but an experienced railway operator or mechanical engineer, had wisely been looking ahead. Soon after this another Grantham A3 climbed past with, ironically, a Down train of refrigerated vans. The driver had the sanders on and No. 60106 Flying Fox seemed to be making light work of its task.
This was another significant A3, as it was to become the oldest express passenger locomotive in BR service. On May 2, 1964 the Gresley Society organised a special train from King's Cross to Darlington hauled by No. 60106 to Doncaster and then Alan Pegler's preserved No. 4472 Flying Scotsman making its first run into North Eastern Region territory since restoration. On the outward journey Flying Fox reached Peterborough in a net time of 681/4 mins and on the return journey 96mph was attained down Stoke bank before signals stopped the fun.
Back to Holloway and yet another Grantham A3 No. 60056 Centenary swept downhill towards the terminus with the 7.18am Grantham to King's Cross semi-fast, which was running about 30 mins late. Not far behind it the A3s still kept a-coming. This time it was a King's Cross Top Shed member No. 60063 Isinglass running about 20 mins late with the more sharply timed 7.27am Newark to King's Cross express, which conveyed a Restaurant Car. Incidentally, this was one of the very few 34A engines that we saw at work all day.
While Grantham shed had come up trumps with the provision of its A3s for the morning Up trains, it should have been the turn of King's Cross Top Shed to show its hand. The English Electric Type 4s had been around a while and the more recent arrival of the Deltics revolutionised the timetable, but within a few months the London end of the ECML had seen the arrival of quite a large number of diesel locomotives that were entirely new to the area.
Brush Type 2s and English Electric Type 3s were working in from Cleethorpes and Sheffield, Gateshead Peaks from Newcastle and Finsbury Park depot was taking delivery of the new Hawker-Siddeley Type 4s (Class 47s) which, thankfully, were equipped with Electric Train Heating. Possibly as a result of all these new arrivals, five King's Cross A4s, Nos. 60003/14/28/30/33 were withdrawn 'at the end of December'.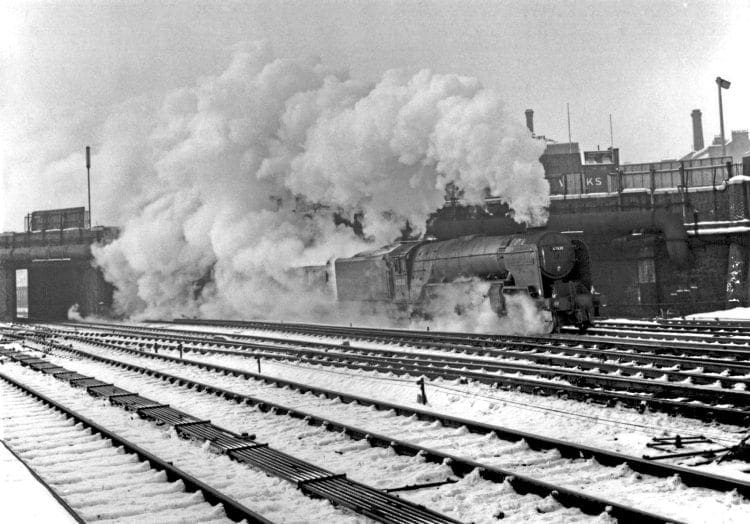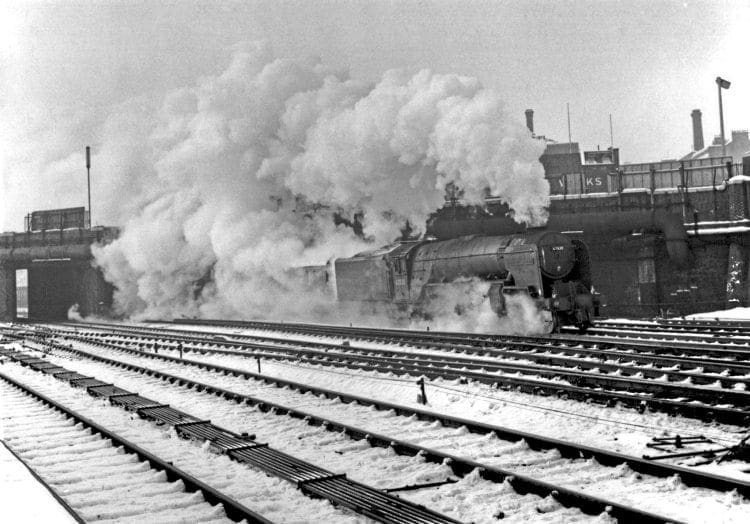 Whether this was week ending December 22 or week ending December 29 only people like Top Shed's shedmaster Peter Townend would know, but there will be many arguments that this withdrawal was premature given the proven unreliability of the steam heating boilers on many of the main line diesel locomotives. Even the three remaining 'Baby Deltics' had the restriction on their doing anything useful lifted, as their steam heating boilers were apparently one of the few reliable features of this fiasco-ridden class.
There seems little doubt 34A was short of steam power, for all it could turn out to cover another unavailable diesel for the 10.30am Cambridge express was Peterborough New England's A2/3 No. 60500 Edward Thompson which, to my surprise, was going quite well up the bank.
Just 20 mins later and in complete contrast came another of New England's A2/3s
No. 60520 Owen Tudor making heavy weather of the 10.45am relief train to Edinburgh. A correspondent in The Railway Magazine for March 1963 noted that No. 60520 left King's Cross on this day with the down 'West Riding' due away at 7.45am. As my picture was taken at 10.55am, if this former observation was correct then No. 60520 cannot have worked very far with the 'West Riding' – certainly not Peterborough – to be in time to leave King's Cross again at 10.45am. Perhaps an engine change was effected in the Finsbury Park area.
The signalman shouted down to us that a 'steamer' was on the 7.43am York to King's Cross Restaurant Car express and that it was making good time. Sure enough, Grantham had pulled yet another A3 out of its hat, as No. 60112 St Simon scurried down the bank only about three mins late.
We decided to have a change of venue and thanked the foreman for his roaring fire and his supply of hot tea served in the regulation white enamel mugs with their blue rims, and made for Welwyn Garden City, where we were soon treated to the spectacle of Ardsley's A3 No. 60080 Dick Turpin in full cry with the 1.15pm King's Cross to Leeds and Bradford express. Dick Turpin was one of the A3s stored at Ardsley but returned to traffic because of the continued diesel unreliability. Soon after this stirring sight came an even greater heart-warmer as Doncaster's roller bearing fitted A1 No. 60157 Great Eastern charged through at very high speed, with no lesser train than the Up 'Yorkshire Pullman', which should surely have been Deltic-hauled. Everything looked as if superhuman efforts were being made to try and maintain the Deltic timings.
Then at last came only the second A4 we had seen all day, as Top Shed's No. 60026 Miles Beevor headed north with the 1.45pm King's Cross to Newcastle relief. Despite the freezing weather there was nothing coming out of the chimney, so perhaps it was running under adverse signals. We were watching the time but got a shot of another of New England's A2/3s No. 60523 Sun Castle heading for home while making an unscheduled stop with the 1.45pm King's Cross to Peterborough. Then it was a dash for the 'Cross'.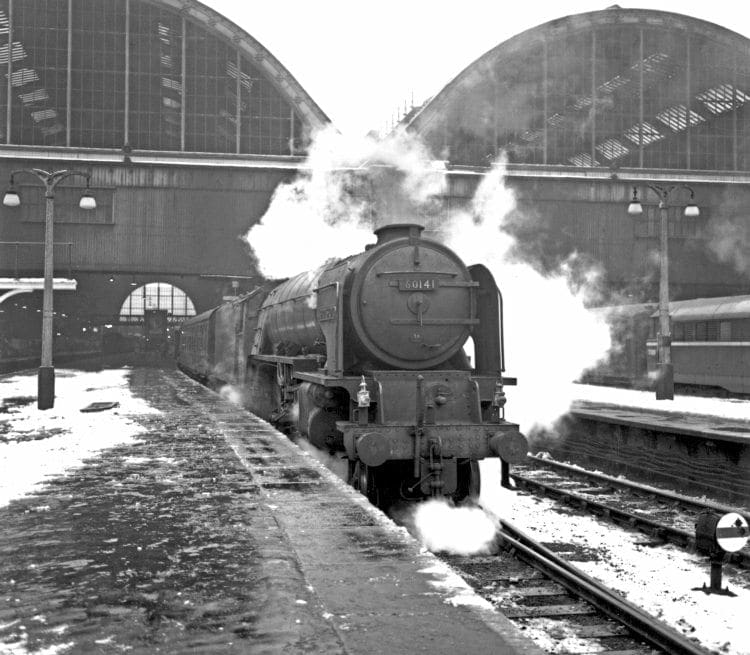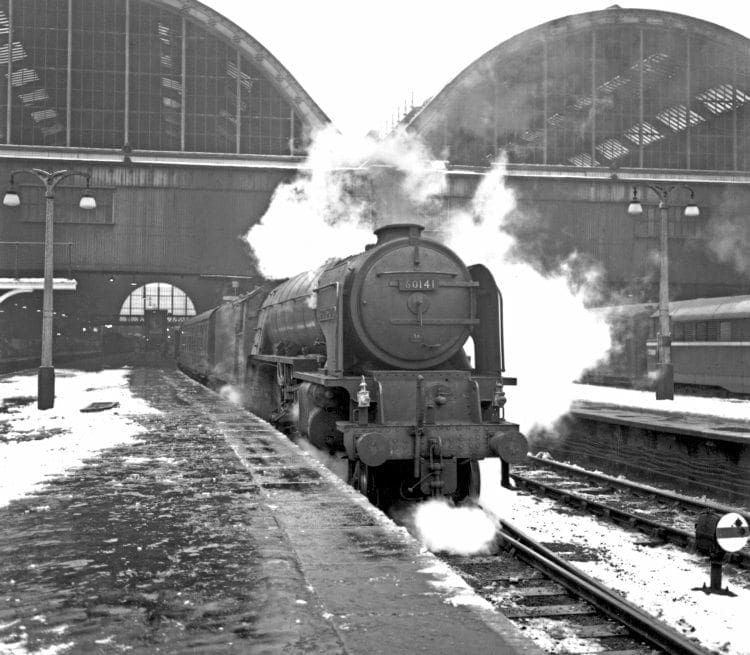 Then came the grand finale of a long, cold and sleepless day. It had been without doubt a day of the A3s, but our train home, the 3.20pm to Leeds and Bradford flier, had one of Copley Hill's high performing A1s No. 60141 Abbotsford instead of the booked diesel. In the gathering gloom photographs were taken before grabbing a seat aboard the train. Not only were we lovely and warm but we were also treated to a rip-roaring run. With eleven on 383 tons tare a one min late departure was converted to a one min early arrival at Doncaster in spite of a long 15mph permanent way slack along the entirety of Bawtry viaduct.
Peterborough and Newark were both passed in even time and a very fast run from Doncaster to Wakefield followed. The last leg of the journey back to Bradford was rounded off nicely by the welcome reappearance on this line by one of Wakefield's LMS 'Crab' 2-6-0s No. 42861 which, with three coaches, turned a two mins late departure into a one min early arrival at Bradford Exchange.
An excellent finish to a most entertaining day. I didn't dare climb Roy Vincent's signal gantry as it was too icy and it was disappointing to see only two A4s. Despite the number of A3s we saw we didn't come across No. 60103 Flying Scotsman before it made its last journey for BR just over a fortnight later but, as the saying goes, 'you can't have everything'.
For anyone interested in more details of the special trains and the high speed exploits on the East Coast Main Line in the 1950s, I would urge them to seek out the book Bill Hoole Engineman Extraordinary by PWB Semmens published by Ian Allan in 1966. An excellent and most informed read.
Read more News and Features in Issue 231 of HR – on sale now!
Enjoy more Heritage Railway reading in the four-weekly magazine.
Click here
to subscribe.