I read with interest the article Steam Miracle Ecuador by Maurice Burns in issue 225.
My wife and I travelled over the Guayaquil to Quito railway between August 20-28, 2005 and what an incredible journey it was.
We had three engines in steam: 2-6-0 No. 11 from Duran to Yaguachi and return, 2-8-0 No. 17 Aluasi back down the Devil's Nose to Simbambe then up again through Alausi to Riobamba and 2-8-0 No. 53 Riobamba to Urbina at 3643 metres and return.
At Duran, 2-8-0 No. 18, now overhauled with a new boiler, and 2-6-0 No. 7 were stripped of many parts to keep others in service. Bucay had 2-8-0 No. 58 in working order but nowhere to run as the track was not in a good enough condition to carry its 13-ton axle load. Also at Bucay was 2-8-0
No. 44 partway through an overhaul which was stopped many years ago, and the remains of 2-8-0 No. 46, frames boiler and cylinders, while 2-6-0 No. 14 was in a park at Riobamba.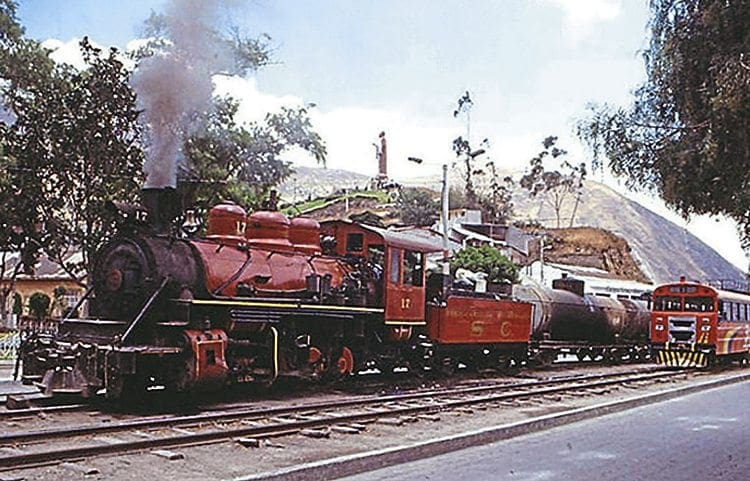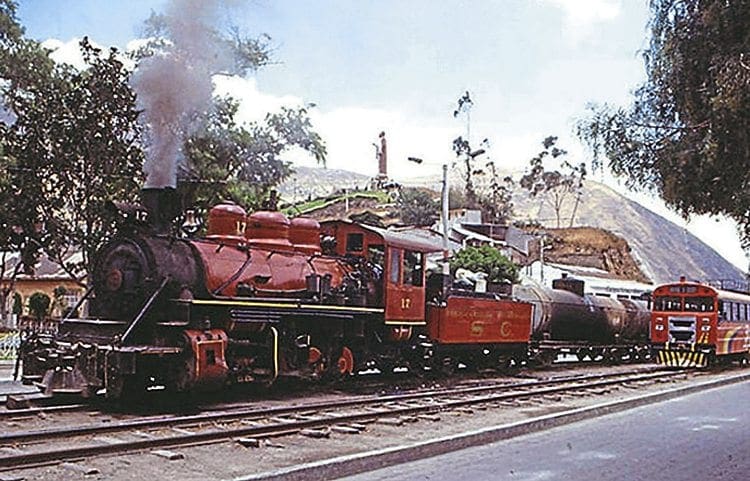 The track had to be seen to be believed. An average 40ft length of track may have two to four good sleepers, but the rest would be a branch cut out of a local tree or concrete blocks or just plain dirt under it.
No. 11 was run from Duran to Yaguachi and back and managed to pull down at least three sets of overhead wiring, with the whistle the highest part on it, as no trains had run through Yaguachi for several years. This section is all flat running.
We had to take a bus to Bucay where an Auto Ferra, we called them Auto Terror, especially when riding on the roof racks, took us to Huigra. In this section, the track crew had to replace many timbers on a bridge due to a recent bush fire. There is nothing like good track work – and on the G&Q there was nothing like good track work!
This is the start of the climb to Palmira, a climb of 2942 metres in just over 50 miles. Part of this is through the Can Can Valley where for 10 to 12 miles there is no road access at all and then up the Devil's Nose.
Bus again from Huigra to Alausi, due to a landslide, where No. 17 backed down the Devil's Nose with an Auto Ferra running ahead of it. Coming back up from Simbamba our Auto Ferra, leading No. 17, was confronted by the diesel-hauled Mixo coming down the 1-in-18 grade towards us. As the Mixo was on time, the first time in over five years, our two trains had to back down to a crossing loop to let the Mixo pass. There is nothing like good safe working and on the G&Q there is nothing like any safe working. In fact this tour was rated as a safety record as the train did not derail once.
The railway runs through the centre of the large market town of Guamote. Trains, if they run, run on Wednesdays – if they run at all – and market day is on the last Thursday of each month. By now the train was a day late and it had to pass through the wall-to-wall markets on Thursday 25th. It only took 40 minutes to travel about 400 yards through the town. What a thrill.
At Riobamba, 2-8-0 No. 53 took the train up to Urbina, the highest point on the railway at 3643 metres. From here to Tambillo, the end of the line, several Auto Ferras had to be used as the track was unserviceable in two sections.
When we finished the tour we wondered if steam would ever work on the line again. So, it is great news that the Equador Government is committed to restoring the railway and its rolling stock to such a high standard. It is a shame that many other countries, the UK and especially Australia, do not take notice and act accordingly.
The only downside is that the railway we travelled on, rated as the last great railway adventure, is gone, but at least instead of ripping everything up, it is still there for all to enjoy.
Graham Black, West Wallsend,
New South Wales, Australia
Read more Letters, Opinion, News and Views in Issue 230 of HR – on sale now!
Article continues below...
---
---
Enjoy more Heritage Railway reading in the four-weekly magazine.
Click here
to subscribe.