RAILWAYANA: By Geoff Courtney
A nameplate from Bulleid Pacific No. 34072 257 Squadron reinforced the status of the class as firmly in the elite category by selling for £33,500 at Great Central's auction at Stoneleigh on June 3.
To some these SR Battle of Britain class plates are not the most aesthetic, but when, as in this case, they are accompanied by the squadron badge, they are almost unbeatable.
On another day GWR broad gauge nameplate Timour may have been the star lot, but this 168-year-old survivor had to content itself with the runner-up spot, albeit at the respectable price of £19,000. The plate was originally carried by an Iron Duke class 4-2-2 built in August 1849 and withdrawn in 1871, before being reused on another 4-2-2 built in July 1873, a member of the Rover class that was withdrawn in 1892.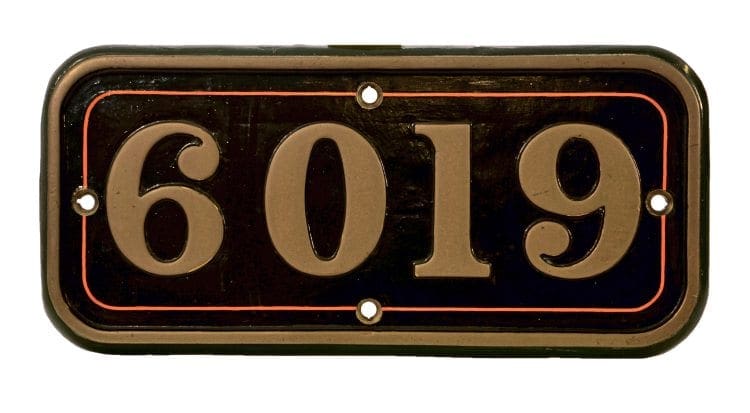 It had been in the same family for 125 years, and was the first broad gauge plate to be sold by Great Central.
A final five-figure nameplate realisation was £10,400 for Osprey from LNER A1 Pacific No. 60131, and behind came a closely-knit group headed by Welsh Guardsman from LMS Royal Scot No. 46117 (£9500). This was followed by Bengal (LMS Jubilee No. 45577) at £9200, GWR pair Hinton Manor
(No. 7819) and Cefntilla Court (Saint class No. 2936), each at £8000, and Defiance from another Jubilee, No. 45728 (£7500).
Bringing up the rear came Lord Rodney (SR Lord Nelson No. 30863) and another GWR duo, Marble Hall (No. 5907) and Evenley Hall (No. 4923), which sold for £6100, £5600 and £4000 respectively. Non-sellers were Wardour Castle (GWR No. 5066) and Sir Valence (SR King Arthur
No. 30767), but the former had gone to a new home before the day was out for £7250.
Right there in the nameplate mix came the top cabside numberplate, from GWR No. 6019 King Henry V (pictured above), which went under Mike Soden's hammer for £11,000, way ahead of the next highest realisations in the category, £3000 for 7028 from Cadbury Castle and £2700 for A890 from Southern Railway K1 class 2-6-4T River Frome that was rebuilt in 1928 as an unnamed U1 class 2-6-0.
The leading totem station sign, from Goudhurst on the Paddock Wood-Hawkhurst branch, sold for £9200, and smokebox numberplates were headed by 46257 from LMS Princess Coronation City of Salford (£6100), a smidgen ahead of the top worksplate, from LNER A3 Pacific No. 60094 Colorado (£6000), and a Lynton & Barnstaple Railway Blackmore-Wooda Bay single line tablet, which went for £5800 after a drawn-out battle between two telephone bidders.
Also worthy of a mention are the chime whistle from LNER A4 No. 60014 Silver Link (£5000), a Barry Freeman painting of LMS Jubilee No. 45608 Gibraltar piloting another member of the class on 'The Waverley' at Ais Gill summit (£3900), a 'Heart of Midlothian' headboard (£3200), SR station target signs Torrington (£3100) and Kew Gardens (£3000), and shedplate 64G (Hawick), which made £1600. Prices exclude buyer's premium of 15% (+ VAT).
"A brilliant day," was Mike Soden's post-auction comment.
"Prices were generally high, and some extremely so, such as totems, which are having a renaissance, and some of the worksplates and shedplates."
Read more Railwayana news in Issue 230 of HR – on sale now!
Enjoy more Heritage Railway reading in the four-weekly magazine.
Click here
to subscribe.