One of the first branch line closures by BR, the Haughley to Laxfield branch, lay dormant for 40 years until it became the subject of an unlikely revival. Peter Brown visited the Mid-Suffolk Light Railway and reports on its progress.
J15 0-6-0 No. 65447 hauled the very last passenger train on the Mid-Suffolk Light Railway between Haughley and Laxfield on Saturday, July 26, 1952. It came as no surprise, as the line had been beset with problems right from the start, caused by the over enthusiasm to build routes in the 1800s in an era that was to become known for its railway mania.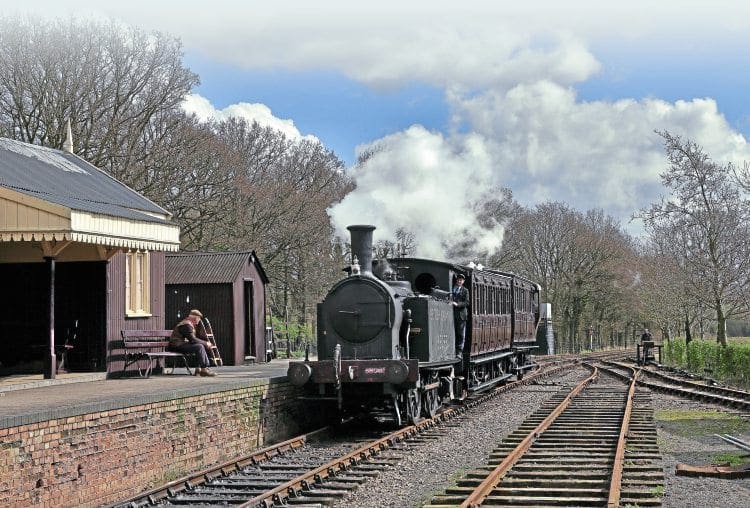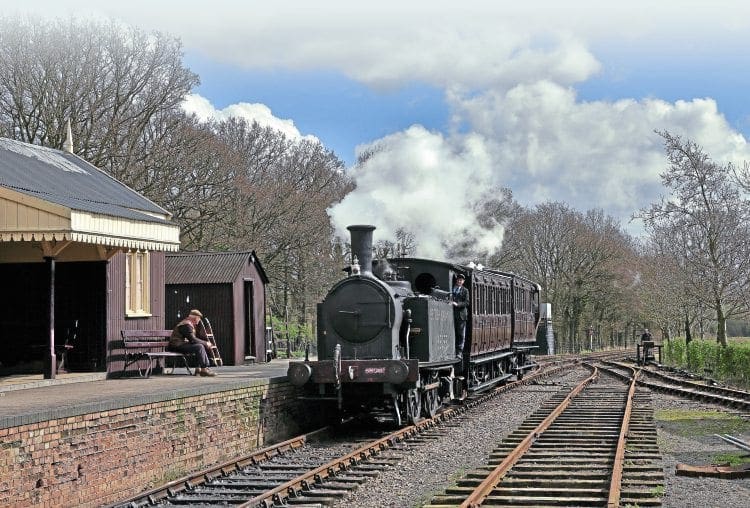 Not that there was a failure in vision – quite the contrary. It was envisaged from the start that the MSLR, known generally by its nickname 'The Middy', would create travel opportunities from and to the area and this was done by authorising entrepreneurs to utilise light construction to avoid more rigid safety restrictions.
Eventually, it was agreed for the MSLR to cross central Suffolk from Haughley on the Great Eastern Railway main line, to Halesworth on the same company's East Suffolk Line connecting with the GER at Needham Market and Westerfield.
However, even at that early stage a mixture of financial difficulties, problems of management and some difference of opinion with the GER, the line was curtailed 19 miles east from Haughley where construction began at Laxfield.
Bankrupt before it opened
Critically, the branch to Needham was abandoned before construction began and although the line was laid from the MSLR towards Westerfield, it ceased just outside Debenham and was lifted a few years later. It was not the best of starts, as the line was bankrupt before it had opened for business but continued to struggle on until being absorbed into the London and North Eastern Railway in 1924, the LNER being adamant that it did not want to take over at the time of the 1923 Grouping. It waited until the MSLR's financial situation was resolved the following year and the line survived to become part of British Railways in 1948.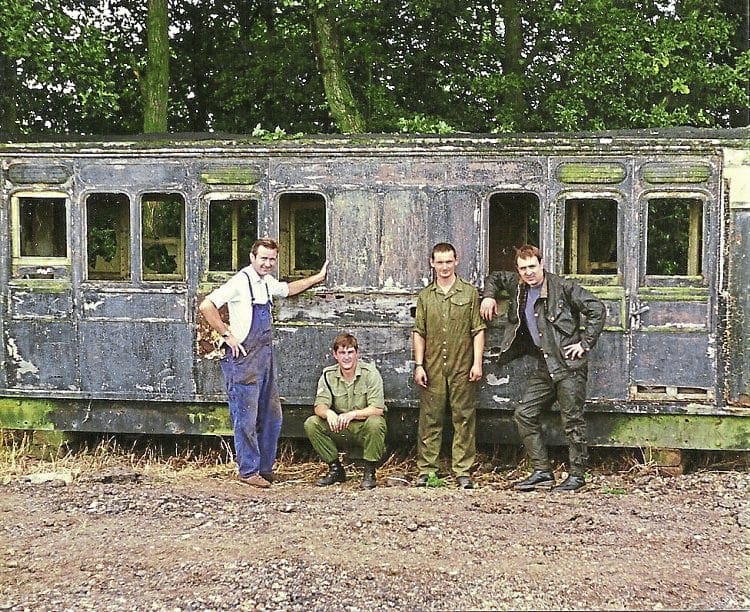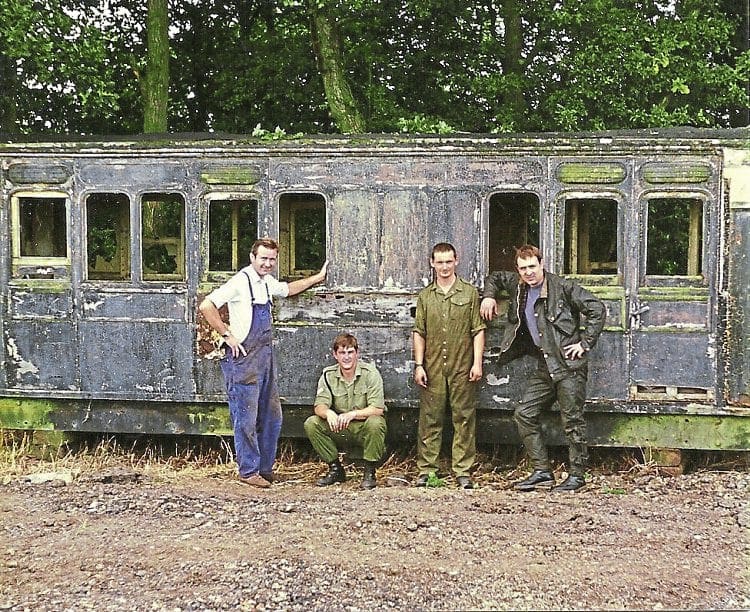 But it was far from the end of the sad saga, because, like many other parts of the railway system, it had suffered much damage as a result of the Second World War and passenger numbers were in decline. This resulted with the inevitable closure of the MSLR and the remaining Haughley-Laxfield branch was closed in 1952.
The track was lifted very soon after the last train had run and over the years very little has remained to show there ever was a railway running in this very part of rural Suffolk. Even in the small but well known village of Mendlesham, there are hardly any reminders that a railway served the area.
So with not much to go on, why would a group of enthusiasts get together to try and bring back the Mid-Suffolk Light Railway 40 years after closure? Well that is exactly what they did in 1990 and this year they are celebrating their 25th anniversary which has seen them win accolades along the way. In 2012 they won the Heritage Railway Association's Interpretation Award and in 2015 were named Suffolk Museum of the Year by the Association for Suffolk Museums.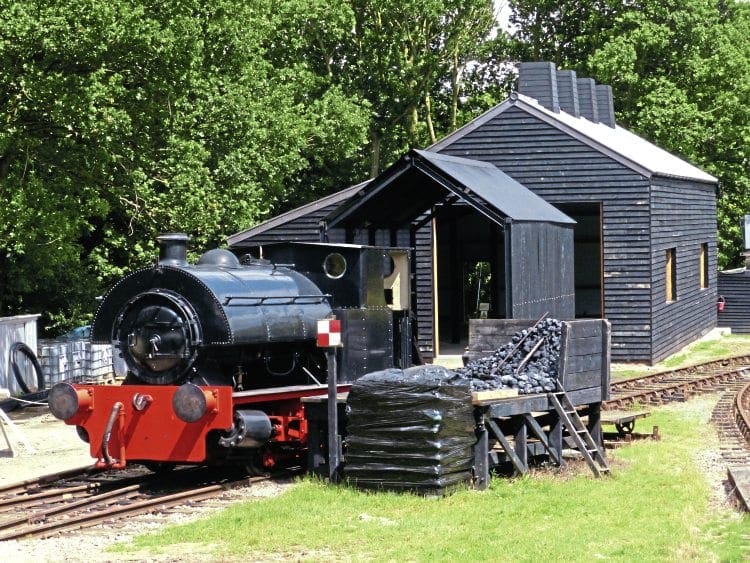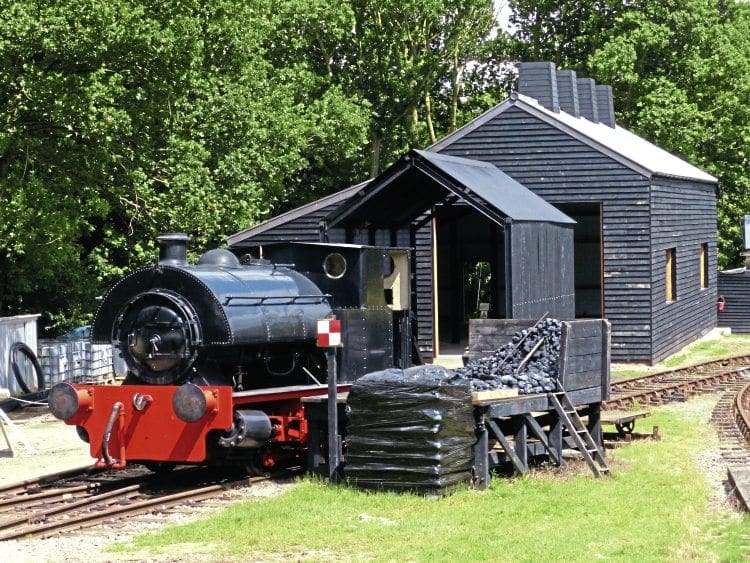 We went to visit the railway/museum and became immediately impressed with the number of vehicles in the car park – and this wasn't even a day of opening. This was a Wednesday with members striving to get everything ready for the forthcoming weekend open to the public. In addition in various nooks and crannies and workshops other individuals were working on special projects intended to make the MSLR a major attraction. In the previous paragraph we posed the question 'why would a group of enthusiasts get together to try and bring back the Mid-Suffolk Light Railway? In attempting to find the answer on our visit we spoke to several volunteers beavering away. One was Paul Ebsworth, in charge of the 1604 Restoration Project.
Railway's own engine
A former marine engineer, Paul had been active on the East Somerset Railway before moving to Suffolk and consequently getting involved with the MSLR. The project is to restore number 1604, a Hudswell, Clarke 0-6-0ST of 1928 vintage. This is the railway's own engine, which came from Bardney in Lincolnshire, where it had worked from new at the local sugar beet factory for more than 40 years. It arrived at Brockford in 1996 and immediately underwent a cosmetic makeover to keep the ravages of the weather at bay – an enormous task!
"They started working on it 10 years ago," confided Paul. "It was taken to pieces and when I arrived just short of three years ago from the East Somerset Railway it was just a pile of bits. We are hoping that it will have a rolling chassis by the end of this year."
The locomotive will be on display at events this year and Paul told us that it was hoped visitors will give generously and boost the fundraising for No. 1604. Given that this is a railway centre it came as a surprise to find another ex-marine engineer from the Merchant Navy. A graduate from the University of the West of England at Bristol, Philippa Spreadbury, who had been working at the Museum of East Anglian Life in nearby Stowmarket. Her role at the MSLR is to look after visiting traction engines.
"I have been here just over a year. My partner and I are working on an Aveling roller for Stuart Hines, who manages the South Tynedale Railway. He and his father have traction engines, he's got two traction engines and last year brought the roller over. I recently passed my Category G driving test for rollers and the examiner admitted that it was his first time testing a driver on one of these. I think he was more nervous than I was."
Article continues below...
---
---
However, one of the railway's stalwarts is archivist David Chappell, an ex-board member who was vice-chairman for three years and chairman for three years. "I was here when it was effectively started, but a couple of years prior to that I was showing my interest and collecting artefacts," he said. "The artefacts we have are anything relating to the railway such as lamps, photographs, tickets, paraphernalia and histories of rolling stock. The whole essence is to keep the railway as it was when closed on July 26, 1952."
When gathering information from senior members of heritage railways it is not always possible to get them to admit to having been a former trainspotter, but John Reeve, MSLR marketing manager and editor of the group's quarterly magazine Making Tracks, is an exception.
Four locomotives in steam
"I am a lifelong trainspotter and couldn't resist the chance to help this railway," he enthused. "We are fortunate that we get a lot of coverage in the East Anglian Daily Times and events publications like Ipswich 24 and other local media, it brings in the families, particularly on a summer's day.
"Our visitors include families and locals and the old fashioned trainspotters. The visiting Y7 0-4-0T will no doubt bring in extra visitors. At the end of the season all four locomotives will be in steam in September over the weekend of 10/11. The other three are the Bagnall 0-4-0ST No 2565, Hudswell Clarke 0-6-0ST Wissington and Cockerill 0-4-0VBWT tram engine No. 2525."
Continuing, he stressed how optimism for the future was rife around this site in rural Suffolk by emphasising how grateful the railway is for receiving £64,000 from the Heritage Lottery Fund, plus further financial help from other organisations. The length of line is at present slightly less than half-a-mile, but it is hoped that this will double if planning permission is successful.
"We have been fortunate with getting help so that we can boost activity here, not just with the Heritage Lottery Fund, but also charities and Suffolk County Council, added to the fact that Wissington is currently receiving some TLC at the North Norfolk Railway," he explained.
"We are applying for planning permission for another half-a-mile which will mean our line will not quite be a mile but it will be with a run round loop at the other end so that the trains can easily come back to the museum at Brockford station."
Cheerfully overseeing the situation of engines is locomotive superintendent John Durrant, who has been working to bring the railway back to its heartland since 1993. He is confident that the improvement in the traction situation is going to advance the interest in the museum, especially in the way visitors can help with funding for the future.
"The biggest news is the arrival of our first main line company resident locomotive in the museum's history, the Y7," he told Heritage Railway. "From May 29 every last Sunday of the month are tram engine running days. As another innovation was to run steam-powered works trains every last Saturday of the month, starting on May 28. Wissington is the normal choice to be our duty Cab Rides for a Tenner loco, as it has the most room."
Former plumber and washing machine engineer John Holmes joined the museum in 2004 and is now manager of the workshop, where we met him as he continued to lovingly restore a GER first class smoking coach.
"I came just for a week," he revealed. "We've been rebuilding this 1863 coach for the past two years. It was found in a field in Elmswell, Suffolk in about 1995. It was in quite a state."
The stationmaster and vice-chairman of the trustees, John Stark, has been a member of the MSLR for the past 23 years. Now, as the seeds planted in the early years are beginning to yield in the form of much-needed success, we asked him to explain how it has happened.
"We set ourselves up to recreate the Middy and keeping it alive and running as 'The Middy' and the villagers are behind us, which has all helped us to win the 2012 Heritage Railway Association Interpretation Award," he said. "They said the vicinity was getting back a light railway and we're determined to keep it like that."
Must retain the momentum
The former senior manager of BT added: "There can be no complacency. It is important to remember that we are in a very competitive form of entertainment and we have got to retain the momentum that we have started."
Essentially, this is a steam-operated line with the only diesel locomotive being a 1952 built Ruston and Hornsby 0-4-0DM No. 165, but according to MSLR chairman Jon Taylor writing in the Spring 2016 issue of the group's magazine Making Tracks, he states: "The board has approved in principle, the search for another diesel locomotive to take the load off the Ruston, which remains in restricted use, but is designated a restoration project in order to improve and conserve it for the future."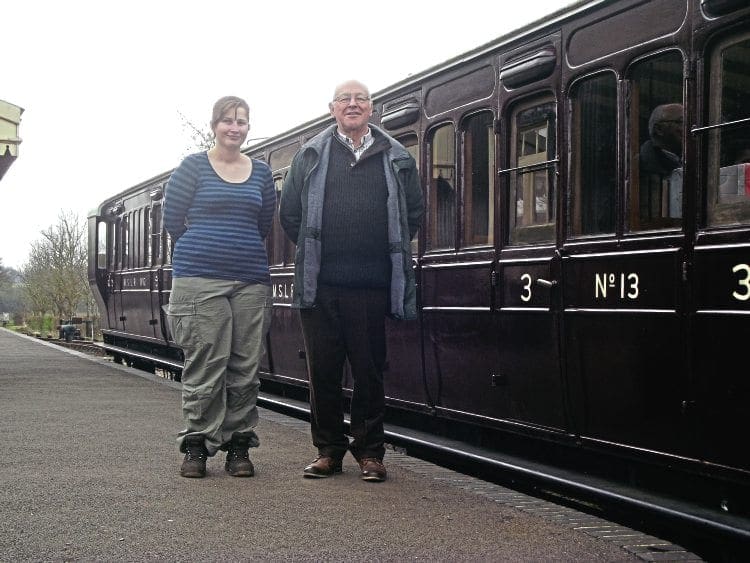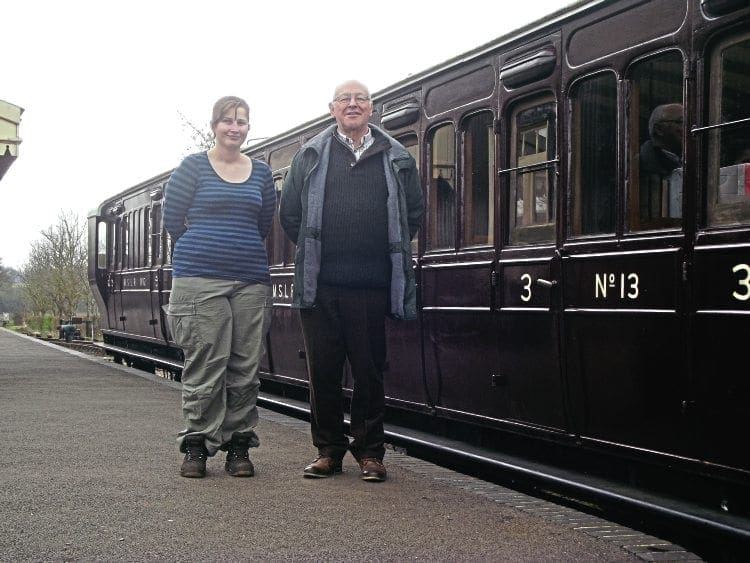 In the same issue is also a black and white photograph under the heading The Gang of Four Revealed and it names those who it states were responsible for getting the museum up and running. It goes on to say: "Taken at an open day in the summer of 1993, it shows from left to right (all looking very young!), Paul Davey; Richard Randall; Bob Boardman; David Chappell. Now you know who to blame. Richard has moved away to Ireland, but daughter-in-law Christine is the key figure in the organisation of Santa specials."
Onward goes the museum and in this 25th anniversary year it is offering more than at any other time in its recent history. Vintage steam trains run every bank holiday and summer Sundays between May 29 and August 29. Other events this year have included an Easter Steam Up, plus children's entertainment and Middy in the War Years on May 1 and 2 bringing together re-enactors, historical military and other vehicles and displays including set piece re-enactments and train rides with two locomotives in steam.
On Sunday, June 19 a Continental Steam & Beer Festival took place when the Belgian tram engine was in action and a selection of continental beers was available and there were more surprises for Father's Day. Sunday, August 7 will see a Hornby Collectors Day with many layouts, swap and sales stands. One week later – Sunday, August 14 – a Summer Jamboree is being staged with two locos in steam, Punch & Judy shows, live music, face painting and much more.
The August bank holiday weekend of Sunday and Monday, August 28/29 sees the museum staging a Rail 'n' Ale Weekend with a selection of Suffolk brews available, blending with the steam trains. And on the weekend of September 10/11 a steam gala is being staged when all four locomotives will be in steam. Santa specials are being run on Sunday, December 4 and the weekends of December 10/11 and 17/18.
Often with revivalist schemes there is opposition from local residents wherever the location, regardless of the type of project. Here there appears not to be much opposition to what is going on at Brockford, as 'The Middy' opens its real ale bar coach – The Kitchener Arms – for the benefit of residents in the adjoining village of Wetheringsett, which is now, like many other areas, without a public house of its own.
A public house housed in a converted railway carriage on the MSLR – now that really is something to drink to.
Read more News and Features in Issue 230 of HR – on sale now!
Enjoy more Heritage Railway reading in the four-weekly magazine.
Click here
to subscribe.