By Don Benn
In this 50th anniversary year of the end of steam on the Southern I am covering a few recent runs on the Bournemouth line and also looking back to 1967 to set the recent 100mph exploit of Tornado into the context of similar events 50 years ago.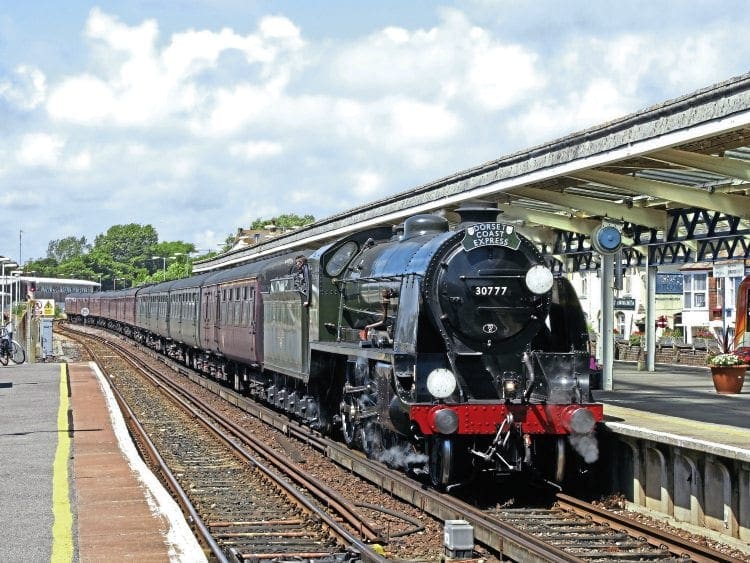 With nine coaches for 315 tons gross this was a reasonable load for No. 60163 to test speeds up to 100mph in order to establish if 90mph can be feasible for public charters. It seems that the maximum speed was about 101mph with some GPS readings giving 101.6mph, but the sophisticated recording equipment in the support coach showing 100.6 mph.
This was after a temporary speed restriction to just under 50mph at Thirsk and required full regulator and 35% to 45% cut off on the level stretch after Thirsk and on slight down gradients past Sessay, Pilmore and Raskelf to reach the maximum speed at the foot of the 1-in-666 just before Alne.
The magic ton was sustained for 48 seconds or about 1.3 miles. The table shows all the 100mph runs with Bulleid Pacifics that I have been able to find in the last 30 months of steam up to1967. It can be seen that they weren't all with light loads though those that were required very little effort from most of the locomotives involved.
For instance on June 26 and 28, 1967 when No. 35003 Royal Mail reached 106 and 105mph respectively, Fred Burridge was only using about two thirds regulator and 20% cut off; so about 160lbs of steam. And this was on an engine in very run down condition with the motion making so much noise that it could be heard long before its arrival. Yet No. 35003 produced no less than five speeds of 100mph or more in those last few weeks of steam. Table One shows the detail of one of these runs, timed by about a dozen of us.
Article continues below...
Advert
At the other end of the train weight scale the runs of May 15. 1965 with No. 35005 Canadian Pacific, November 15, 1966 with No. 35007 Aberdeen Commonwealth and December 12, 1966 with the now preserved No. 35028 Clan Line were all with good loads. The 105mph with No. 35005 was down the 1-in-249 of Roundwood bank but the other two were on slight downgrade parts of the Basingstoke to Woking stretch which is certainly not all downhill. This section is in fact comparable to the Darlington to York stretch where Tornado was tested finally reaching the magic 'ton'.
Read more in Issue 228 of HR – on sale now!
Article continues below...
Advert
Enjoy more Heritage Railway reading in the four-weekly magazine.
Click here
to subscribe.