Variety will be the spice of life at Stoneleigh on June 3, when nameplates from all the Big Four will fight for attention in Great Central's summer auction, comprising five from the GWR, three apiece from the SR and LMS, and one from the LNER.
Top of the tree will surely be 257 Squadron with its badge from SR Battle of Britain No. 34072, built at Brighton in April 1948, four months after Nationalisation. It is now preserved on the Swanage Railway, and the plate has been in the vendor's ownership since the Pacific was withdrawn from Eastleigh (71A) in October 1964.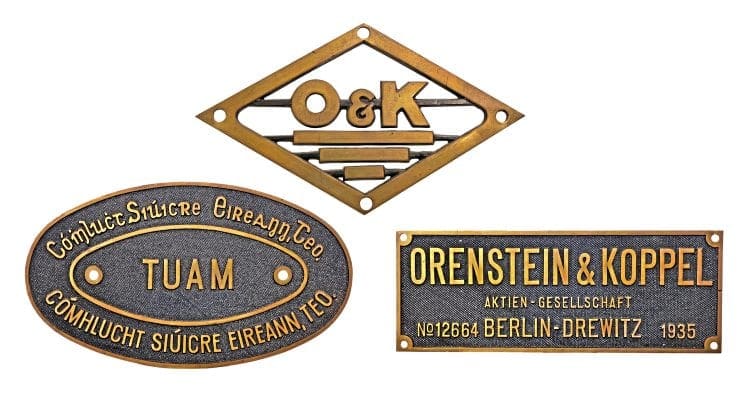 The GWR quintet is Cefntilla Court (Saint class No. 2936), Evenley Hall (No. 4923), Wardour Castle (No. 5066), Marble Hall (No. 5907), and Hinton Manor, from preserved No. 7819, the last of the class to be built by the GWR, in February 1939. For many collectors the name Wardour Castle may not be familiar, as No. 5066 was renamed Sir Felix Pole in April 1956.
In addition to 257 Squadron, from the SR come Sir Valence ('Scotch Arthur' No. 30767) and Lord Rodney from Lord Nelson 4-6-0 No. 30863, and the LMS weighs in with Bengal and Defiance (Jubilee Nos. 45577 and 45728), and Welsh Guardsman (Royal Scot No. 46117). The plate from No. 45577 is one of only eight in the class to be cast in St Rollox-style lettering, the others being Nos. 45576/78, 45580/81, 45584, and 45644/45.
The LNER offering is Osprey (A1 No. 60131), a name first carried by Gresley A4 No. 4494 from new in August 1937 until October 1942, when it was replaced with Andrew K. McCosh. The original name, but not the original Osprey plate, was given to No. 60131 when it entered service in October 1948.
Cabside numberplates include GWR Nos. 2948 (Stackpole Court), 4991 (Cobham Hall), 6019 (King Henry V), 6869 (Resolven Grange), 6921 (Borwick Hall), and 7028 (Cadbury Castle), and smokebox numberplates 34019 (SR West Country class Bideford) and 46257 (LMS Princess Coronation City of Salford).
Also in this category is 11304, from a Lancashire & Yorkshire Railway engine that started life in 1877 as a Class 23 0-6-0, was converted into a saddle tank in 1891, transferred into departmental stock in 1935 as a Horwich works shunter, and retained its LMS 11304 number throughout its BR days, although the Ian Allan ABCs listed it as 51304S (for service loco). It was withdrawn in December 1961.
In the worksplates category comes an LNER A3 duo, Doncaster 1928 and Doncaster 1934, from Nos. 60094
Colorado and 60039 Sandwich respectively. There is also a worksplate, owner's plate and manufacturer's emblem set from a 5ft 3in gauge 0-4-0T built by Orenstein & Koppel of Berlin in 1935 for an Irish sugar factory in Tuam, Co Galway. The loco, which carried the emblem on its smokebox door and was unusually both a side tank and well tank, was withdrawn in the 1960s, having spent its entire career at the factory.
Headboards include 'Heart of Midlothian' from the London-Edinburgh express launched in 1951 that was the domain of ECML Pacifics in the 1950s. I recorded this train on a number of occasions in 1959-61 at Hadley Wood, Hatfield, Stevenage, Hitchin and Peterborough North, headed by a variety of LNER magnificence.
This included A4 Nos. 60030 Golden Fleece and 60033 Seagull, A3 Nos. 60049 Galtee More and 60102 Sir Frederick Banbury (a former chairman of the Great Northern Railway), and A2 No. 60516 Hycilla. Oh, and on June 3, 1961, Class 40 D270, but we won't go there.
There is also a large factory chime whistle from the Faverdale Wagon Works in Darlington that opened in 1923 and closed in 1962, a SR target sign from Grade II listed Kew Gardens station, opened by the LSWR in 1869 and now on both the London Underground and Overground, and two 'for' totems, Ashchurch for Tewkesbury and Danzey for Tanworth. The auction starts at 10am.
More Railwayana and Auction news in Issue 228 of HR – on sale now
Enjoy more Heritage Railway reading in the four-weekly magazine.
Click here
to subscribe.