FROM OUR ARCHIVES: 2016
The world's most famous steam locomotive running on the world's most popular heritage railway – under blue skies with plenty of sunshine: the North Yorkshire Moors Railway played host to Flying Scotsman in its first visit to a heritage line since the completion of its £4.2-million overhaul. Tickets were sold out months in advance, and passengers and lineside spectators alike were left delighted, reports Robin Jones.
ANY thoughts that Flying Scotsman's crowd-pulling power would slacken off after it made its official comeback run from King's Cross to York on February 25 quickly disappeared as it made its first visit to a heritage railway since its long-running restoration.
Public clamour for seats on the three round trips a day on the North Yorkshire Moors Railway, and running for seven days between March 12-20, was so great that all 8500 tickets – £38 for adults and £25 for children, which had gone on sale on October 26, were sold out before Christmas. When seats on an extra four carriages were later released, the sudden demand blocked the NYMR switchboard.
Lack of seats did not deter the crowds, either before, during or after the visit. Several of those who packed platforms along the heritage line spotted the occasional empty seat, and asked if they could purchase it. However, staff had to turn such requests down, as there was every chance that the purchaser might yet arrive midway through the round trip from Pickering to Grosmont.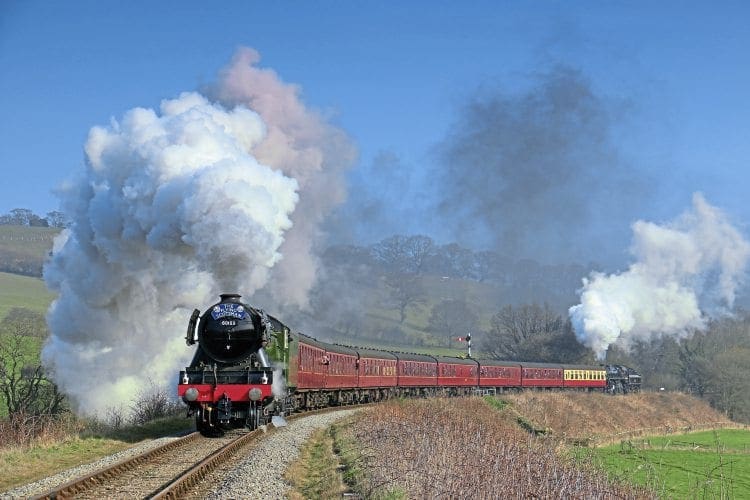 The event has been described as the most successful in the heritage line's 42-year history.
The crowds turned out hours before the legendary A3 reached Grosmont, travelling under its own steam from its National Railway Museum home in York on the evening of March 10, taking a route via Yarm, Eaglescliffe, Thornaby, Middlesbrough, Battersby and the Esk Valley branch to Grosmont.
Crowds hung from windows and scaled buildings to get the best vantage points, and the journey was delayed at Eaglescliffe because of people getting too close to the track, echoing the trespassing incidents, which had slowed its comeback run on the East Coast Main Line.
There were similar scenes at the NYMR on each day of its stay, which saw it run on all days apart from March 14 and 18. Bridges and station platforms were packed with onlookers, ranging from the seasoned lineside photographers to those of all ages who had turned out purely because of No. 60103's phenomenal celebrity status. Nobody was disappointed.
Spring was in the air as superb sunshine gave onlookers a glimpse of the Gresley masterpiece in its latter-day BR guise with double chimney and smoke deflectors, and those lucky enough to be on board sweeping panoramic views of the marvellous scenery that this fabulous line has to offer, which brings in upwards of 300,000 passengers a year.
Before the locomotive could haul a passenger train, line clearances needed to be checked.
With restorer and custodian Ian Riley driving, NYMR infrastructure engineer Nigel Trotter rode on the A3 as it ran light engine from Grosmont to Pickering checking the clearances at the cylinders and back end of the cab at all the platforms and overbridges. The clearances were found to be in order.
The first day of Scotsman services on the NYMR saw national newspaper headlines made, not because of the sparkling performances of the star guest, but because a camera from a drone crashed on to one of the carriages behind hauled by it.
Passengers on the eight-coach train around 4pm on Sunday, March 13 described seeing the drone flying alongside as it headed from Grosmont to Pickering at 25mph.
The drone collided with a tree, and its camera became dislodged and struck the roof of one of the eight carriages with a loud bang.
The incident retriggered the nationwide debate about the use of drones and their safety implications, not just on or around railways but everywhere.
Article continues below...
---
---
Passenger Linda Wild of Whitby was quoted as saying: "We could see a drone on the left-hand side of the train. The next thing we knew there was an almighty crash. It sounded like it had crashed into the roof.
"It could have caused a major accident. What if it had gone through the window?"
Inspector Bob Moody of British Transport Police said: "The drone's camera became dislodged and fell on to one of the Flying Scotsman's carriages.
"While no damage was caused to the train, we would like to point out that the use of drones, or any other small unmanned aircrafts, within 50 metres of a train is prohibited and is an offence as they can cause an obstruction and endanger the safety of the train.
"We have identified the person responsible," he said. It was understood that the drone owner was later interviewed.
Referring to No. 60103's inaugural trip on February 25, Inspector Moody said: "I would also like to reinforce our message to ask people to stay off the tracks when viewing the Flying Scotsman.
"Not only is trespassing extremely dangerous and has previously resulted in the train's journey being delayed, but it is an offence for which the offender risks being brought before the courts, a fine of £1000 and a criminal record.
"We will be seeking to take action against trespassers on future journeys to ensure that these pass safely and free from disruption."
An NRM spokesman said: "There are lots of safe vantage points to view and take pictures of trains hauled by Flying Scotsman without the need to use drones, and we would urge people to use those, stay clear of the lines and not obstruct the train.
"We would also like to reinforce the message to ask people to stay safe and stay off the tracks when viewing Flying Scotsman. There are plenty of opportunities to see it this spring and summer including two free displays at our York and Shildon museums."
In a separate, incident, an elderly man fell on the packed platform at Grosmont 10yds from the A3 at 9.15am on Wednesday, February 17, before the first service of the day.
Witnesses said that the crowds watched in horror as the man appeared to run out of standing room and land on the line, yards from the locomotive.
An ambulance was called but paramedics found he had not sustained any injuries.
Photographer Steve Crown from Middlesbrough, who was standing nearby, said: "There was no platform left for him, it wasn't like he was pushed.
"The platform was heaving with at least a couple of hundred people and the man took a step to his right."
Earlier in the week the NYMR had considered closing its platforms at Pickering on safety grounds because of the sheer volume of spectators .
NYMR head of operations Liz Parkes said: "There was no danger of him being hit by the train. We have no reason to believe that people are behaving badly."
After the last train of the day on Sunday, March 13, NYMR volunteer Chris Savory, 23, stunned his girlfriend Laura Thurlow, 22, by climbing on to the footplate of the A3 after it arrived at Pickering station and proposing to her, after what had been a well-kept secret arrangement. She accepted a diamond ring from her fellow sandwich maker, five years to the day after they started dating.
At first, with an eight-coach load, the A3 was banked up the 1-in-49 gradient from Grosmont by either BR Standard 4MT 2-6-0 No. 76079 or LMS 'Black Five' 4-6-0 No. 45428 Eric Treacy, which was detached at Goathland, the train then running nonstop through Levisham to Pickering.
With dry rail conditions through most of the week, the banking assistance was quickly dispensed with and the A3 handled the load with ease, running nonstop through Goathland as well as Levisham.
On Sunday March 20, a vacuum brake problem with the A3 led to one of its specials being delayed, with the 'Black Five' assisting the A3 from Moorgates to Pickering and back to Grosmont where it went on shed for repairs.
Two DMU services, the 1.20pm from Grosmont to Pickering and the 2.50pm trip in the opposite direction, were cancelled to make way for the resumed steam service. Where possible, the NYMR upgraded DMU passengers to the Flying Scotsman service, once it had resumed.
An NRM spokesman said: "There was a delay of around 45 minutes to the scheduled services hauled by Flying Scotsman. This was caused by a stuck ball in a vacuum drip cup and was swiftly resolved by the engineering team in charge of the locomotive."
The week also saw Scotsman involved in a SPAD incident at Goathland, one of the passing loops on the line.
NRM senior press officer Cath Farrell said: "We are aware that Flying Scotsman was involved in a SPAD (Signal Passed at Danger) at Goathland station on Tuesday, March 15.
"We believe this was down to an unfortunate oversight by the driver rather than a locomotive fault.
"The crew and general public were not at risk at any point and the incident is currently being investigated by the NYMR."
The train stopped a short distance from the signal and was said have been held up for around half an hour while the footplate crew were replaced, the locomotive inspected and an investigation launched, as under standard procedures.
Liz Parkes said: "It is not company policy to discuss operational incidents with the media. This would be extremely unfair to the individuals involved. Any such incidents are reported and investigated fully. We look at all human and technical factors to prevent a recurrence."
Indeed, not a single complaint by the public was received by the railway over the entire period of operation of the A3.
It is likely that a six-figure profit will be recorded from the visit. Unusually, this revenue is not being treated as traffic income but as a windfall that will be used to pay off bank borrowings.
In addition to the financial benefits, the railway also took the opportunity to entertain several organisations which have supported the NYMR in the past and may do so in the future, as well as adding some potential new organisations to the list, so extensive further benefits may yet arise.
The biggest disappointment for linesiders came when the locomotive's return journey to York, scheduled for daytime on Monday, March 21, was switched to the hours of darkness. However, that did not deter spectators turning out in droves again.
Flying Scotsman passed Middlesbrough at 11.13pm and rather than retracing its outward journey through Yarm on its way to Northallerton, it headed via Dinsdale to Darlington to reverse, and arrived back in York around 1.32am.
Once there, the A3 was prepared for display in the NRM's Great Hall as part of its Scotsman season. The museum's free exhibition examining the locomotive's claims to fame is open to visitors until June 19.
On Friday, March 25, as part of a press preview for the season, No. 60103 was displayed nose to nose with the current star of the modern-day 'Flying Scotsman' service, the Virgin Trains' 'Flying Scotsman'-liveried Class 91 power car No. 91101 which was unveiled by Scottish First Minister Nicola Sturgeon last October.
As part of the season, a ticketed theatrical-style event, Service with Style, allows visitors to travel on the 'Flying Scotsman' train through the ages. Visitors encounter a range of characters on board three carriages of the kind that travelled the route. Designers A Taste of Space, known for Summer 2015's acclaimed 'Cornetto Cinema', have used cutting-edge wireless technology and binaural sound to bring the glamour of high-speed travel, complete with hairdressing salons and cinema cars, to life. Tickets for Service with Style, which runs until May 8, and is sponsored by Virgin Trains, cost £8 and pre-booking is recommended: for more information visit www.flyingscotsman.org.uk
During the Scotsman season, No. 60103 is being lined up alongside GNR Stirling single No. 1 and GNR C2 4-4-2 No. 990 Henry Oakley, which ran over the route in Victorian times, and the newly cosmetically,restored Deltic D9002 (55002) King's Own Yorkshire Light Infantry, which hauled the train in the Sixties and is now back in its BR two-tone green livery from that period.
NRM director Paul Kirkman said: "Our Scotsman season is a tribute to all the people who have worked to bring a legend back to life, from those who have worked on the restoration itself to the public that donated to our appeals. Our visitors can book tickets for a virtual journey on Service with Style, a carriage tour with a difference which uses cutting edge 3D binaural sound technology to bring stories of speed, innovation, fame and luxury associated with the world's most famous loco to life."
Enjoy more Heritage Railway reading in the four-weekly magazine.
Click here
to subscribe.