FROM THE ARCHIVES
The Darlington North Road locomotive works served the railways for 103 years but closed due to the demise of steam on April 1, 1966. To commemorate the 50th anniversary of the closure and the successful transformation of the nearby Hopetown workshops into the new Darlington Locomotive Works, Maurice Burns reflects on the changing fortunes of this famous railway town.
Darlington North Road works was originally opened for the Stockton and Darlington Railway in 1863 and over the years it was controlled by many famous locomotive chief mechanical engineers of the Stockton and Darlington and North Eastern Railway, including William Bouch, Edward Fletcher, Alexander McDonnell, Thomas and Wilson Worsdell and Vincent Raven. With the formation of the LNER in 1923 the works came under Nigel Gresley, Edward Thompson and Arthur Peppercorn before the formation of British Railways in 1948.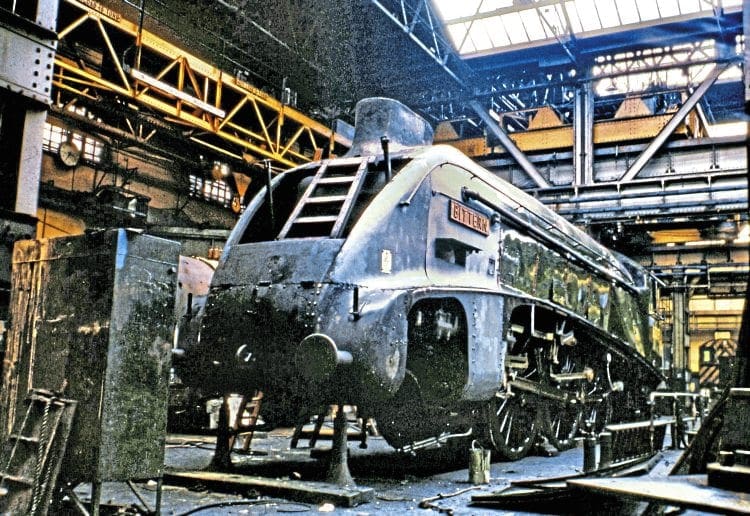 The works was a major employer in the town, reaching its peak in 1954 when it employed 3815 people. However, once the aim to eliminate steam traction was announced in the British Railways modernisation plan of 1955, the days of the works were always numbered.
New steam locomotive construction continued under British Railways and included the Peppercorn A1 Pacifics, L1 2-6-4Ts, B1 4-6-0s, and, remarkably, orders for 28 J72 0-6-0T shunting engines, which were an exact copy of the E1 design built by the North Eastern Railway and constructed 51 years earlier. The original engines, built in 1898, cost just £1412 each but by 1951 this had increased to £5314. New steam construction finally came to an end in 1957 with a batch of 10 BR Standard 2MT 2-6-2Ts, Nos. 84020 to 84029. These were for the Southern Region where their life was short, being withdrawn for scrapping after only seven years of work. New boilers continued to be made in the adjacent Stooperdale boiler shops, with the very last order, for five Gresley V2 boilers, completed as late as 1962. These had a very short life in traffic of less than four years.
Diesel construction had started as early as 1952 with BR Class 11 and then Class 08 0-6-0 diesel electric shunting locomotives and these were followed by many BR Type 2 (later Classes 24 & 25) main line locomotives; the last of these being completed in 1964.
The mid-1960s was a period of rapid change in the North Eastern Region and enthusiasts would regularly sneak in the back of Darlington locomotive shed to see what was known as 'the dead line'. Here steam locomotives would arrive for overhaul or scrapping. A Sunday visit was always interesting as at the back of the loco shed would be the ex-works engines with immaculate paintwork.
With the ending of steam repairs at Doncaster and Derby works, North Road saw many strange visitors, such as an LMS ' Jinty' 0-6-0T, 8F 2-8-0s, 'Black Fives' and even green BR Standard 4-6-0s from the Western Region, all for overhaul.
The arrival on the dead line of five BR Standard Clan Pacifics in 1963, all the way from Glasgow, was assumed to be for their overhaul, but they were all scrapped. At times there did not appear to be any logic to scrapping one member of a class while other examples went through the works. The entire J26 class of 50 0-6-0s went for scrap in 1962 while almost identical engines of Class J27 were going through the works for overhaul in late 1965 and continued in traffic until 1967.
Steam did hang on in Scotland and with the introduction of the three-hour expresses between Glasgow and Aberdeen using surplus A4 Pacifics that still had mileage to run, it proved to be an exciting period. This could only be short-lived as locomotive works were being progressively shut down. The period 1964 and 1965 was special in Darlington works and one could easily be surprised. There were organised works and shed visits by the RCTS and SLS.
Local enthusiasts, without a permit, knew the secret way into Darlington shed without getting caught! North Road works was just the same and brave enthusiasts would 'go over the wall' and be able to walk down the main erecting shops in total silence on a Sunday morning, seeing everything from a Vincent Raven Q6 0-8-0, a Thompson B1 4-6-0, a Peppercorn A1 or A2 Pacific or a Gresley A3 or A4 Pacific, undergoing overhaul and repainting. With steams days numbered, these were special visits. At the time it was almost unbelievable to be able to photograph ex-works Gresley A4 Pacifics Bittern, Kingfisher and Lord Faringdon, all bound for Aberdeen, plus Gresley V2 2-6-2s and Peppercorn Pacific Blue Peter for Dundee.
Flying Scotsman
One special overhaul that started in late 1964 and finished in April 1965 was that of the preserved A3 Pacific Flying Scotsman saved by Alan Pegler. While this caused a lot of excitement; right next to the preserved A3 was sister locomotive No. 60052 Prince Palatine having a similar overhaul for continued use on British Railways. It is a little surprising that there were a dozen A3s still in BR traffic as preserved Flying Scotsman went through the works.
To coincide with the completion of the Flying Scotsman overhaul, the works had a special open day on April 3, 1965. Not only was No. 4472 in exhibition finish, but Prince Palatine, Tudor Minstrel and Blue Peter could also be seen. In a display of refurbished cab fittings, the Blue Peter nameplate formed the centrepiece. For reasons unknown, photography of Flying Scotsman inside the works at the open day was prohibited and a large sign to this effect can be seen in the picture! As a thank you to the 120 staff of North Road works who worked on the overhaul of No. 4472, Alan Pegler organised a special train from Darlington to Peterborough using the 'Tees-Tyne Pullman' coaches and an observation car.
The works' final days
For the last 12 months the works were mainly overhauling freight engines and during my very last works visit in March 1966 it was a sad sight to see just three engines receiving attention in the huge erecting shops that had previously been full of activity. On the stall that I had once seen A1 Kenilworth, A3 Prince Palatine and A4s Bittern and William Whitelaw, stood a rusty-buffered Q6 No. 63455. How appropriate that one of the very last engines through the works was a North Eastern Railway engine, some of which had given 50 years of service. This engine would work for another nine months from its home shed at Tyne Dock.
Article continues below...
---
---
On April 1, 1966 the works were finally shut and soon afterwards the site was cleared for a Morrisons supermarket. One part of the works does survive however. The large clock that once stood above the works entrance has been located in exactly the same position today on North Road, Darlington.
At the time of the works closure there were 469 engines still in traffic in the North Eastern Region with only the shed staff to keep them going, often using parts from withdrawn locomotives. It was an impossible task but motive power shortages saw Q6s having all their small boiler tubes renewed at Tyne Dock and Sunderland shed to further extend their working lives. On the very last day of steam operation in September 1967 the number of working engines was down to about 12 and these, just like the rest, would go for scrap.
Preservation
The preservation of North Road-built engines for the National Collection as the end of BR steam approached was limited to just one locomotive – Vincent Raven's powerful three-cylinder Q7 0-8-0 No. 63460. The fact that others were saved is down to many brave individuals and societies created in the nick of time, such as the North Eastern Locomotive Preservation Group, formed in October 1966. Barry scrapyard also allowed North Road-built locomotives to be saved by other societies, long after steam had finished in the North East. Some 14 North Road-built diesels are also preserved. This boosts the total number of all preserved engines to 27.
North Road Works Memories project
The Head of Steam – Darlington Railway Museum at North Road station is also commemorating the closure of North Road Works 50 years ago by organising a 'North Road Works Memories' project with which it hopes to collect memories from the men and women who were employed by the works or had relatives who were employees. These memories will form an online digital archive that will be available to the public via the museum website. More information is available at www.head-of-steam.co.uk or by contacting the museum via email at museumstudycentre@darlington.gov.uk for information or contributions.
A new beginning
It is now 50 years since North Road works closed its doors for the last time. How appropriate that this year sees a new Darlington works receive a £150,000 external restoration and inside it are locomotives undergoing overhaul and a new steam engine under construction.
The initiative was started by The A1 Steam Locomotive Trust, which in March 1995 signed an agreement with Darlington Borough Council, the owner of the 1853-built former Stockton and Darlington Railway carriage works at Hopetown; a grade two listed building. Following overhaul of the east end of the building, it set up its permanent base to build A1 Pacific No. 60163 Tornado. This was followed in 2001 by the North Eastern Locomotive Preservation Group (NELPG) signing a lease to carry out overhauls of its Darlington-built, NER-designed locomotives in the west end of the building.
Today there is no need to get a permit or to go over the wall to sneak a look inside the works to see the impressive new construction of a new Gresley P2 2-8-2 or the meticulous general overhaul of North Eastern Railway P3 – BR J27 0-6-0 No 65894. Both workshops are open on the third Saturday of every month with the next few on February 20, March 19 and April 16. Guides will be available to show you around and answer any questions.
Such rebirth of Darlington works requires constant financial and physical volunteer help and both societies are well organised with the aim of keeping steam going not only for the current generation, but future generations too.
The A1 Steam Locomotive Trust
The A1 Trust is looking for support to keep new Peppercorn A1 No. 60163 Tornado operational on the main line and the new construction of new Gresley P2 Mikado
No. 2007 Prince of Wales. Anyone wishing to assist in any way should call 01325 460163 or write to The A1 Steam Locomotive Trust, Darlington Locomotive Works, Hopetown Lane, Darlington DL3 6RQ. A1 email enquiries@a1steam.com, visit www.a1steam.com, P2 email enquiries@p2steam.com, also visit www.p2steam.com
The North Eastern Locomotive Preservation Group
NELPG is looking for new members and volunteers, has an attractive patron scheme and can give guidance on legacies in order to keep North Eastern steam alive for future generations to see. The contact for all these is through the NELPG Secretary Chris Lawson, 67 The Mount, York YO24 1AX or by email to chrisjlawson@btinternet.com. Further information about NELPG, which celebrates its own 50th anniversary this year, can be found at www.nelpg.org.uk
Acknowledgement.
The author would like to thank Nick Carter and Geoff Scurr for their help in preparing the article.
Read more Features and News in Issue 227 of HR – on sale now!
Enjoy more Heritage Railway reading in the four-weekly magazine.
Click here
to subscribe.