Been thinking about whether to volunteer at your local preserved railway? Paul Appleton encourages you to take that step forward… something he did at the Severn Valley Railway just three years ago.
We hear it all the time: "our heritage railways need more volunteers", so why don't more of us roll our sleeves up and get stuck in at our favourite railway, or on a pet restoration project?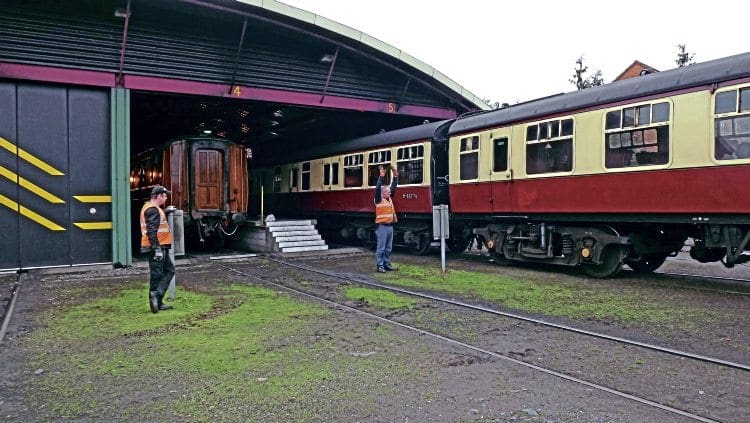 When I think how long I have been an 'enthusiast', it is a question I have to ask myself, because it was only three years ago at the age of 53, that I decided to do something about it.
I had done bits and bobs at one or two railways in my teens, but other than distributing a few timetables, I had never done anything more meaningful at the
Severn Valley Railway, despite being a member since 1973.
One reason is perhaps not knowing how to go about engaging with the railway, or perhaps not having the advantage of knowing someone who does. At the SVR, there is a dedicated volunteer liaison officer with an office on platform one at Bewdley station, so the railway makes it quite easy for anyone who has only the faintest of notions that they would like to become involved.
Put something back in
Article continues below...
Advert
The opportunity to rent a small place considerably closer to Bridgnorth station than my Lincolnshire home was the catalyst for me to finally do something about it. After all those years enjoying the railway, wasn't it about time that I put something back in, other than my annual membership and buying a few shares?
The volunteer liaison officer made me very welcome, but when he asked me what I would like to do, I perhaps didn't sound too convincing when I said: "Travelling ticket inspector?", the question in my voice perhaps giving the game away. I reasoned that I wanted to do something that meant engaging with the public, and travelling on trains was unashamedly part of the appeal.
"What about guard?" came the reply, "the railway is short of guards." I hadn't really considered being a guard. It always seemed to me that the guard had a lot of responsibility and I imagined that would need a lot of training which, given my age, I wasn't sure the railway would be too interested in making such an investment in.
Article continues below...
Advert
Read more in Issue 226 of HR – out now!
Enjoy more Heritage Railway reading in the four-weekly magazine.
Click here
to subscribe.