Steam locomotive restoration the world over is not generally funded by governments but by the valiant efforts of individuals, societies or private companies as in the UK. It is therefore remarkable that Ecuador has seen a government-funded railway and steam locomotive rebuilding programme on an unprecedented scale, including the setting up of a workshop for the manufacture of many new steam locomotive boilers. Maurice Burns, who made this discovery by chance, explains more…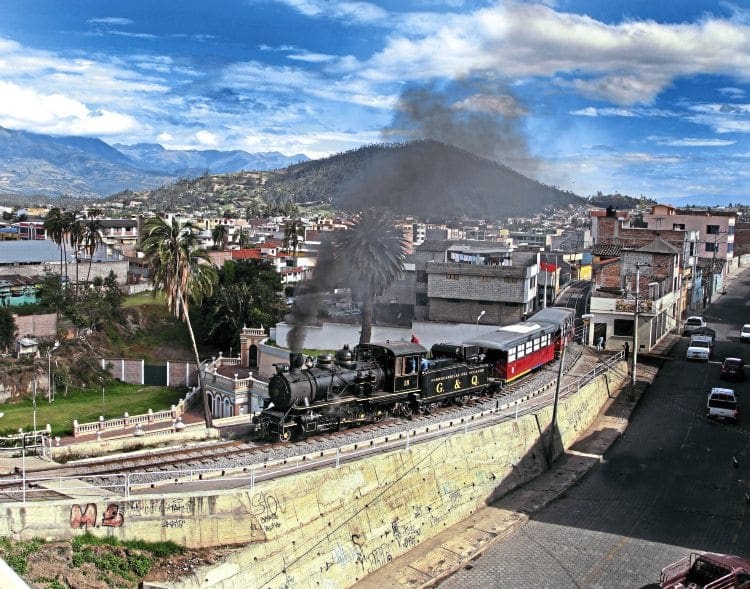 The small South American country of Ecuador is perhaps most familiar to many thanks to the amazing wildlife images shown on various David Attenborough TV programmes about its province the Galapagos Islands.
But over on the mainland its railways are no ordinary railways, climbing from sea level on the Pacific to the capital Quito, which stands at 9350 feet – a height gained in just 50 miles.
With gradients as steep as 1-in-18 involving the Devil's Nose zig-zag where 2500 men lost their lives during its construction, it is little wonder it is described as one of the world's greatest railway building masterpieces.
After its construction, journey times for the 200 miles were reduced from two weeks to two days using steam power.
Opening in June 1908, it had a long period of prosperity, but by the 1970s it was in decline, though it still had 25 steam locomotives.
By the 1990s, due to competition from road transport and lack of investment, the condition of track and locomotives, all railway operations with the exception of the Devil's Nose were completely closed down and abandoned.
That is how the railway would be today had it not been for Rafael Correa, elected as president of the country in 2007.
His vision was that most of the railway should be rebuilt not for scheduled everyday services for passenger and freight but for tourist use only, financed by the government. This was to be no patched-up railway system but total renewal on a scale tourist railways in the UK can only dream of.
The whole refurbishment programme aim was not to introduce an intensive service such as the big preserved lines of the UK but initially at least, for just one very special train – the luxury 'Tren Crucero'.
This would operate as a four-day five star all-inclusive package using steam and diesel motive power, with passengers staying at the best hotels plus many excursions and sights such as the 'Avenue of Volcanoes'. Priced at $1450 for the four day package, it is reportedly the best rail experience outside Europe and is in big demand.
Read more in Issue 225 of HR – out now!
Enjoy more Heritage Railway reading in the four-weekly magazine.
Click here
to subscribe.