On 3 July 1938, the A4 class locomotive Mallard raced down Stoke Bank at 126mph to set a new steam locomotive world speed record. That record still stands.
Built in Doncaster in March 1938, Mallard was one of thirty-five A4 Pacific class locomotives designed by Sir Nigel Gresley, Chief Engineer for LNER.
The A4 class were introduced in 1935. The first batch consisted of four locomotives which were painted silver-grey, the first of which was "Silver Link". By 1938 the standard colour for streamlined LNER locomotives was garter blue, with locomotives being repainted as they came through workshops for maintenance.
Its innovative streamlined wedge-shaped design bore no resemblance to the preceding A3 class, with speed was seen as the symbol of modernity in the 1930s. The A4 class cut the journey time from London King's Cross to Newcastle to four hours.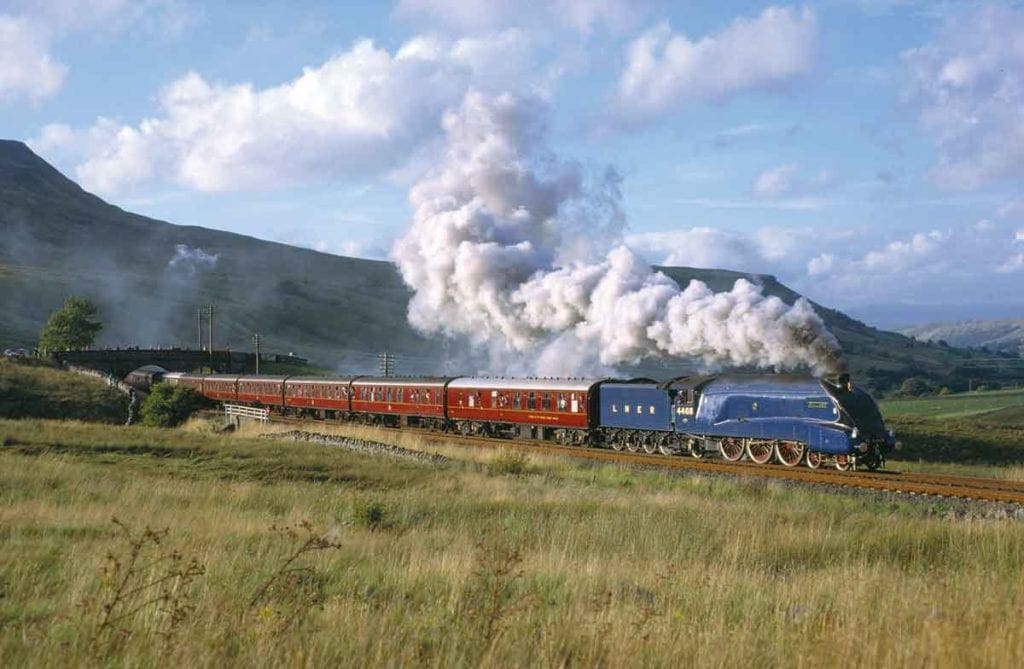 Nigel Gresley and his team at LNER had been working to implement changes to Mallard to not only beat the then British steam record of 114 mph held by the LMS, but also the world record held by Germany's DRG's Class 5 locomotive – which reached 124.5mph two years prior in 1936.
Racing down Stoke Bank, with experienced Joe Duddington the steam locomotive's driver alongside fireman Thomas Bray, the dynamometer car behind Mallard recorded 120mph, which saw off the LMS's record.
However, there was a small window before the crew needed to slow down for the Essendine curves, so the team accelerated even more. For a quarter of a mile, the dynamometer car confirmed the train was travelling at 126 mph. The German record was now beaten.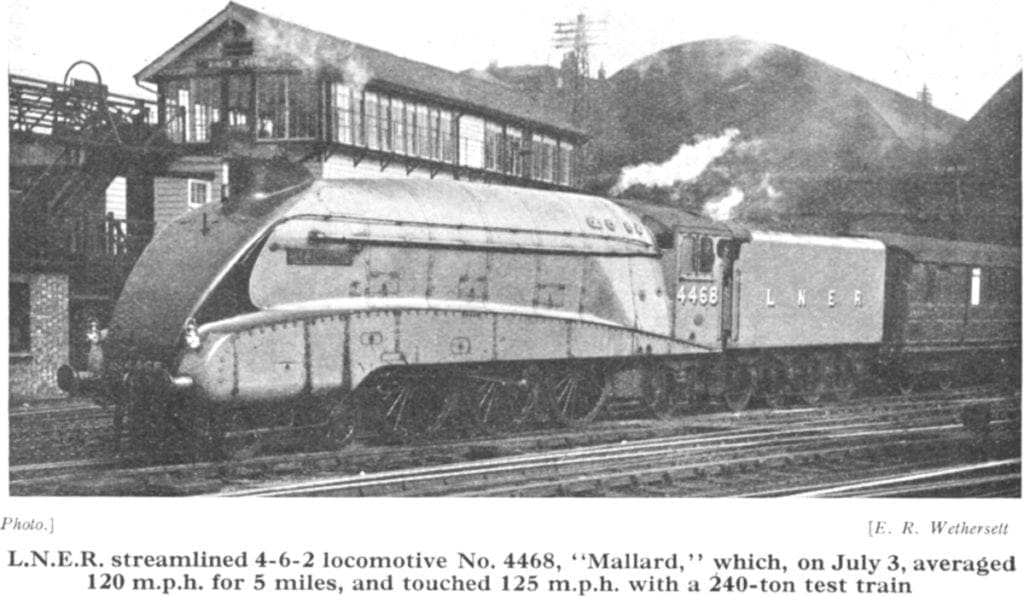 Stories claimed that the train rocked so violently that dining car crockery smashed, and red-hot, bullet-like cinders from the locomotive broke windows at Little Bytham. The force exerted by the brakes being applied caused Mallard's big end bearing to run hot, and a slow run to Peterborough was needed to prevent Mallard from being written off.
It was believed that Gresley wanted to beat his own record, and planned another run in September 1939 to reach 130mph, but the Second World War stopped this attempt.
Mallard eventually retired from service in 1963 and was subsequently preserved in 1964 by the British Transport Commission, before entering the National Railway Museum's collection in 1975. It was restored to working order at York, between 1982 and 1988 and completed a limited number of runs until 1989.
Mallard is now one of only six remaining A4 Pacifics. Today Mallard is one of the highlights of the National Railway Museum.
Enjoy more Heritage Railway reading in the four-weekly magazine.
Click here
to subscribe.