By Don Benn
It has been some years since I sampled steam round Kent due to there being less available and what there is almost always having a tail gunner in the form of a diesel locomotive. However, as soon as I saw that UK Railtours had advertised a trip to Canterbury behind Tornado I booked, as I knew with some certainty that it would be diesel free and that it would also be a relatively short day out for once.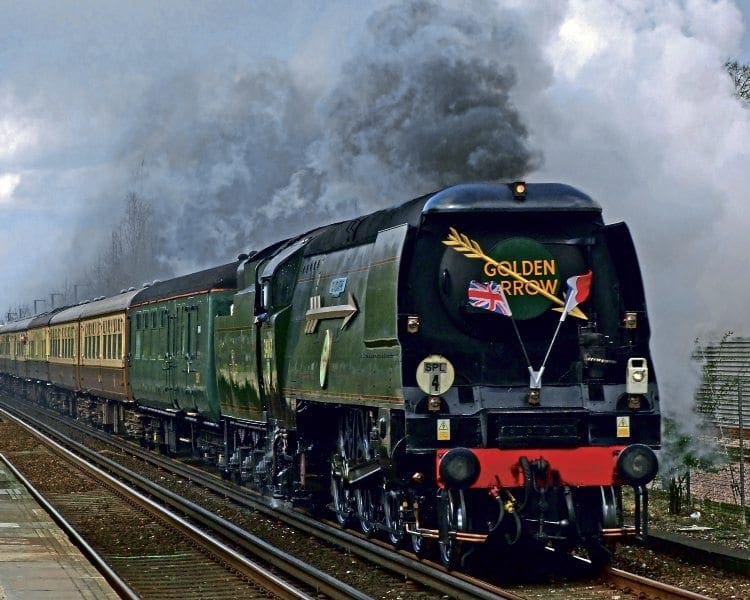 Personally I don't find spending most of the journey in the dark, having taken six hours plus to get to the destination, around two hours there and another six hours back, sometimes risking missing the last train home, a particularly attractive proposition so I tend to avoid these sort of trips.
And so it was that we bought South West Trains London tickets from Fareham on Monday, December 12, not wanting to risk the direct Southern route to Victoria and arrived at Platform 2 at Victoria courtesy of a slightly late 12-coach train of class 450 electric units and London Underground in good time just after 9am to await the arrival of the stock to form the 'Christmas Canterbury Tale'.
I was surprised to see that we had 13 coaches including two kitchen cars, the generator coach and support coach which weighed 482 tons. The train wasn't full so I estimate the gross weight to have been 510 tons.
The other surprise was that the stock was really quite tatty on the outside, with refurbishment definitely needed – a decent wash would have helped to remove some of the grime. Later in the day it transpired that one of the dining coaches had no lights! It was though no surprise at all to find us at the back of the train and the wrong side for mileposts. We could do nothing about the former problem which meant we would be unlikely to hear any loco noise, but we soon swapped sides with a willing couple and so were all set for our 9.43am departure.
Article continues below...
Advert
Read more in Issue 224 of Heritage Railway – out now!
Enjoy more Heritage Railway reading in the four-weekly magazine.
Click here
to subscribe.