Heritage Railway is the only magazine in its field to concentrate on every aspect of Britain's wonderful network of preserved railways, whether the motive power be steam, diesel or electric.
Renowned for page after page of news, with hard-won exclusives every month, the magazine also boasts some of the finest atmospheric photography in the business, and well-researched historic features leave no stone unturned.
Regular sections cover main line news, modern day revival scheme, railwayana, tour listings, young volunteers, carriages and wagons, the changeover years (the transitional period from steam to more modern forms of traction), models and much, much more.
So don't miss out – get involved and take out your magazine subscription now!
Issue 218
Current issue: 218 – Next issue: 219 – On sale: August 25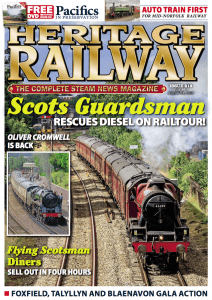 Headline News
Chinnor trains running into Princes Risborough; Flying Scotsman diners sell out within four hours; Scots Guardsman rescues diesel – and Pacific chases its own train; Oliver Cromwell back and Swordfish steams again after half-century.
News
Swanage Railway's Wareham extension date announced; Leadhills & Wanlockhead runs 'real' bus replacement service; travel agent Thomas Cook's first trip restaged on Great Central; West Coast fined £200K for Wootton Bassett SPAD; Leighton Buzzard's Pedemoura hauls first passenger train in 92 years; Henley-in-Arden footbridge rises again at Broadway; Fletcher Jennings reunion concludes Talyllyn 150; new Foyle Valley occupants may restart heritage line; two more to steam soon at the Severn Valley and listed historical items pulled from railwayana sale.
Main Line News
Steam Dreams plans three-day trip to mark end of Southern steam half centenary; Borders and Fife Flying Scotsman gauging fiasco report and Royal Scot's improved performance after coal change.
With Full Regulator
Don Benn reports on recent runs by the Bulleid Pacific currently running as
No. 34052 Lord Dowding.
Regulars
Railwayana: Geoff Courtney's regular column.
Centre: Oliver Cromwell back in action at the GCR by Paul Biggs
Mainline Itinerary: Steam and heritage diesel railtours.
Off the Shelf: Latest book and DVD releases.
Platform: Where your views matter most.
Up & Running: Guide to railways running in August.
The Month Ahead