Heritage Railway is the only magazine in its field to concentrate on every aspect of Britain's wonderful network of preserved railways, whether the motive power be steam, diesel or electric.
Renowned for page after page of news, with hard-won exclusives every month, the magazine also boasts some of the finest atmospheric photography in the business, and well-researched historic features leave no stone unturned.
Regular sections cover main line news, modern day revival scheme, railwayana, tour listings, young volunteers, carriages and wagons, the changeover years (the transitional period from steam to more modern forms of traction), models and much, much more.
So don't miss out – get involved and take out your magazine subscription now!
Issue 220
Current issue: 220 – Next issue: 221 – On sale: October 20
Headline News
Green Goddess overturned in Romney; Hythe & Dymchurch Railway tractor crash; new man at the top for Great Central as managing director retires; monobloc cylinder casting designed for new P2 and Steam on the Met weekend called off over strike action fears.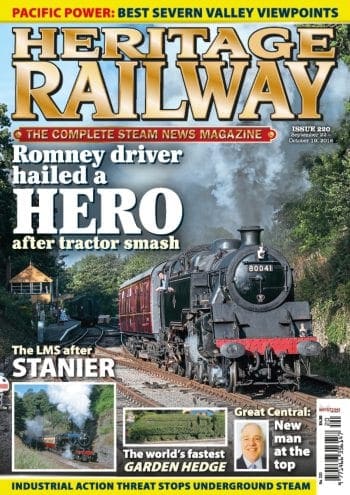 News
Best viewpoints for Flying Scotsman and Tornado's Severn Valley visits; Britain's newest steam locomotive appears on Somerset & Dorset; newly-restored BR Standard to debut in Great Central gala; referendum on future of Totnes Brunel pumping station; Decauville tank engines batch planned; share issue for air-smoothed Merchant Navy project; derailments disrupt two narrow gauge lines; 120 years of the Snowdon Mountain Railway and last hurdle removed for new Corwen station.
Main Line News
Oliver Cromwell returns for Railway Touring Company; Princess Elizabeth comeback dogged by delays; Tornado rededicated; Ferryhill turntable lifted for repair; fire brigade saves Scots Guardsman's day and Dover road reopens three months early.
With Full Regulator
Don Benn reports on an epic run by Tornado from King's Cross.
REGULARS
Railwayana
Geoff Courtney's regular column.
Centre
'Black Five' No. 44871 on 'The Jacobite' by Karl Heath.
Off the Shelf
Latest book and DVD releases.
Main Line Itinerary
Steam and heritage diesel railtours.
Platform
Where your views matter most.
Up & Running
Guide to railways running in the autumn.
The Month Ahead